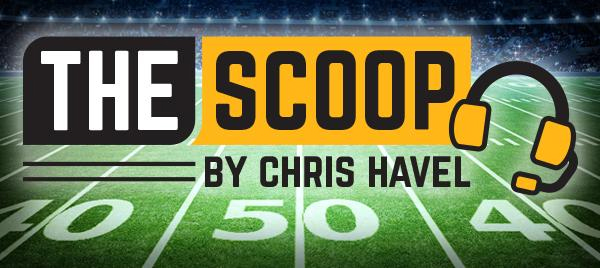 By Chris Havel

Special to Event USA
Rodgers' 'pick six' set tone in Green Bay's 28-point second-quarter collapse to Bucs
GREEN BAY, Wis. – The Packers weren't exactly moving the football at will, but they were doing a fair job of it against Tampa Bay's defense.
Then the first quarter ended … and the onslaught ensued.
The Packers looked on as their 10-point lead, turnover-free season and air of invincibility evaporated in the Tampa heat. By the time the ugliest 15 minutes in recent football memory was finished, so were the Packers.
The Buccaneers' defense intercepted Aaron Rodgers on consecutive possessions – including Jamel Dean's "pick six" – and Tampa Bay rolled to a 38-10 victory Sunday afternoon at Raymond James Stadium.
The Packers (4-1) came out of their bye week considered to be among the NFL's top teams. Today, they aren't even the top team in their own division, now trailing Chicago (5-1) for NFC North supremacy.
"You don't ever want to lose like this," Rodgers said. "I felt like we needed a little bit of a wake-up call at some point this season because things have been so good and there's been so much talk maybe outside the building about the ease with which we're moving the ball on offense and scoring. I think we needed kind of a kick in the ass a little bit.
"There's a little bit of a wake-up to stop feeling ourselves so much and get back to the things that got us to this position. I think this would be, unfortunately or fortunately, something we can really grow from."
Green Bay head coach Matt LaFleur surely considered a multitude of facts, figures and scenarios during their recent self-scout. But on Sunday, the Bucs' defense reminded the Packers of the old NFL adage: Everyone has a plan until they get smacked in the facemask.
Dean's stunning "pick six" shaved Green Bay's lead to 10-7.
On the Packers' next drive, a Rodgers pass intended for Davante Adams appeared to be tipped by Carlton Davis. It was intercepted by safety Mike Edwards, who returned it to Green Bay's 2.
Ronald Jones II burst into the end zone on the next play to give Tampa Bay a 14-10 lead.
The Packers rarely looked so bad. The Bucs (4-2) never looked back.
"You can never really get comfortable in this league," LaFleur said. "As soon as you get comfortable, you get your butt whipped."
Clearly, the Bucs' "pick six" and 14-point swing had the Packers looking on in disbelief, disgust, or both. It was only the third time in Rodgers' career that an interception was returned for a touchdown.
"Definitely swing the momentum in their favor and when we came back out," LaFleur said of the back-to-back interceptions. "The first (interception), Aaron threw with some anticipation, and the corner squatted all over it and made a good play.
"Second one, I knew we had a miscommunication out there. We weren't in the right look. … Regardless, probably should've popped a timeout. (It) didn't look right. Sure enough, it got batted around and got picked. (It was) a significant part of the game."
The "Rodgers versus Tom Brady" shootout never materialized.
Brady was a serviceable 17 of 27 for 166 yards, two touchdowns, zero interceptions and a 104.9 rating. He wasn't sacked. In fact, Elgton Jenkins had as many tackles as Za'Darius and Preston Smith (one each).
Meantime, Rodgers was an atrocious 16 of 35 for 160 yards, no touchdowns and two interceptions. Rodgers' 35.4 passer rating was the second-lowest rating of his career in a game he started and didn't leave due to injury. His worst was a 34.3 rating at Buffalo on Dec. 14, 2014.
The Packers had been eagerly awaiting Adams' return from injury.
It turned out the "other" Adams showed up instead, as Montravius Adams finally joined the party with four tackles (three solo) and one tackle for loss.
Meantime, Davante Adams caught six passes for a pedestrian 61 yards. Marquez Valdes-Scantling chipped in with three catches for an inconsequential 32 yards.
Green Bay's offense amassed a meager 201 total yards.
The Packers' running game never got off the ground. Jamaal Williams (4 for 34), A.J. Dillon (5 for 31) and Aaron Jones (10 for 15) accumulated fewer yards and attempts than the Bucs' Jones, who finished with 113 yards and two touchdowns on 23 carries.
Trailing 14-10, Rodgers missed a wide-open Marcedes Lewis on a play that might've gone for a touchdown. Rodgers' uncharacteristic inaccuracy was fairly reflective of the Packers' sputtering attack.
"I don't feel like we ever got into a rhythm … even with the 10 points to start the game," Rodgers said. "We had off-schedule plays to keep drives alive. They deserve credit. They got us out of our rhythm."
The Bucs' speedy linebackers – Devin White and Lavonte David – inflicted much of the damage. White had 10 tackles (nine solo) with three for loss in addition to one sack and two QB hits. David posted eight tackles, 1 ½ sacks, 2 ½ tackles for loss and two QB hits.
The Packers' pass blocking, especially the blitz pickups, weren't good. It didn't help that left tackle David Bakhtiari (chest) exited with an injury. The day's best news was that LaFleur didn't believe it to be serious.
The Bucs' defense blitzed Rodgers 17 times, and the Packers' quarterback went 5-of-14 with two sacks and both of his interceptions. It was tied for the most blitzes he has faced the past two seasons, according to ESPN Stats & Information.
Bucs' head coach Bruce Arians directed high praise toward defensive coordinator Todd Bowles.
"I thought Todd mixed it up really, really (well) with his fronts, blitzes and coverages," Arians said. "You don't usually get Aaron confused; I don't think I've ever seen him confused. When you start running him down and chasing him out of there – early in the game he chased out and he made a lot of plays. We just kept chasing, it hemmed him up a little bit, and we got some hits on him. The defensive line, linebackers and the secondary – it was a great defensive performance."
Indeed, it was the kind of defensive performance that will send the Packers back to the drawing board, even though they were just coming off their bye week self-scout.
The Bucs' defense came out and smacked the Packers.
Now, Green Bay needs to work on its counterpunches, or NFL defenses are going to keep coming after Rodgers until he makes them pay.