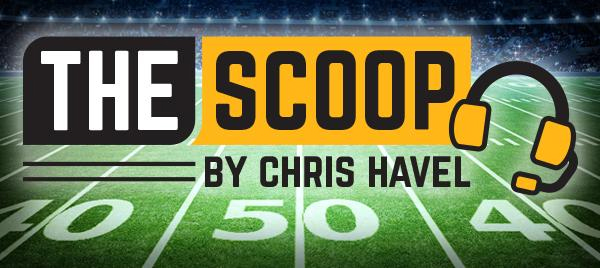 By Chris Havel

Special to Event USA
Rodgers' four TD passes, O-Line's great effort, diversity pave the way
GREEN BAY, Wis. – As (wink, wink) preseason games go, the Packers were fairly dominant in their 34-17 victory over depleted San Francisco Thursday night at Santa Clara's Levi's Stadium.
Green Bay amassed a 31-3 lead through three quarters before the 49ers managed two late touchdowns against the Packers' backups.
In a bizarre week even by 2020 standards, the Packers picked up the Sunday-Thursday split by exploiting the 49ers' massive absences due to injuries and COVID-19 unavailability. That came on the heels of Green Bay's disappointing 28-22 loss at home to Minnesota Sunday.
Whereas the Vikings were better than some thought, and Dalvin Cook proved it, the 49ers were barely recognizable save for their uniforms. The names weren't a "who's who" but rather a "who's that?"
The 49ers' River Cracraft caught his first pass of the season and nearly hauled in a Nick Mullens pass for a touchdown. Niners' defensive end Jordan Willis got his first sack.
Congratulations to those fans that had Cracraft and Willis on their BINGO cards.
The 49ers were without quarterback Jimmy Garoppolo (ankle), All-Pro tight end George Kittle (foot), running back Raheem Mostert (ankle), receivers Deebo Samuel (hamstring) and Brandon Aiyuk (COVID-19), left tackle Trent Williams (COVID-19) and defensive stars Nick Bosa (knee), Dee Ford (back) and Richard Sherman (calf).
No matter.
The Packers (6-2) aren't about to apologize for winning. They've had their own injury and COVID-19 issues to navigate. Nevertheless, they remain atop the NFC North and in good standing within the conference.
Aaron Rodgers will take the "W" every time.
"(The 49ers) are a different team on paper for sure," he said. "They've had some tough injuries to some really key players, but no one's feeling sorry for anybody in this league. That's the way it goes. Nobody's feeling sorry for us. We're dealing with injuries, too."
Rodgers wasted no time taking the game by the throat.
The future Hall of Famer completed 25 of 31 passes for 305 yards, four touchdowns and a 147.2 passer rating. He was sacked just once.
The Packers' offensive focus was laser-like at the start.
Rodgers led Green Bay's eighth straight opening-drive score this season. It was capped by Rodgers' 36-yard touchdown pass to Davante Adams, whose big night (10 catches, 173 yards) spearheaded the offense.
Marquez Valdez-Scantling redeemed himself after two bad drops to come up touchdown catches of 52 yards and 1 yard. Perhaps his performance will provide a much-needed dose of confidence.
Aaron Jones' return also energized the offense.
Jones' mere presence helped put the 49ers' defense back on its cleats. He had 15 carries for 58 yards and five catches for another 21 yards. His explosiveness enabled the Packers' play-action passing to take off.
The Packers' offense was especially impressive in that it moved efficiently behind a line forced to play musical chairs. With left tackle David Bakhtiari ruled out, and right tackle Rick Wagner sidelined by an early injury, the Packers' line forged ahead as if barely inconvenienced.
Elgton Jenkins played left guard, left tackle and center. Billy Turner started at left tackle and finished at right tackle. Rookie Jon Runyan, Jr. came off the bench and played well at left guard for a third game.
The offensive line's diversity, depth and talent are a blessing.
Packers head coach Matt LaFleur didn't even want to think about what the season might be like without such stellar line play by so many. Fans need to make the distinction between simply "lining up" rather than playing effectively at multiple positions. Any drop-off isn't discernible.
LaFleur took the opportunity to brag on the O-Line after the game.
"Elgton Jenkins played three positions – left guard, left tackle and then he goes in at center at the end of the game," LaFleur told reporters. "The (coaches) ability to prepare their guys so they don't blink is incredible."
Rodgers was asked if he got a head's up about the O-Line shuffle.
"I had a front-row seat to it," he said with a smile. "It was a fun conversation to listen to in the locker room. Billy (Turner) was going to right tackle, Elgton (Jenkins) was moving to left tackle … and the coaches are shouting 'Where's Jon (Runyan)?' and he's sitting right there behind a player listening to the whole thing. Jon has proven he's reliable. He's done a good job all three times."
The Packers' defense showed some spunk in a solid effort.
Twenty-two players got on the field for Green Bay's defense after injuries sidelined cornerback Jaire Alexander (concussion) and linebacker Krys Barnes (calf). Linebacker Kamal Martin was on the COVID-19 reserve list.
"I know they were missing some creatures on both sides of the ball, but that's one of the better defenses I think that we've played despite missing some of those guys," LaFleur said. "On offense it's always difficult going against (49ers coach) Kyle (Shanahan) and that staff."
Za'Darius Smith recorded a hat trick with a sack-strip and recovery. Preston Smith also brought pressure off the edge, including a big hit on Mullens that led to Raven Greene's first-half interception.
Defensive coordinator Mike Pettine deployed four big-bodied players up front in an effort to slow the 49ers' running game. By going with Kenny Clark, Montravius Adams, Kingsley Keke and Dean Lowry it forced the 49ers' Jerick McKinnon to bounce it outside with minimal results.
The Smiths, along with Rashan Gary, set a strong edge against the run. The 49ers also were flagged for two drive-killing holding penalties.
Now, Pettine and the defense can analyze the film from Thursday night, fix the problems, get healthy and roll into the season's second half.
In a season where the art of adjustment is critical, the Packers are navigating their way through these unprecedented times.
The first half of the season has brought promise. It's up to the Packers to fulfill it moving forward. The convincing win at San Francisco was a good start.