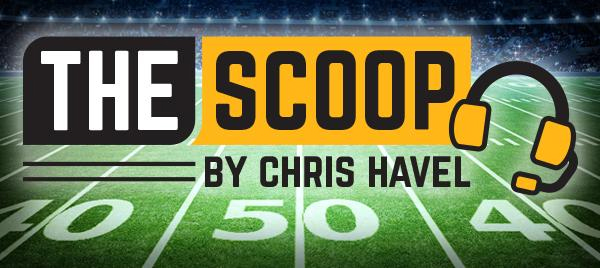 By Chris Havel

Special to Event USA
Green Bay survives despite run defense, special teams getting rocked by Jags
GREEN BAY, Wis. – As poorly as the Packers played Sunday – and it truly was a team effort – the day couldn't have gone much better.
They didn't sustain any significant injuries.
They gained ground on the NFC's top teams.
They announced the signing of their great left tackle to a huge extension.
And they won, 24-20, proving that Green Bay's worst is better than Jacksonville's best during its current eight-game losing streak.
After what charitably can be described as a sloppy win, the Packers (7-2) sit comfortably atop the NFC North with Chicago (5-4) hosting Minnesota (3-5) tonight at Soldier Field.
In addition, the Saints (7-2) defeated the 49ers 27-13, but quarterback Drew Brees suffered a rib injury and didn't play in the second half. And Seattle (6-3) lost at the Rams (6-3), meaning the Packers currently hold the NFC's No. 1 seed.
That's right. The Packers sit atop the entire conference.
So why do some fans feel like a post-game wake is in order?
I suspect that's because it is difficult to imagine Green Bay in the Super Bowl when it can scarcely beat one of the NFL's worst teams. In truth one has little to do with the other, but don't tell that to the diehards. To them it's simply more of the same: The Packers lack a physical presence necessary to impose their will on opponents.
They may be right. That remains to be seen.
The truth is the Packers' best games are ahead of them, but only if they figure out how to play with energy and attitude. Both have been sorely lacking in recent weeks, and it is growing tiresome hearing the head coach and the quarterback talk about the "lack of juice."
It's time to quit talking about it, and start doing something about it.
"We will challenge everybody in this organization that's a part of this football team to bring more emotion," Packers head coach Matt LaFleur said afterward. "You can't take these opportunities for granted."
There weren't many bright spots.
Superstars Aaron Rodgers, Aaron Jones and Davante Adams set the pace against a feisty Jacksonville defense with a rare Rodgers' interception and fumbles by Jones and Adams (which he lost).
The odds of those three committing major mistakes in the same game are like Tiger Woods posting a 10 on par 3 at The Masters, or Green Bay posting a 70-degree day in early November, or … you get the idea.
The Packers' punt coverage unit was jolted by Keelan Cole Sr.'s 91-yard return for a touchdown. He was scarcely touched as he managed to juke punter J.K. Scott out of his cleats. His return put the Jags up 10-7 in the second quarter while most Packers fans stared at their TVs in disbelief.
Cole Sr. also caught a nifty 12-yard touchdown pass from Jake Luton to tie the game at 17-17 late in third quarter. It was set up by Adams' fumble deep in Green Bay territory.
After Rodgers' interception early in the fourth quarter, the Jags moved into position for Chase McLaughlin's 31-yard field go take a 20-17 lead.
Through it all the underachieving Packers persevered.
Rodgers' 6-yard touchdown pass to a leaping Adams with 9:03 to play enabled Green Bay to take the lead for good at 24-20. Rodgers' 78-yard bomb to Marquez Valdes-Scantling opened the Packers' scoring.
MVS finished a strong day with four catches for 149 yards and the touchdown. He still catches the football like it's a wet bar of soap, but at least he's catching it.
Rodgers was 24 of 34 for 325 yards with two touchdowns and an interception. He was sacked once and posted a 108.1 passer rating.
He would have had a bigger day except Billy Turner's holding penalty erased a 22-yard touchdown strike to Adams with 19 seconds in the half.
By contrast, the Jaguars' Jake Luton (18 of 35 for 169 yards and a TD) made some nice plays but ultimately looked like a rookie.
Still, Jacksonville (1-8) had one last gasp.
The Jags took over at their 47 with 2:25 to play trailing by four. Luton moved them to Green Bay's 36 before back-to-back sacks by Rashan Gary and Preston Smith set up fourth-and-long.
The Packers' bench erupted when Luton's fourth-down pass fell incomplete to seal the win.
LaFleur appreciated his team's response, but said they needed it sooner.
"I felt like that was the first time our team came alive," he said. "You could feel it on the sidelines (with) everybody rooting for one another. We need that from the opening kick. That's the standard.
We can't just pick and choose when we want to do that."
In other words, malaise is not an option.
The Packers' running game was non-existent.
Aaron Jones rushed 13 times for 46 yards. If you take away his long run of 20 yards, he was 12 for 26 the rest of the way. Jamaal Williams rushed eight times for just 30 yards.
The Jags' Myles Jack, Sidney Jones and Joe Schobert were making defensive plays all over the field. At times, the Jags' defensive line appeared to overmatch the Packers' prideful offensive line.
Green Bay's offense is much less the worry than its defense.
The Jags' James Robinson rushed 23 times for 109 yards (a 4.7 average) and controlled the line of scrimmage. The only question is why didn't the Jaguars run it more with Robinson?
Packers' linebacker Christian Kirksey returned to make a team-high seven tackles, while Za'Darius and Preston Smith combined for 10 tackles, two sacks and three tackles for loss.
Cornerback Chandon Sullivan had six solo tackles on a day when starting corners Kevin King (quad) and Jaire Alexander were out.
There were some positives for the Packers – the greatest being the outcome – but surely they must know they can't continue to play like this and keep winning.
The Colts (6-3) are coming off a 34-17 victory over Tennessee (6-3) on Thursday night, meaning they've had 10 days to prepare for the Packers. Adoring but skeptical Packers' fans would like nothing better than a convincing road victory against a top-flight opponent like the Colts.
It's time to bring it.