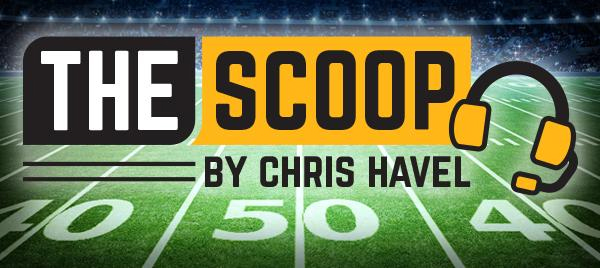 By Chris Havel

Special to Event USA
Green Bay's defense forces 3 turnovers; Packers firmly in charge of NFC North
GREEN BAY, Wis. – The Denver Broncos weren't the only NFL team that was forced to play without a legit quarterback Sunday.
Whereas COVID-19 protocols sidelined all four of Denver's QBs, leaving it little choice but to start a practice squad receiver there, it's the Bears' own fault for having to go back to their 2017 draft bust.
On a chilly night when Green Bay was razor sharp in a 41-25 rout of the Bears, Trubisky was anything but at windy Lambeau Field.
Starting in place of the injured Nick Foles, Trubisky often looked like he was throwing it into a Packers' defensive backs meeting.
Safety Darnell Savage intercepted him twice, and Za'Darius Smith's strip-sack was recovered by Preston Smith and returned for a 14-yard touchdown.
Packers' head coach Matt LaFleur was pleased with the effort.
"We knew it was going to be a physical football game," he said, "and I thought our guys did an outstanding job in every facet."
Meantime, Aaron Rodgers was simply superb.
He led the Packers on three straight touchdown drives to open the game.
Rodgers threw four TD passes to four different receivers and completed 21 of 29 for 211 yards, no picks, no sacks and a 132.3 passer rating. It was the 10th time in 11 games he was sacked either zero or no times.
"For an almost-37-year-old, that's a dream," he said.
The Packers (8-3) are in control of the NFC North, while the Bears (5-6) have lost five straight and continue to hibernate in a den of despair.
The Vikings (5-6) are trying to claw their way back to .500, and the Lions (4-7) fired head coach Matt Patricia and GM Bob Quinn after an embarrassing Thanksgiving Day loss to Houston.
The Packers, Saints (9-2) and Seahawks (7-3) are the top contenders to capture the NFC title and garner the No. 1 seed that comes with it.
"I like where we're at," Rodgers said. "To bounce back against a division rival in a game that could really put us in the driver's seat, we played the way we need to play. I said before the game, and I believe it, if you want to be a great team, these are the games you've got to win."
Rodgers got plenty of help from the rest of the offense.
Aaron Jones rushed 17 times for 90 yards (a 5.3 average) and Jamaal Williams added another 17 carries for 73 yards (a 4.3 average). Jones also caught a pass for zero yards.
That's 35 touches between the Packers' running backs, which is what it's going to take each week for Green Bay's attack to keep rolling. It's also going to require continued exceptional play from the offensive line.
LaFleur offered high praise for the unit.
"Our O-line just did everything we needed them to," he said after the game. "It makes it a lot easier, no doubt about it, when you have your whole playbook open and you can call plays that are complementary."
Center Corey Linsley exited early with a knee injury that may sideline him two-to-four weeks. Elgton Jenkins slid seamlessly from left guard to center and Jon Runyan Jr. stepped into his spot and played admirably.
In the second half, right guard Lucas Patrick exited with a toe injury, so right tackle Billy Turner slid to right guard and Rick Wagner replaced him at right tackle. Despite the offensive line's musical chairs it still managed to play a sweet tune.
The Bears didn't register a sack all night. In fact, the closest a defender got to Rodgers was when Chicago's Bilal Nichols was penalized for giving the quarterback what amounted to a love tap in the first half.
Embattled Bears head coach Matt Nagy didn't mince words afterward.
"I just felt like they got after us the entire game from the first quarter until the very end," Nagy said. "That's basically where we're at right now. (I) talked to the guys in the locker room afterwards … there are guys that care. I think that's what's important to us."
What's important to the Packers is building upon their success.
"I thought it was a really good game plan executed to near-perfection in the first half, which is what we needed to get off to a fast start," Rodgers said. "I think it was an expert-level way Matt (LaFleur) called it tonight and then obviously we executed the way we needed to. I'm really proud of the guys up front."
The Packers started the game with touchdown drives of 14 plays for 75 yards, nine plays for 75 yards and 13 plays for 80 yards. Davante Adams, Marcedes Lewis and Allen Lazard capped each with a TD catch.
In the second half, Robert Tonyan hauled in a 39-yard touchdown grab and Williams added a 13-yard touchdown run to seal the win. Tonyan's touchdown catch was especially impressive in the way that he sold it, the defensive back bought it, and he caught it for the score.
Rodgers' touchdown pass to Tonyan enabled him to become the 11th player in NFL history to throw for more than 50,000 yards.
"There's a lot that goes into 50,000 yards," he said. "I'm proud of it. It's more of a longevity record, which playing behind (Brett) Favre you realize how important it is to stay on the field and play through injuries and I've always prided myself on trying to do that."
Adams' 12-yard touchdown catch – which marked his sixth-straight game with a TD grab – also was his 500th career reception. Marcedes Lewis' touchdown catch was his 400th career catch.
With five games to go, the Packers are in position to capture the bye. They have won three of four and appear to be on a roll. The Sunday night rout of Chicago only served to stoke their momentum.
"It's special to be a part of this rivalry," Rodgers said. "There's few rivalries like this in all of sports – one or two in just about every league. This is one of the premier ones."
Indeed, it's a premier rivalry that the Packers have owned. If all goes as planned, they may be able to celebrate a second-straight NFC North title and the NFC's top seed before they kick it off Jan. 3 at Soldier Field.
If not, there's always Jay Cutler … err Mitchell Trubisky … to count on. Unfortunately for the Bears they can't say the same.