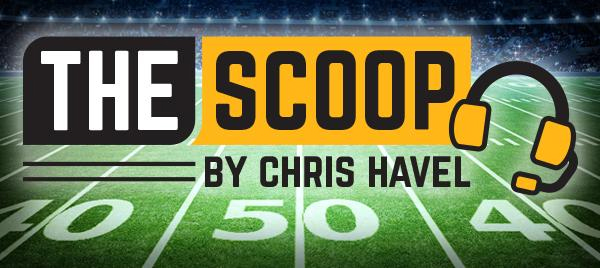 By Chris Havel

Special to Event USA
Green Bay's defense forces two picks, holds Henry under a hundred yards
GREEN BAY, Wis. – Aaron Rodgers spent Sunday afternoon kicking back on his couch and checking his phone for updates.
Surely, the Packers' quarterback was doing a little Rams-Seahawks scoreboard watching, right?
Well, not exactly.
In fact, he was getting weather updates and hoping the snowfall that was blanketing northeast Wisconsin would continue into the night.
Rodgers' prayers were answered as the flakes kept falling and the Packers kept rolling with a 40-14 victory over Tennessee Sunday night inside the snow globe called Lambeau Field.
Rodgers threw for four touchdowns and the Packers' defense refused to let the Titans' Derrick Henry gain any traction. Henry, the NFL's leading rusher, was held to 98 yards on 23 carries. It was the first time in nine road games the Titans' bell cow was held under 100 yards rushing.
Rodgers was effusive in his praise of Green Bay's defense.
"That was championship-style defense," he said. "They played with a lot more confidence than at any point this season."
Before last night, the only one tougher on the Packers' defense – aside from opposing offenses – was Green Bay's fans.
Don't look now but the Packers' defense moved into the NFL's top 10 in yards allowed Sunday night. Green Bay ranks 7th overall in that category ahead of the Colts, Ravens, Patriots and Bears.
Packers head coach LaFleur applauded his defense's effort.
The Titans came in with the NFL's No. 1 scoring offense at 31.5 points per game. It left knowing it had been thoroughly outplayed.
"That's a really good offense, across the board, with great skill players from the receivers to the tight ends … Derrick Henry, obviously, and (Ryan) Tannehill," LaFleur said. "To hold a team that explosive to 14 points and 265 yards – that's one hell of a performance by our defense."
Packers' defensive coordinator Mike Pettine deployed five- and six-man fronts in an effort to slow down Henry. He also dialed up blitzes from a variety of angles to thwart Titans' quarterback Ryan Tannehill.
It worked.
While Henry was spinning his wheels and routinely being hammered to the snow-covered turf, Tannehill was out of sorts all night. The Titans' quarterback completed 11 of 24 passes for 121 yards, two interceptions and a 40.5 passer rating.
Tannehill made two big plays all night. The first was a 12-yard scoring toss to Jonnu Smith on the Titans' final possession of the first half; the second was a 45-yard TD run on a QB keeper to open the second half.
That was it.
The Titans' back-to-back touchdowns sliced Green Bay's lead to 19-14, but nobody in a Packers' uniform seemed to panic.
The Packers' offense merely responded by putting up another 21 points, while Green Bay's defense shut down the Titans the rest of the way.
"I really liked the way (the defense) responded," LaFleur said. "I sense a different energy the way they're flying around and making plays on the football – 10 passes defensed tonight. That's what it's going to take because from here on out it's nothing but playoff-caliber teams."
A.J. Brown, the Titans' top receiver, managed four catches for 43 yards on eight targets. His long catch-and-run was merely 12 yards.
By comparison, Davante Adams looked like a kid enjoying a snow day.
Adams caught 11 passes (on 12 targets) for 142 yards and three touchdowns. He leads the NFL with 17 touchdown catches despite missing two games with injuries.
Adams' 32-yard catch in the fourth quarter was particularly impressive. Rodgers audibled to a "go" route on third-and-10 and Adams made an amazing catch up the sideline despite having the Titans' Malcolm Butler draped all over him.
It set up rookie A.J. Dillon's second touchdown run to make it 40-14.
Adams' footing was solid despite the conditions, a circumstance he chalked up to his experience playing on the frozen tundra.
"People definitely don't want to play in the cold," Adams said. "It's tough, man. It's tough. It makes you a little bit less physical. It takes your speed away. If you don't get to practice in this and get used to the temperature, the snow and all of that stuff, as you've seen, it can obviously take a toll. I think that team (Tennessee) is a really, really solid team that played with a lot less speed than they typically do."
Meantime, the Packers' defense played faster and nastier than it has at any point all season.
Krys Barnes led the Packers with seven tackles, but it was truly a team effort on defense.
Adrian Amos had five tackles and a pass defended. Rashan Gary had five tackles and five QB pressures. Christian Kirksey had a sack and an interception. Za'Darius Smith registered a sack and Preston Smith's QB hit forced an errant throw by Tannehill. Safety Darnell Savage jumped on it for his fourth interception of the season.
Offensively, the Packers allowed only one sack, with Rodgers taking the blame for it. Green Bay never punted and the offensive line was superb despite losing right tackle Rick Wagner to an injury early.
No problem.
Lucas Patrick came off the bench to play right guard, his best position, and Billy Turner moved to right tackle. Center Corey Linsley's return enabled Elgton Jenkins to slide back to left guard.
The transition was seamless.
Then there is Dillon, who put on a show in front a national TV audience. The rookie rushed 21 times for 124 yards and two touchdowns. His punishing style appeared to wear down the Titans' defenders.
"A.J. was great," Rodgers said. "I thought he ran well. He had some momentum runs where you could see his confidence growing with a little bit of swagger, too."
Dillon, who missed five weeks on the COVID-19 list, returned just in time. He ran roughshod over the Titans – who at times tackled like it was the Pro Bowl – and imposed his will in the process.
Aaron Jones rushed 10 times for 94 yards despite battling through toe and hip injuries. Green Bay's 234 rushing yards paved the way for Rodgers, who completed 21 of 25 passes for 231 yards, four touchdowns and a gaudy 128.1 passer rating.
Rodgers' 44 touchdown passes to five interceptions, coupled with the Packers' dominance, should give him serious MVP consideration.
More importantly, his play gives Green Bay a chance to win it all.
The Packers (12-3) can clinch the NFC's top seed – and the home-field advantage and first-round bye that accompanies it – with a victory over the Bears (8-7) in Sunday's regular-season finale at Chicago.
When asked if the home-field advantage throughout is a big deal, LaFleur didn't hesitate.
"Absolutely," he said. "It's a different deal when you come in here and there's snow. It's what you envision at Lambeau as a kid. It's snowy and cold and we wouldn't want it any other way."