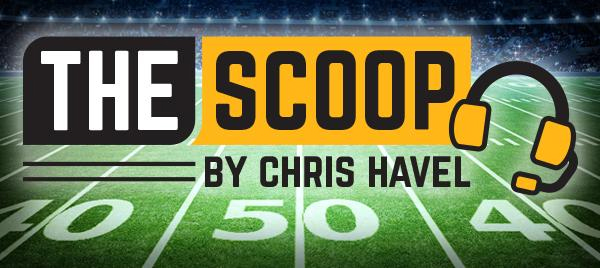 By Chris Havel

Special to Event USA
Rodgers throws for four touchdowns in Green Bay's 35-16 win at Soldier Field
GREEN BAY, Wis. – When the regular-season finale's moment of truth arrived Sunday at Soldier Field, the Packers embraced it and owned it.
That's what championship teams do.
It's what the Packers did in a 35-16 victory over the Bears to capture the NFC's top seed in the playoffs. As such, Green Bay (13-3) will receive a first-round bye and home-field advantage throughout.
Despite the loss, Chicago (8-8) backed into the postseason thanks to the L.A. Rams' victory over Arizona. The seventh-seeded Bears travel to New Orleans to play the second-seeded Saints (12-4) on Sunday.
Meantime, the Packers plan to recharge for a Super Bowl run.
"It's never easy in this league and this game was pretty indicative of that," Packers head coach Matt LaFleur said. "For us to be able to deliver in crunch time, that's what it's all about."
"Crunch time" arrived early in the fourth quarter.
After Barkevious Mingo's near-interception of a third-down pass intended for Aaron Jones, the Bears took over at their 34 and slogged 51 yards in 14 plays to the Green Bay 25.
Trailing 21-16 and staring at fourth-and-1, the Bears opted to go for it, perhaps because they were 4-for-4 on fourth down to that point.
Mitchell Trubisky tried to connect with Allen Robinson II on a short "out" pattern, but the Packers' Chandon Sullivan swept in and got a hand on the football to force an incompletion.
The Packers' bench even got into the act. LaFleur suggested they may have deciphered what the Bears were going to do before the snap.
"I heard a lot of guys on the sideline calling it out … I don't know if (Sullivan) knew it was coming, but he made a hell of a play," LaFleur said. "That was a big-time play in a big-time moment."
After that it was all Packers.
Aaron Rodgers masterfully led the offense on a 12-play, 76-yard drive that chewed up more than seven minutes. Jones capped it with a 4-yard touchdown run to expand Green Bay's lead to 28-16.
Simply put, the Packers' offense imposed its will on that drive.
"We spoke it into existence, 'Here's where we put the game away,' " Rodgers said. "A methodical drive: There weren't splash plays, just 5 yards here, 7 yards there. We converted third downs. Guys made plays."
The Bears' next possession was snuffed when safety Adrian Amos intercepted a pass intended for tight end Cole Kmet at midfield. Amos returned it to the Chicago 26. From there the Packers needed just three plays to expand their lead to 35-16.
Jamaal Williams had carries of 6 and 14 yards to set up Rodgers' 6-yard touchdown toss to Davante Adams. It was Adams' 18th touchdown catch of the season, which ties Sterling Sharpe for the franchise record.
It also was Rodgers' 48th touchdown pass to just five interceptions.
It is likely Rodgers sewed up his third league MVP award. While the Chiefs' Patrick Mahomes and the Titans' Derrick Henry have had excellent seasons, Rodgers' performance in 2020 eclipsed both.
"The MVP should be locked up," Adams said. "There's nothing else to really talk about. You look at what we've done and what he's been able to do and they've hit him with everything. (They) said he didn't have any weapons, and we go out there and go 13-3 regular season."
On Sunday, Rodgers was 19 of 24 for 240 yards, four touchdowns and a 147.9 passer rating. He completed touchdown passes to Robert Tonyan, Dominique Dafney and Marquez Valdes-Scantling while opening the game by going 10-for-10. He would've been 11-for-11 with four TDs except MVS dropped what would've been an easy touchdown.
Rodgers was sacked just once despite the absence of All-Pro left tackle David Bakhtiari, who suffered a season-ending knee injury Thursday.
He sounded emotional as he talked about his friend and left tackle.
"He's such a special player," he said. "He's an All-Pro, he's a future Hall of Famer … you don't just replace a guy like that."
Rodgers didn't stop there.
"We all miss him," he continued. "It was definitely emotional talking to him, and missing him, and looking around the locker room and not seeing him pregame. You grow accustomed to seeing him pour water on his head and flip his hair … hearing his voice in the huddle reminding me about the play clock, the cadence, there's something special about '69' in the huddle. He's just such a great presence."
Billy Turner started in Bakhtiari's place, with Rick Wagner taking over at right tackle. Along with left guard Elgton Jenkins, center Corey Linsley and right guard Lucas Patrick, the offensive line showed up big.
"I'm very proud of Billy and Rick especially," Rodgers said. "It's great having Corey back (from injury), Elgton is so versatile and Lucas brings attitude. Then look at our tackles – Billy starting last year, Rick battling some knee stuff – they played very well against a really good pass rush."
Green Bay's lone turnover – Tavon Austin's fumbled punt – led to a Bears' field goal, while Chicago's two turnovers set up a pair of Packers' touchdowns.
Green Bay was 4-for-4 in the red zone. Chicago was just 1 of 5.
The Packers were 48 of 60 (touchdowns to red zone trips) this season. Rodgers also had 48 touchdown passes to J.K. Scott's 44 punts. The Packers have now won six straight going into the playoffs.
In fact, Green Bay continued its dominance of Chicago by winning its 19th game in the past 22, counting the postseason.
"This is a special season," Rodgers said. "It will always be a special season for me. It's been a special year as well … It's such a difficult time for so many people. I have such an understanding and appreciation for how difficult it's been on so many people. I've really just tried to have a good perspective, an attitude of gratitude and really just enjoy every moment of the season."
There were hugs and dancing inside the visitor's locker room after the Packers' victory, but there weren't any tears of joy.
"I didn't see any tears," Rodgers said. "I'd probably be the one crying. I think anybody over 30 can appreciate that the emotions, the perspective changes a little bit. Each moment is a little bit more special."
Now, the Packers can focus on getting a bit of rest and relaxation while preparing for the postseason.
When asked what his message will be to teammates during the bye, Rodgers didn't mince words.
"Don't get COVID," he replied.
Thus far, nothing else has derailed the Packers' march toward a title.
Let's hope the Packers' good sense and virus protocols keep it that way, because it looks like nothing short of an outbreak can stop Green Bay.