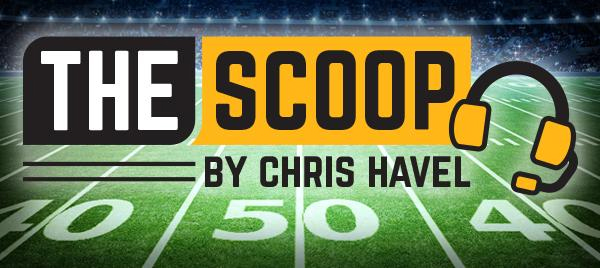 By Chris Havel

Special to Event USA
Green Bay's well-oiled offense too slick for touted Rams' defense in 32-18 win
GREEN BAY, Wis. – Aaron Donald wept.
The Packers brought the NFL's toughest man to tears in the closing seconds of Green Bay's 32-18 victory over Donald's Los Angeles Rams in the NFC divisional playoffs Saturday at Lambeau Field.
It reflected how badly Donald wanted it.
And it reinforced how good the Packers were in taking it.
Aaron Rodgers fired the opening salvo with a 1-yard touchdown toss to Davante Adams. He closed with a 58-yard bomb to Allen Lazard. In between, the Packers' well-oiled offense converted third downs, played turnover-free football and ran roughshod over the Rams' top-ranked D.
The Packers' offense achieved perfect symmetry.
Rodgers threw 36 times for 296 yards and two touchdowns. The Packers rushed 36 times for 188 yards and two touchdowns.
The hyphen in "play-action" doubled as a dagger to the Rams' heart.
Donald, largely considered the NFL's best defender, entered the game with sore ribs. He exited with one tackle. Jalen Ramsey, the All-Pro cornerback, had zero passes defended.
Foreshadowing occurred in the Packers' first touchdown drive.
By the time the 14-play, 84-yard march ended early in the second quarter, Ramsey was finger-pointing at teammates and Donald had been flagged 15 yards for grabbing Elgton Jenkins' face-mask in frustration.
The Packers were inside the Rams' helmets almost at the outset. The fact that 8,456 Packers' fans were cheering their hearts out didn't hurt.
"I'm definitely a little emotional, just thinking about what we've been through," Rodgers said. "It got me emotional with the crowd out there today."
Indeed, the Packers played with an energy, emotion and intelligence that matched their rambunctious fans' fever-pitch. By game's end, their chants of "MVP! MVP!" reverberated throughout the stadium.
"It's hard to really put into words how special that feeling is, but you can feel it," Rodgers said. "It's so palpable. You can feel the energy in the stadium. It's just different. It's different playing in front of a crowd. It's a little more special and obviously (a lot) sweeter."
Now, the Packers (13-3, 1-0) host Tampa Bay (11-5, 2-0) on Sunday in the NFC championship game set for 2:05 p.m. at Lambeau Field.
The winner will face the AFC's representative (Buffalo or Kansas City) in Super Bowl LV at Tampa, Fla. If the Bucs prevail it would be the first time in NFL history that a Super Bowl team plays in its own city.
The Bucs defeated the Saints, 30-20, on Sunday at New Orleans to earn a spot in the NFC title game and a trip to Lambeau Field.
It will be future HOF quarterback Tom Brady's 14th conference championship game appearance. He is 9-4, but just 3-3 on the road.
For Rodgers, it will be his fifth conference title appearance, but only his first as the starting quarterback at historic Lambeau Field.
Both Rodgers and Brady appreciate the challenge ahead.
"It's hard to get to this point," Brady said. "There's nothing guaranteed from this point forward. But we've gotta go out there and we've gotta play our very best to beat one of the best teams in the league."
The Packers looked like the league's best on Saturday.
Green Bay's defense was solid if not spectacular.
The Rams' Jared Goff completed 21 of 27 passes for 174 yards and one touchdown. He was sacked four times with Rashan Gary and Kenny Clark each notching 1 ½ sacks and Za'Darius Smith adding the other.
The Rams rushed for just 96 yards and were 2 of 8 on third downs.
Meantime, the Packers' running game was dominant.
Aaron Jones rushed 14 times for 99 yards and a touchdown, much of it coming on the Packers' opening drive of the second half. It began with Jones' 60-yard burst on the first play and ended with his 1-yard touchdown run to give Green Bay a 25-10 lead.
For the day, Jamaal Williams added 65 yards on 12 carries and rookie A.J. Dillon rushed six times for 27 yards. Dillon's second-half fumble after taking a vicious hit was recovered by Rodgers to avert disaster.
The Packers' only other glaring mistake was Lazard's drop of what would've been a 60-yard touchdown catch to blow the game open.
Lazard's drop was a real head-scratcher.
It was reminiscent of Marquez Valdes-Scantling on a bad day. Luckily, there is no truth to the rumor that Lazard – due to close-contact tracing linking him to MVS – has been placed on the DROP-83 protocol list.
Adams caught nine passes for 66 yards on 10 targets. Ramsey is a special cornerback, but even he couldn't contain Rodgers' go-to guy. Robert Tonyan added four catches for 60 yards in as many targets.
The Packers' offensive line was dynamite. Rodgers called the O-line "the stars of the game."
Green Bay allowed zero sacks despite playing without All-Pro left tackle David Bakhtiari, and it paved the way for the Packers' running game to grow legs and set up play-action passes.
In fairness to the Rams' defense, Green Bay's offense might've put up 52 points against a lesser unit. The Packers' execution and head coach Matt LaFleur's play-calling were that good.
That must continue if the Packers are to reach the Super Bowl.
Green Bay's worst loss of the season was a Week 5 disaster at Tampa, where the Bucs blew out the Packers 38-10.
Clearly, the Packers' team going into Sunday's NFC championship game is playing at a much higher level now. That's fortunate because Brady and the Bucs aren't going to go quietly into the Green Bay night.
Prediction: Packers 31, Buccaneers 27.