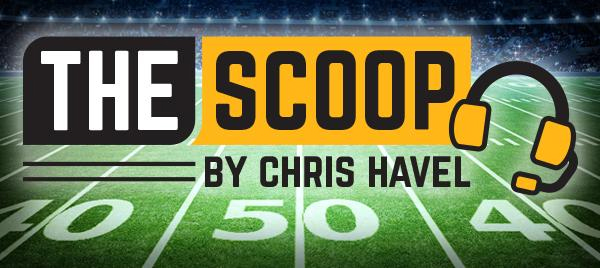 By Chris Havel

Special to Event USA
Green Bay's turnovers, Tampa Bay's 18-point lead too much to overcome
GREEN BAY, Wis. – The Packers' season ended with a thud Sunday, the finality of it as jarring as a Devin White hit to the helmet.
The culprit wasn't merely Tom Brady's greatness, or Tampa Bay's swarming defense, or penalty flags that were or weren't thrown.
That was part of it, to be sure, but mostly the Packers' 31-26 loss to the Bucs in the NFC championship game was about Green Bay.
The Packers were good. They just weren't good enough. They were foiled by uncharacteristic lapses in communication and execution.
It was their fourth NFC championship game loss in seven years. It was especially painful because the Packers contributed to their own demise.
The offensive linemen blew assignments, the defensive backs missed chances to make big plays and the star quarterback and running back each committed turnovers.
Green Bay managed just six points off Brady's three interceptions. Tampa Bay scored 14 off the Packers' two turnovers. In a game decided by five points, it was the difference.
In the end, the Bucs' 18-point second-half lead was too much to overcome.
Afterward, it was clear the missed opportunities were still gnawing at Packers quarterback Aaron Rodgers.
"I'm just pretty gutted," he said. "It's a long season. You put so much into it to get to this point. We had our chances."
Packers head coach Matt LaFleur echoed Rodgers' disappointment.
"I felt like we had plenty of opportunities to take advantage of and get the job done," he said. "We didn't do it, and that falls on me and that's a tough pill to swallow when you're responsible for everybody in this organization to make sure that you're on your 'A' game, and I don't feel like I was. I'm just pretty disappointed that I let a lot of people down."
Nevertheless, the Packers still had a chance to tie it in the final minutes.
Trailing 31-23 late in the fourth quarter, Rodgers drove the Packers to the Bucs' 8-yard line. But after three straight incompletions, LaFleur elected to kick a 26-yard field goal with 2:05 to play.
The Packers never got the ball back.
Despite the two-minute warning and three timeouts, Green Bay's defense couldn't get a stop to give Rodgers one more chance. The game effectively ended on a Bucs' penalty-induced third-down conversion.
Instead of the Bucs being forced to punt, and Rodgers having one final shot, Kevin King was flagged for pass interference and it was over.
It was one of two pass interference calls that didn't go the Packers' way. The other came late in the first half and led to a Rodgers' interception, which set up a ridiculous Bucs' touchdown right before the half ended.
The Bucs had the ball at Green Bay's 39 with six seconds on the clock. Instead of playing a "prevent" zone defense, Packers defensive coordinator Mike Pettine inexplicably called for a single-high safety.
Brady saw it and lofted a perfectly thrown pass to Scotty Miller, who blew past King for a 39-yard touchdown with one second left.
The Packers went from driving to a potential score before halftime to watching the Bucs celebrate a 21-10 lead.
The Bucs' lead quickly grew to 18 when Aaron Jones fumbled on the Packers' first possession of the second half. White recovered and returned it to the Green Bay 8-yard line. From there, Brady needed just one play to hit Cameron Brate for the touchdown to make it 28-10.
Nevertheless, the Packers kept coming.
Rodgers connected with Robert Tonyan for an 8-yard touchdown to slice it to 28-17. Then, after a Brady interception, he found Davante Adams for a 2-yard touchdown to make it 28-23, but the 2-point try failed.
After a Bucs' field goal made it 31-23, the Packers drove to the Tampa 8-yard line, but after three straight incompletions, LaFleur opted to kick the field goal and pray for a defensive stop that never came.
Regrets?
Like losses in championship games, the Packers have had a few.
LaFleur has been criticized for the decision.
The question is this: Why would a head coach who forged the NFL's No. 1 offense elect to defer to his defense … twice?
The Packers' defense yielded an opening-drive touchdown at the start, and it failed to get a fourth-quarter stop at the end. In between, there was the ill-fated touchdown pass with one second left in the first half.
"Any time it doesn't work out you always regret it, right?" LaFleur said of kicking the field goal. "It was just circumstance of having three shots and coming away with no yards. And knowing that you not only need the touchdown but you'd need the 2-pointer. The way I was looking at it is we essentially had four timeouts with the two-minute warning, we knew we needed to get a stop."
Rodgers said he understood the decision. He didn't say he approved.
"I understand the thinking – above two minutes with all of our timeouts – but it wasn't my decision," he said.
LaFleur gave Rodgers the option to call the third-down play. Rodgers said he might have called a different play if he knew they weren't in four-down territory.
"I thought maybe we were going to have four chances there," he said.
It is one of the few times all season that I can recall the Packers' head coach and quarterback not being on the same page.
The timing couldn't have been worse.
In fact, Green Bay's offense never got its running game going, although Rodgers made several spectacular plays to keep it close.
Rodgers went 33 of 48 for 346 yards with three touchdowns and one interception for a 101.6 passer rating. He was sacked a season-high five times for 32 yards, which was five yards more than Jones rushed for.
Green Bay ran for an inconsequential 67 yards in 16 carries.
The Packers owned the NFL's top red-zone offense but twice had to settle for field goals after facing first-and-goal situations.
Now, it's on to the offseason, where many questions linger.
"The Packers have a lot of guys whose futures that are uncertain – myself included," Rodgers said. "That's what's sad about it, most, getting this far. Obviously, it's going to be an end at some point, whether we make it past this one or not, but just the uncertainty's tough and the finality of it all."