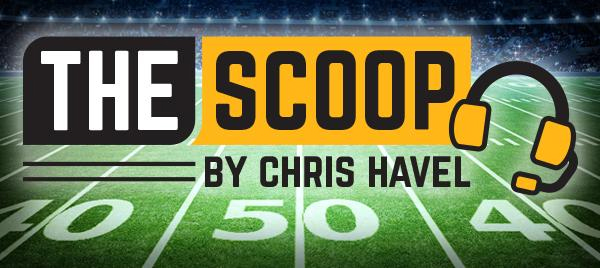 By Chris Havel

Special to Event USA
It is the annual, pre-draft message that bears repeating, especially in 2021
GREEN BAY, Wis. – Today is Day 17 of the "J.J. Watt Watch."
It also is March 1, which means the NFL Draft is next month, and the Packers are that much closer to buttressing their title run. It also means it's time for the annual pre-draft pep talk titled, "Why an O-Lineman?"
Before I get to that, here's my thought on Watt: the Packers' odds of signing the 31-year-old defensive lineman increase each passing day.
If a team believed Watt was the answer to their Super Bowl prayers, a significant offer would've been made. And if it was about the money, rather than the quarterback and supporting cast, as reports suggest, Watt would be signed already.
It is true that teams must clear salary cap space before signing Watt, but in that regard the Packers are no different than most other teams. They are rethinking, revising and ultimately reshaping their roster.
The cap's floor of $185 million means the release of Rick Wagner and Christian Kirksey is merely the beginning of a necessary if distasteful process. That's asking players to restructure their current deals or else.
Dean Lowry, Preston Smith and others are serious candidates to become cap casualties. Fortunately, cap expert Russ Ball and the team have held a disciplined approach to free agency, which will lessen the pain.
In fact, the Packers' outlook is bright.
GM Brian Gutekunst has suggested he'd be willing to make a move if it meant getting over the NFC championship game hurdle.
The fact that they are in on Watt backs that up. It is a good sign even if the Watt ultimately chooses to sign elsewhere. At least the Packers are trying, which means they realize they're only a few good men away.
The returning cast is exceptional at most positions.
The receivers are led by Davante Adams, Allen Lazard and an ascending Marquez Valdes-Scantling. My guess is they'll add a receiver in the draft, preferably one with crazy quickness and flypaper hands.
The quarterback room features Aaron Rodgers with Jordan Love and perhaps Tim Boyle on a returning contract.
Robert Tonyan, Josiah Deguara and perhaps Marcedes Lewis lead a deep and talented tight end crew.
The running backs are set with A.J. Dillon, a mid-round draft pick and a veteran free agent acquisition.
Defensively, Watt would be a major boost to Za'Darius Smith, Kenny Clark and Rashan Gary. If the Packers don't land Watt, I expect them to sign a veteran defensive end or perhaps redo Preston Smith's deal.
A second-round cornerback and a fourth-round linebacker – in addition to any veteran free agents wishing to join a serious Super Bowl contender – would about round out the roster.
A pretty dang good roster, I might add.
All it needs is an infusion of talent in the offensive line.
That's right. They need to select a talented tackle or hell-raising interior lineman with the 29th overall pick. They also need to consider doubling down by signing the next "Rick Wagner."
Wagner was a one-year Band-Aid. That's the bad news.
The good news is the Packers know how to acquire players of that ilk. Jared Veldheer is another example of a player they signed who might've been invaluable in the NFC championship game, except he couldn't play because of the COVID-19 positive test.
Either way, the point is Gutekunst was on top of it.
With David Bakhtiari's rehabilitation going well, according to reports, the Packers still must fill the void until he returns. They also must figure out how to replace center Corey Linsley. That's two-thirds of the trio – Bakhtiari, Linsley and Elgton Jenkins – that make the O-Line special. Billy Turner is a talented, versatile player but he's not an All-Pro. Lucas Patrick might be the center of the future, but if so the Packers still would need another guard. Jon Runyan, Jr., showed promise so we'll see.
Clearly, the Packers need to add two offensive linemen.
Rodgers' immediate health, and Love's future success, hinge upon it.
If Rodgers plays another two years, it would be nice to see him bark out signals behind Bakhtiari, Jenkins, Turner, a first-round pick and a third-round pick, with Patrick and Runyan Jr. in the wings.
That's a sweet unit.
So where do the Packers' start? Let's go with the 29th overall pick next month. My top three candidates (drum roll) are …
** Teven Jenkins, tackle, Oklahoma State
Jenkins, 6-5, 310, is projected by NFL.com writer Daniel Jeremiah to be selected by Green Bay at 29.
Jenkins is described as having an "NFL-ready frame with a broad chest and thick lower calf," according to scout Lance Zierlein, who adds, "Not only plays with excellent upper-body power and hand strength, but he combines it with a desired level of body control and athleticism to create consistently … His instincts and processing serve him well."
Imagine the Packers having TWO Jenkins that can dominate.
Sign me up.
** Landon Dickerson, center/guard, Alabama
Dickerson, 6-6, 325, is the top-rated interior offensive lineman in the draft.
While he has endured a litany of injuries during his stellar career, he remains a powerfully built player with terrific core strength and the true flexibility to play either guard or center.
He is an absolute stone wall against the bull rush. While his downfield blocking rates as merely average, his natural instincts and competitive fire more than make up for it.
He has terrific football intelligence – see Linsley – whose greatest challenge may be staying healthy. I know Packers' fans don't want to hear that, but he could be a steal at 29 and anchor the offensive line throughout the inevitable Rodgers-to-Love transition.
** Jaylen Mayfield, tackle, Michigan

Mayfield, 6-5, 320, is a redshirt sophomore who could rise to the middle of the first round. However, if he's available when the Packers are on the board I've got to believe it's a done deal.
Mayfield has played more than 1,000 college snaps. He has alert eyes and well-balanced pass sets, but an excessive punch wind-up lack of anchor make it tough for him to handle power rushers.
In short, he needs to get stronger, and he will.
His initial hand quickness, according to scouts, sets him apart. He also has great toughness, a bit of nasty and experience in all run schemes. However, it may take a year before he becomes "NFL starter ready."
If it's Jenkins, Dickerson or Mayfield in the first round and a starting-caliber cornerback in the second round, the Packers would be well on their way to getting back to and winning the NFC championship.
Until then, it's cap casualties, contract restructures and waiting on Watt.