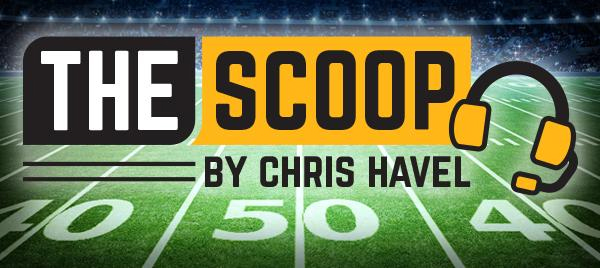 By Chris Havel

Special to Event USA
Green Bay clearing cap space, prepping to nail it in the draft and free agency
GREEN BAY, Wis. – The Packers' offseason is a success thus far.
The front office didn't overpay J.J. Watt to bring him in at $31 million for two seasons, with $23 million of it guaranteed. The 31-year-old defensive end and one of Wisconsin's favorite football sons elected to sign with Arizona for the money, the weather and whatever else.
Who cares what motivated Watt?
What matters is how the Packers handled it and subsequently moved on from it. They showed a level of interest necessary to appease in-state fans without breaking the bank to acquire a player past his prime.
There isn't going to be a "happily ever after" involving Watt here, but that doesn't mean Green Bay won't have a storybook season.
To be honest, their chances probably improve without the cap hit.
The Packers' needs are as obvious as the avenues to fix them.
They need an offensive lineman, a defensive lineman and a cornerback, with linebacker, receiver and running back in the second tier.
They have 10 picks in next month's draft, plus a handful of veterans who will be asked to take pay cuts or become cap casualties. None of this changed while waiting 17 days for Watt to choose the Cardinals.
The Packers simply went on about their business.
They hired Joe Barry as the new defensive coordinator and promoted Maurice Drayton to special teams' coordinator.
They released Rick Wagner and Christian Kirksey to clear cap space.
Reports indicate they are seeking to trade Preston Smith in an attempt to recoup something, although the $8 million in cap savings is significant.
It is interesting as a point of reference that some football "insiders" believe Preston Smith is among the top pass rushers in free agency. That probably says more about the other pass rushers than it does Smith.
I believe some fans and media overthink the draft and free agency.
It is wishful thinking to believe center Corey Linsley and/or running back Aaron Jones will re-sign with the Packers. Linsley is going to be paid handsomely, while Jones' replacement is already on the roster.
A.J. Dillon was drafted in the second round to become the lead dog. His scintillating two-touchdown, 124-yard performance against Tennessee last December proves that he's more than capable.
While the Packers may be tempted to put the $8 million franchise tag on Jones, that hasn't been their modus operandi.
Lucas Patrick should get first crack at replacing Linsley. He's smart and he's a bulldog who has shown he can handle a starting role.
All-Pro left tackle David Bakhtiari's knee injury means someone is going to have to step up through the first half of the season. That's why I see the Packers drafting a tackle in the first two rounds, not as a reaction to Bakhtiari's injury so much as Bryan Bulaga's departure a year ago.
Look for the Packers to draft an offensive tackle early and sign a veteran offensive tackle in free agency. The former is to replace Bulaga, the latter to replace Wagner.
Robert Tonyan, Josiah Deguara, Jace Sternberger and perhaps Marcedes Lewis more than adequately fill the tight end position.
Davante Adams, Allen Lazard and Marquez Valdes-Scantling are the top three receivers, with the need to add a fourth "slot receiver" with the speed and quickness to work the middle. This player would double as the "jet sweep" guy to maximize pre-snap deception.
The Packers' defense has more holes than the offense.
Barry's scheme better be all-world if it's to work with Kenny Clark, Kingsley Keke and nothing else up front. Dean Lowry is overpaid, Tyler Lancaster is just a guy and Montravius Adams is a bust.
They need to add a defensive lineman in the first three rounds. They also could use a salty veteran free agent defensive lineman up front, too.
Preston Smith's replacement – just like Aaron Jones' – is on the roster. Rashan Gary is going to start opposite Za'Darius Smith this season. A first-round pick isn't going to be a part-time player in his third season.
Cornerback Kevin King is a goner. That's not because he's too expensive to keep. It's because he's too inconsistent to count on.
Mock drafts already are being filled with offensive tackles and cornerbacks at No. 29, which is where the Packers sit.
That doesn't mean they'll stay put, though.
GM Brian Gutekunst has traded up in the first round in each of his first three drafts. In 2018, he did some wheeling and dealing to land corner Jaire Alexander. In 2019, he traded back into the first round to select safety Darnell Savage, Jr. Last year, he moved up to get Jordan Love.
Will Gutekunst make it 4-for-4 in terms of drafts and first-round moves? It's likely because the Packers have more draft capital than cap space.
Reuter has the Packers trading up from 29 to 22 to select Northwestern cornerback Greg Newsome. The move would cost a pair of mid-round picks, but they have two each in the fourth, fifth and sixth rounds.
Several mock drafts have the Packers selecting Oklahoma State offensive tackle Teven Jenkins with the 29th pick.
The 6-5, 310-pound Jenkins is described by scouts as a surefire NFL starter within his first two seasons. He certainly would get an opportunity to play while Bakhtiari recovers from the knee injury.
A starting-caliber, NFL-ready cornerback or offensive tackle would be a godsend in the draft. So would a defensive lineman with the ability to cause chaos next to Clark.
In the case of Watt, there are times when the needs outweigh the wants.
This is one of those times.