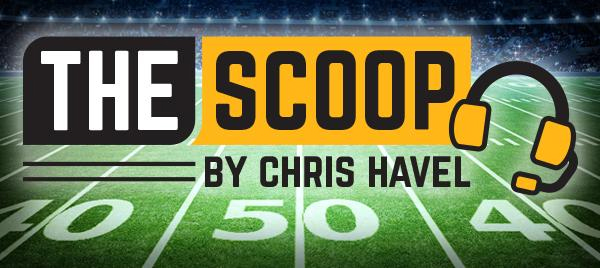 By Chris Havel

Green Bay retains RB Aaron Jones, but ripped for lack of aggressiveness
GREEN BAY, Wis. – Packers fans should be used to it by now.
Their favorite NFL team is widely criticized twice each league year.
It happens when they field a strong team but fall short in the playoffs, and again when they don't spend like fools in free agency to "fix it."
To all the NFL "experts" out there: If it isn't broke, don't fix it.
The Packers lost to the Bucs, 31-26, in the NFC championship game. That's one possession away from a Super Bowl berth. The suggestion that Green Bay's roster wasn't good enough is disingenuous.
The Packers posted consecutive 13-3 seasons. They own the top offense.
They have a young, talented and energetic general manager in Brian Gutekunst, and an equally exceptional head coach in Matt LaFleur.
They also have the NFL's best quarterback and two of its top playmakers in running back Aaron Jones and receiver Davante Adams. Tight end Robert Tonyan is a gifted, ascending young player.
The offensive line needs a "swing" tackle to replace Rick Wagner, and the receiving corps could use a speedster in the slot, but that's about it.
The defense needs an infusion of niche players at all three levels, but the situation inherited by coordinator Joe Barry is far from dire.
Furthermore, the Packers acted swiftly in firing their defensive and special teams' coordinators after a 13-3 season. If that's not striving to be better, and not settling for second best, I don't know what is.
Pro Football Focus does a great job providing detailed information. However, its analysis of Green Bay leaves a lot to be desired.
Here is PFF's assessment of the back-to-back NFC runners-up:
"Of course, the loss of All-Pro left tackle David Bakhtiari was a heartbreaker, but relying on Marquez Valdes-Scantling, Allen Lazard and Robert Tonyan to get open in big moments is just a losing strategy to begin with."
The Packers were 14-4 in 2020. If that's a losing strategy count me in.
It's not as if the Packers are content to stand pat.
They tried, but failed, to swing a trade for Will Fuller V at the deadline. There was talk Green Bay might take a shot at him in free agency before Fuller V signed a one-year, $10 million deal with Miami.
They have scouted, worked out and talked tirelessly with free agents, especially defensive linemen and cornerbacks, according to reports.
With that in mind, here's a look at the top remaining free agents at Green Bay's apparent positions of need:
** CB Richard Sherman
PFF says: "In 2020, Sherman produced a 67.2 coverage grade on just 332 snaps, the lowest grade of his career.
Sherman's intelligence and tape study gives him a mental edge over most offenses he faces, and that more than makes up for less than stellar straight-line speed. In the kind of defense he plays in San Francisco, he can remain a valuable player even at his age and could be an attractive short-term option for a number of teams in need of a quick fix."
Sherman reportedly is seeking a two-year, $28 million deal, including $18 million guaranteed. He may not be paid that much anywhere. He definitely won't get that in Green Bay.
** WR T.Y. Hilton
Hilton isn't the big-play threat he used to be, but he does the two things Green Bay needs from its receivers: Get open and catch it.
Hilton does both with aplomb.
Hilton caught 56 passes last season. Forty-two of his receptions went for first downs or touchdowns. He also graded out 13th among NFL receivers in intermediate (10-19 yard) passes.
In a down market for receivers, Hilton is seeking $10 million guaranteed. If the Packers can maneuver their way around that asking price, Hilton would be a terrific addition.
** LB K.J. Wright
Wright has been the heartbeat of Seattle's defense for years. According to reports, he would prefer to remain with the Seahawks, and his asking price (2 years at $12 million, $6 million guaranteed) isn't crazy.
Wright would be a godsend for Green Bay, though it's wishful thinking.
** CB Nickell Robey-Coleman
The Packers can afford Robey-Coleman, who is an aggressive, feisty slot corner, but his inconsistent play makes him a sketchy alternative to Chandon Sullivan.
** CB Casey Hayward, Jr.
Hayward, the former Packers' corner, was one of the top players at his position before a "down" 2020. PFF graded him at 59.5 – a career low – in part because he surrendered five touchdowns.
However, a bounce-back year is quite possible for the 32-year-old DB and he's worth the risk. The problem is he's seeking a two-year, $16-million deal with $12 million of it guaranteed.
Again, that's probably too rich for Green Bay's blood, but he'd look awfully good in the slot with Jaire Alexander and a high draft pick at cornerback on the perimeter.
** WR Josh Reynolds
The former Rams' receiver is a sturdy special teams' player and a reliable weapon at wide-out. Reynolds has just four drops on 165 targets the past three seasons. He gets open and catches it.
The question is whether the Packers would pay him the $5 million bonus he's reportedly seeking.
** DL Lawrence Guy
Originally drafted by the Packers, Guy has gone on to become one of the league's top run-stuffing interior linemen. His run-stop percentage of 9.8 percent is 12th out of 152 players at his position the past three seasons.
Guy would be a valuable rotational defender up front. He's looking to bank $5 million in guaranteed cash. It's a tough call for the Packers.
** TE Marcedes Lewis
Lewis' value to the Packers is unquestioned. He isn't merely the leader in the tight end room. He's one of the team's top leaders, period.
Lewis is said to be seeking a one-year, $2 million deal with half of it being guaranteed. Unless he retires, he'll be back in Green Bay.
In the final analysis, the Packers would be wise to add mid-level veterans at corner, receiver and both sides of the line. As the free agent market begins to settle and level off, the Packers will be busy.
It's just going to be slow-going in free agency until then.
That's Ok with most Packers' fans.
They realize that winning free agency isn't to be confused with winning when it counts: In the regular season and post-season.