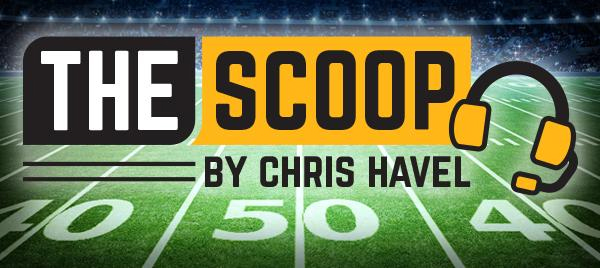 By Chris Havel

Green Bay RB excited to be back; NFL likely to adopt 17-game schedule
GREEN BAY, Wis. – Why is the NFL likely to adopt a 17-game schedule? It's a question that some players and fans are asking today.
The answer is simple: It's the logical step to an 18-game schedule.
NFL owners will decide during virtual league meetings Tuesday and Wednesday whether to implement a 17-game schedule, which means more revenue and likely one less preseason game.
It appears the owners' decision already has been made.
Naturally, player safety is the lead issue. Players such as the Saints' Alvin Kamara and the Packers' Adrian Amos have expressed their displeasure. They feel the NFL merely pays lip service to player safety.
Kamara tweeted: "This s— dumb as hell."
Added Amos: "We really let this happen."
George Atallah, the NFL Players Association's assistant executive director of external affairs replied via tweet: "There will be automatic changes to the off-season and in-season workout schedules as a result."
One would hope so if only for the appearance of concern for player safety.
The Packers' Aaron Jones didn't weigh in on a 17-game schedule, although he's the type who would play as many games as called upon and not gripe about it. That's who he is.
We do know Jones is thrilled about returning to Green Bay, where he hopes to help the Packers get to Super Bowl LVI.
Jones calls it, "Unfinished business."
The Packers signed Jones to a four-year, $48 million contract to retain their talented touchdown maker. Some NFL "experts" criticized the Packers' decision to pay a running back as being too risky.
Those who have watched Jones play, and understand the impact of his mere presence in Green Bay's backfield, would respectfully disagree.
Jones, 26, has youth, explosiveness and a tremendous attitude on his side. He also has a head coach in Matt LaFleur who knows how to use him without abusing him.
Jones' return gives the NFL's No. 1 offense a chance to be even better.
Jones is excited to rejoin Aaron Rodgers, Davante Adams and the rest to help transform the two-time NFC runners-up into world champions.
He told the media in a Zoom call Friday that he didn't want his final gasp in Green Bay to be the 31-26 loss to eventual Super Bowl champion Tampa Bay in the NFC championship at Lambeau Field.
"Walking off the field the last game with my head down and not the way I wanted it to end and going through my mind, I'm like, 'Man, this is the way my career's going to end in Green Bay and in Lambeau?'" he said. "I definitely didn't want to finish my career like that here, and I'm just blessed to be able to come back and suit back up here."
Jones' presence brings the Packers' play-action passing game to life.
Defenses must decide whether to bite on the handoff or get after Rodgers. If they don't bite and Jones has the football it's likely they'll be looking at the back of his jersey while he breezes for a big gain. But if they go for a fake, it gives Rodgers just enough time to do his thing.
It's a beautiful dynamic.
The Packers have their top three weapons – Rodgers, Adams and Jones – complementing each other with their unique skill sets. They're able to read defenses pre-snap at the line. They're assignment sure with Adams' ability to run routes, Jones' pass protection and pass receiving, capped by Rodgers' ability to get the offense into the best play possible.
Jones said he feels he has "unfinished business" in terms of the playoffs.
He called Green Bay "the right fit."
Jones rushed for 1,104 yards last season to finish fourth in the league despite missing two games with a calf injury. It was Jones' second straight 1,000-yard plus season. He rushed for 1,084 yards and a league-best 19 touchdowns in 2019, plus four more touchdowns in the playoffs.
Here's the scary part: Jones believes his best days are ahead of him.
I agree.
"I feel like I haven't even scratched the surface to enter my prime yet," he said. "I feel like I've still got a lot of growing to do, and I think it's going to be scary for a lot of people and just continue to grind and work and I'll be right where I want to be."
Packers' fans are understandably thrilled he'll be doing it in Green Bay.
LaFleur has been careful not to overwork Jones. That should continue with second-year back A.J. Dillon, a big, strong ball carrier that will be able to reduce Jones' workload without the offense taking a hit.
In another move the Packers resigned cornerback Kevin King to an incentive-laden, one-year deal that could reach $6 million.
There are Packers' fans who believe it was a mistake to re-sign the oft-injured cornerback. They point to his inability to stay healthy and his inconsistent play when he is on the field.
That's true, of course, but so is this: The Packers were thin at corner. King's return buys them time to develop a high draft pick at the position while maintaining at least a modicum of proficiency.
Remember, the Packers went 13-3 in back-to-back seasons with King, whose return keeps the Packers' starting defensive secondary intact.
Jaire Alexander, an All-Pro talent, is King's counterpart, while Amos and Darnell Savage Jr. will line up at safety.
Beyond Chandon Sullivan it's pretty bare.
If King can stay healthy – and that's a big if – this move could pay off. If King fails, again, it's a small price to pay to see his hole card.
It's almost a certainty that Green Bay will draft a cornerback in the first three rounds. In fact, the Packers should enter this draft with the mentality that their first question before every pick is this: Who's the best defensive player on our board?
If there's an offensive tackle they believe can help bridge the gap until David Bakhtiari returns they're almost obliged to select him. If there's a dynamic play-making receiver on the board they'd have to consider it.
Ultimately, they need to add a cornerback, a safety "hybrid" and a defensive tackle. They also need a linebacker, but that probably won't happen until the mid- to late-rounds.
The Packers' wants are many. Fortunately their needs are few.
Given GM Brian Gutekunst's handling of the roster, and LaFleur's talent for making it work with players such as Jones and King, it's easy to be confident Green Bay will have the horses to run the race and win it.