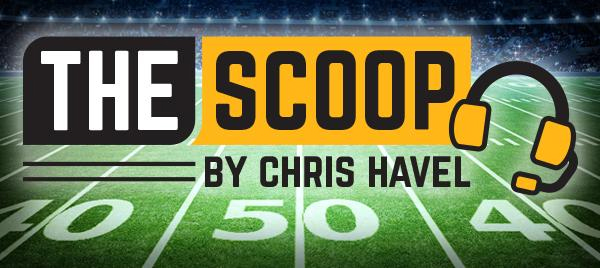 By Chris Havel

Lack of contract restructuring doesn't mean Packers' QB won't get new deal
GREEN BAY, Wis. – Aaron Rodgers will be guest-hosting "Jeopardy!" during a two-week run that begins today through April 16.
To hear speculation by some in the national media, the popular TV game show's title also applies to Rodgers' status as the Packers' quarterback. In fact, they'd probably refer to it as "Double Jeopardy!"
The hyperbole draws in readers, viewers and listeners.
It is good for ratings, truth be damned. Here's another way to look it.
Clue: This surefire Pro Football Hall of Famer described his future as "a beautiful mystery" following the 2020 NFL season.
Answer: Who is Aaron Rodgers?
So what is the truth regarding Rodgers' future?
The reality is this: Packers president Mark Murphy, salary cap guru Russ Ball, GM Brian Gutekunst and head coach Matt LaFleur are the only parties who know anything that resembles certainty.
Indeed, Rodgers may not know the Packers' intentions. Then again, they may have a handshake agreement put in place behind the scenes.
This much Rodgers does know: He's going to be the Packers' leader for the 2021 season and beyond until further notice.
Just because the Packers haven't restructured Rodgers' contract doesn't mean they're not going to do so. They haven't restructured Davante Adams' contract, either, but the national media doesn't give it a thought.
Naturally, the media would love to have clarity on the topic.
Who wouldn't?
If Rodgers was dissatisfied in Green Bay is there anyone out there in the real world who doesn't think he'd make it be known?
I didn't think so.
If Rodgers truly wanted out of Green Bay is there anyone who doubts he'd put the wheels in motion to accomplish exactly that?
I didn't think so.
Murphy participated in a Zoom news conference to discuss the NFL's move to a 17-game schedule last week. He was asked about Rodgers' future during the call. He declined to discuss it.
"I can't really get into specific players," he said. "We've been able to create (salary cap) room with others."
When asked why he wouldn't want to adjust Rodgers' contract to ensure he'll be the quarterback beyond 2021, Murphy replied, "Yeah, I'm not going to get into the specifics again. Good try, though."
Early in the offseason, Murphy appeared on WNFL radio in Green Bay. When asked about Rodgers' future, he replied, "There's no way in heck Aaron Rodgers is not going to be on the Packers. … We're not idiots."
It is true Murphy could have diffused the situation with an explanation. The thing is it's not Murphy's job to provide contract updates in real time – especially when it involves the team's franchise quarterback.
None of this will end the speculation.
However, it should remind Packers' fans to take everything they read, see and hear with a grain of salt. The COVID-19 pandemic reminded everyone in an exceedingly grim way the future holds no guarantees.
That goes for Rodgers' future with the Packers.
It's why he called it "a beautiful mystery."
The curtain will be pulled back eventually – my guess is Rodgers (health permitting) will play in Green Bay this season and next. Then he'll either be traded, leave via free agency or retire.
** Mock draft updates
As if Rodgers' future isn't difficult enough to unravel, it's only slightly less uncertain who the Packers will draft with the 29th pick.
This is "Mock Draft" season so here's the latest from national media.
ESPN's Todd McShay has Green Bay selecting Kentucky linebacker Jamin Davis to replace Christian Kirksey. The Packers are in need of an off-ball linebacker who can really run sideline-to-sideline. Imagine the Bucs' Devin White in a Packers' uniform. Davis isn't that, but he's close. It would leave the inside linebacker position with Krys Barnes, Kamal Martin and Davis.
That's light years ahead of what they had going into 2020.
Mike Renner from Pro Football Focus has the Packers selection offensive tackle Walker Little from Stanford. It's an obvious need, especially given David Bakhtiari's recovery from knee surgery.
Whichever offensive tackle the Packers select, he's going to have to be able to contribute immediately, either as a starting tackle or the top "swing" tackle.
NFL.com's Lance Zierlein has the Packers selecting cornerback Tyson Campbell of Georgia.
Chad Reuter, also of NFL.com, has them taking cornerback Greg Newsome III of Northwestern.
Even when the NFL.com writers agree on the position (cornerback) they can't agree on the player. Reuter has Gutekunst trading up for Newsome ala the Jaire Alexander.
CBS Sports' Chris Trapasso has the Packers taking Notre Dame's speedy linebacker, Jeremiah Owusu-Koramoah, with the 29th pick.
I love Owusu-Koramoah's game.
The thing is it is all speculation right now. That, too, is one of life's beautiful mysteries.