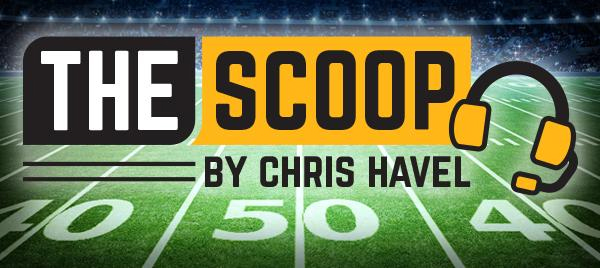 By Chris Havel

Green Bay's defense needs infusion of talent – here's my top three at No. 29
GREEN BAY, Wis. – If the first round of the 2021 NFL draft breaks in the Packers' favor they should select a quarterback with the 29th pick.
Oops! That's my bad. Let me rephrase that before there's a riot at 1265.
I meant to say the Packers should select a former quarterback.
Linebacker Zaven Collins and cornerback Caleb Farley were prolific high school quarterbacks before switching to defense in college. It is a testament to their superior athleticism and football awareness.
They are two of the top three defensive prospects the Packers should sprint to the podium to select. The other is Alabama's Christian Barmore, a dynamic defensive lineman who could slip into the mid-20s, therefore enticing the Packers to trade up.
Barmore never played quarterback, but he knows how to destroy them.
Here are my top three defensive players (in order) the Packers shouldn't hesitate to select with the 29th pick in the April 29-May 1 draft.
** Linebacker Zaven Collins (6-5, 259) out of Tulsa.
The Packers haven't had an impact, sideline-to-sideline off-ball linebacker in forever. They also haven't had a linebacker with the physical gifts that Collins brings to the field.
In short, Green Bay's defense doesn't have a player with his skillset.
Not many NFL teams do.
Collins was a quarterback at Hominy High in Oklahoma, where he led his team to a Class A state championship his senior season. He played scout-team tight end as a redshirt freshman at Tulsa. The next season injuries at linebacker forced him into action.
Collins merely went on to become a starter while garnering Freshman All-American honors (85 tackles, 9 ½ for loss, 1 ½ sacks, one interception and three passes defended.
Today, he is one of the elite linebackers in the draft after capturing the Nagurski and Bednarik awards as the nation's top defender.
Collins possesses a rare combination of size and athleticism. He's rangy with the ability to plug gaps, track down ball carriers from the back side and play effectively in pass coverage.
Scouts compare him to Patriots' perennial All-Pro Dont'a Hightower.
While Collins has room to grow in terms of reading and reacting, his athleticism and "want to" suggest he'll be a starter as a rookie.
Some say, "Why draft Collins when Kamal Martin and Krys Barnes played so well as rookies?"
My response: "Exactly."
Collins' natural ability dwarfs that of Martin and Barnes. If they can be productive as rookies, imagine what impact Collins would have.
** Alabama defensive lineman Christian Barmore (6-4, 310).
At least two defensive tackles have been selected in the first round of every draft since 1998. The 2021 edition might be the second, with many mock drafts having Barmore as the lone first-round pick.
If he falls within earshot of the Packers they should consider trading up. In a draft lacking quality interior defenders, Barmore would be a godsend.
Barmore is a prototypical Crimson Tide defensive lineman. That is to say he's a beast. The College Football Playoff defensive MVP had five tackles, two for loss, and a sack to help Alabama win the national title.
In fact, Barmore had eight sacks in 11 games for Alabama as an interior rusher. He also had three pass breakups and three forced fumbles.
Scouts describe Barmore's hands as heavy, powerful, quick and efficient. He knows how to shed would-be blockers. He also is a disruptive presence up and down the line of scrimmage with high effort.
Packers' fans will be thrilled if they get to see Barmore playing next to all-pro Kenny Clark in Green Bay.
Barmore is a stud and a difference-maker at a critical position of need.
He is the classic read-and-react Alabama defender who should start as a rookie.
** Cornerback Caleb Farley (6-2, 197) out of Virginia Tech.
Scouts have labeled Farley as a Top 20 talent in the draft. The only thing preventing him from being selected that high could be an injury history. He underwent a minor back procedure in March and has been cleared to play. Still, it almost certainly will give some teams pause.
The Packers have to strongly consider taking a minimal risk by drafting Farley in return for the tremendous upside. Cornerbacks with Farley's skillset typically are long gone before the 29th pick is on the clock.
However, Farley's injury history and a draft rich in quarterbacks, receivers and offensive linemen could push him down in the first round.
Scouts say Farley might require patience from fans of whichever team selects him, but that the eventual reward will be worth it.
He has rare size and speed at the position, plus his ball skills as a former quarterback are truly exceptional. He also has a considerable attitude.
Farley declared that he will make teams wish they'd drafted him.
After a terrific 2019 season in which he was named first-team All-ACC with 20 tackles and four interceptions in 11 games, he opted out of the 2020 campaign citing COVID-19 concerns.
Cornerbacks Patrick Surtain and Jaycee Horn should go early in the draft, with Northwestern's Greg Newsome another strong option for the Packers if he slides into the mid-20s.
However, Farley would be graded as high as any of them if not for past injuries and a lack of experience at the position. One scout noted that Farley is indeed raw, but that isn't necessarily a bad thing because it's exciting to think what he will become with NFL coaching.
The Packers' defense needs another corner to go with Jaire Alexander, Kevin King and Chandon Sullivan. Farley fits the bill and then some.