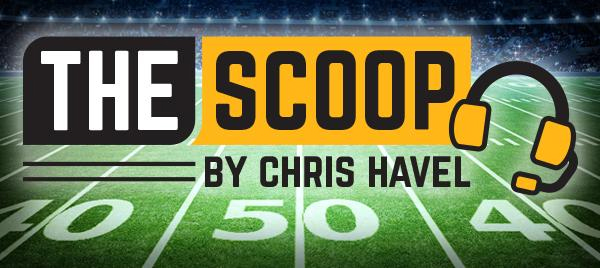 By Chris Havel

Green Bay's offensive line gets a boost, defense upgrades corner, interior line
GREEN BAY, Wis. – After all these years, the NFL draft's enduring legacy is that fans should expect the unexpected.
That is especially true for Packers' fans this year.
GM Brian Gutekunst has executed first-round trades in all three drafts he has presided over. He traded up (after trading down) for Jaire Alexander in 2018, Darnell Savage Jr. in 2019 and Jordan Love in 2020.
In the process, Gutekunst acquired a Pro Bowl cornerback, an ascending safety and the Packers' presumptive quarterback of the future.
So what's to come a week from Thursday?
In a perfect 2021 NFL draft, here is who I would love to see the Packers acquire with their first four picks:
** No. 29 – The only debate here should be offensive line versus the best defender still on Green Bay's board. It is possible the Packers will trade up to select their preferred defender. Alabama defensive tackle Christian Barmore, Tulsa linebacker Zaven Collins or a pair of cornerbacks (Northwestern's Greg Newsome II or Virginia Tech's Caleb Farley) would be worth their 29th and 92nd picks to get in the early 20s.
Gutekunst acknowledged the Packers have the ammo to manipulate the draft, including moving up to get a player they absolutely love.
"Yeah, I feel like we'll be able to move around the board a little bit to get the players we want," Gutekunst told packers.com recently. "When you have the kind of season we had last year, you're picking at the bottom of every round, which obviously makes it a little more difficult, but with the added picks, if there's a player we need to go up and get, we'll be able to do it."
Trading up for an offensive tackle seems unlikely. That's because there will be a handful of excellent options at that position with the 62nd pick.
Trading out of the first round is another option. The Packers are in prime position at 29 to lure a trade partner that's interested in A) a quarterback and B) the fifth-year option that comes with first-round picks.
If the Packers trade back to acquire more picks look for them to select Florida State cornerback Asante Samuel Jr. early in the second round.
If the Packers stay at 29 the pick will be … Northwestern's Newsome.
Hey, they all can't be gone.
Newsome has ideal size (6-0, 192) to go with exceptional length and athleticism. Some questioned his speed, but Newsome answered that with a blistering 4.35 40-yard dash at his pro day.
Newsome has drawn NFL comparisons to Darius Slay.
He will be the Packers' starter opposite Alexander to open 2022.
** No. 62 – This is where the Packers find offensive line help and they shouldn't have to look far to get it.
If UW-Whitewater's Quinn Meinerz (6-3, 320) is on the board the Packers should jump at the opportunity to select him.
The Hartford native somehow slipped out of the Wisconsin Badgers' grasp, but the Packers shouldn't make the same mistake.
Meinerz dominated at the Senior Bowl. In fact, he shot up NFL draft boards mostly based upon a terrific week in Mobile, Ala.
He possesses the strength and attitude to become an impactful starter by his second NFL season. In Green Bay, Meinerz would get a look-see at tackle, but he projects as a potentially dominant guard or center.
If Meinerz is already gone, the Packers can regroup by selecting BYU's Brady Christensen (6-5, 302) as the future starting right tackle.
Christensen was a first-team All-American while garnering attention as the road block left tackle for quarterback Zach Wilson.
Scouting reports describe Christensen as having short legs, a long torso and a barrel chest. The question here is whether he can play well enough in pass protection to play tackle. Otherwise, he'll develop into a starting guard for years to come.
Some have compared Christensen to longtime Packers' tackle Chad Clifton, who also was a second-round pick. The Packers will be thrilled if that proves to be the case.
** No. 92 – In this scenario, the Packers already have a starting-caliber cornerback (Newsome) and a starting-caliber interior offensive lineman (Meinerz) heading into the third round.
This is where Gutekunst looks to upgrade the interior defensive line by selecting Louisiana Tech's Milton Williams.
Williams (6-3, 284) is a brawling defensive tackle with exceptional toughness and strength. He also possesses above-average quickness and short-area athleticism.
The defensive tackle would immediately join the rotation up front with Kenny Clark, Dean Lowry and Kingsley Keke. Ideally, he will supplant Lowry while pushing Keke to reach his potential.
** No. 135 – It's time to get the slot receiver with the speed to stretch defenses and run the "jet sweep" to perfection. He also possesses the ability and explosiveness to return kicks and punts.
That player is Western Michigan's D'Wayne Eskridge.
Eskridge (5-9, 190) has blazing 4.3 40-yard dash speed and enough wiggle and elusiveness to be a legit big-play weapon in Packers head coach Matt LaFleur's offense.
Eskridge led the FBS with 213 all-purpose yards per game and ranked fourth in receiving yards at 130.7. His big-play ability is illustrated in his 23.1 yards per reception. That's especially impressive in that defenses knew which Western Michigan player was likely to get the ball and they still had great difficulty stopping him.
Newsome, Meinerz, Williams and Eskridge would be a dynamite top of the Green Bay Packers' draft. It offers a starting-caliber cornerback and interior offensive lineman, a rugged, rotational defensive lineman and an explosive slot receiver/return man.
That would qualify as a great weekend's work.