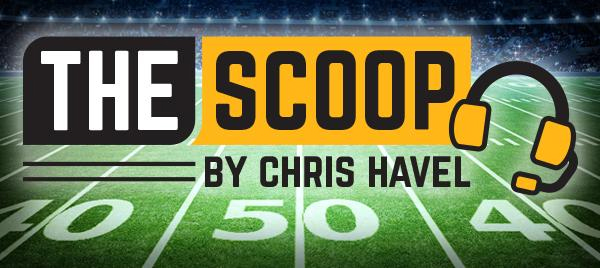 By Chris Havel
Rodgers' draft-day drama casts pall over event while GM forges ahead
GREEN BAY, Wis. – By now Packers fans are painfully aware of reports that Aaron Rodgers intends to pull the plug in Green Bay.
It is lights out, show's over, sayonara and all that nonsense.
If he does return – and that is looking more doubtful by the day – he has a rather rigid list of demands that doesn't end with getting paid (again). He wants those who took part in drafting Jordan Love to pay for it, according to sources.
Rodgers allegedly doesn't respect the front office and wants GM Brian Gutekunst fired. He is ok with the coaching staff (I would hope so), but is unhappy and unwilling to publicly offer any context to his discontent.
Oh, he did tell ESPN's Mike Tirico on Kentucky Derby Saturday that he was – wait for it – "unhappy" that word of his unhappiness leaked. That's rich, especially because I suspect No. 12 is the one who leaked it.
Nevertheless, the show must go on in Green Bay.
The Packers' organization is stronger than any one player, and it has thrived long after even the great ones exit stage left.
Some in the media have portrayed Packers head coach Matt LaFleur as being stuck in the middle between the front office and the quarterback. That assumption is off base.
Guess what LaFleur wants more than Rodgers staying in Green Bay? That would be LaFleur staying in Green Bay.
The coach's loyalty to the team is unquestioned.
Clearly, he wants Rodgers to return. The fact that the QB doesn't want to be here – and he has said nothing to dispel the notion – is perplexing.
"I can't fathom (him) not being in Green Bay," LaFleur told reporters during the weekend. "That's where my mind's at. I don't only love the player, but I love the person. I love working with him on a daily bases. I think we all do – from the players in that locker room to the coaching staff. Again, I don't even want to let my mind go there."
LaFleur has met with Rodgers, but declined to divulge details.
"I'll always remain hopeful and optimistic, and certainly, we'll always welcome him back with open arms. He knows exactly how not only (I feel) but how our staff and our players feel about him. Like I said before, I just can't imagine him not being in a Green Bay Packer uniform."
LaFleur, like the fans, has to play the hand he's dealt.
With that, here is a look at the Packers' 2021 draft class, which I can fearlessly predict features nine players who definitely want to be here.
** First round (No. 29) – Eric Stokes, cornerback, Georgia
Stokes (6-0, 194) blazed a 4.29 40-yard dash at his pro day.
He has exceptional length and athleticism to go with his speed. The knock on Stokes is that he's raw and needs refining. Show me a college cornerback who doesn't need that? It's part of the deal.
What Stokes has done is compete against college football's top receivers during his time with the Bulldogs. With Kevin King re-signed, Stokes should have time to grow while lining up as the slot cover corner and playing in various sub-packages.
Clearly, the goal is to have Stokes become All-Pro Jaire Alexander's bookend for seasons to come.
** Second round (No. 62) Josh Myers, center, Ohio State
Corey Linsley's departure in free agency created the need for an interior lineman in the draft, and Myers should fit the bill. At 6-5, 310, he's built more like a tackle than a center, but he has exceptional knee bend and flexibility, but he needs to get stronger.
Myers will work at center and both guard spots until he finds a home. That versatility should tell you all you need to know about his talent.
** Third round (No. 85) Amari Rodgers, receiver, Clemson
Whether it's Rodgers or Love or Teddy Bridgewater throwing the football, the Packers will be pleased to have Amari Rodgers on the receiving end.
With the speedy Rondale Moore (49th to Arizona) and D'Wayne Eskridge (56th to Seattle) off the board, the Packers went with the next-best talent at the "slot receiver/jet sweep" position.
Rodgers is similar to Randall Cobb in that he can line up all over the formation. He has terrific hands to go with a powerfully built 5-10, 210-pound frame.
Rodgers caught 77 passes for 1,020 yards and seven touchdowns at Clemson last season. He should provide a nice change-of-pace with Davante Adams, Marques Valdez-Scantling, Allen Lazzard and Equanimeous St. Brown.
** Fourth round (No. 142) Royce Newman, OL, Mississippi
Newman (6-5, 310) has exceptional feet, balance and experience at tackle to challenge for the job at right tackle. Newman, along with second-round pick Josh Myers and sixth-round selection Cole Van Lanen, provide an immediate upgrade to the offensive line depth.
** Fifth round (No. 173) Tedarrell Slaton, DT, Florida
Slaton (6-4, 330) is much more of a run stopper than a pass rusher, which explains why he was on the board in the fifth round. Nevertheless, the Packers have a real need for that type of player, if for nothing else than to provide quality snaps while Kenny Clark takes a breather.
ESPN's Rob Demovsky noted that Slaton's role may be expanded if the Packers choose to cut Dean Lowry after June 1, which would save the team $4.8 million in cap space.
** Fifth round (No. 178) – Shemar Jean-Charles, CB, Appalachian St.
Jean-Charles (5-10, 184) was a two-year starter for the Mountaineers who graded out well in coverage. He's described as a feisty player with good agility and short-area quickness with fluid coverage skills.
Jean-Charles was clocked at 4.51 in the 40-yard dash, which suggests the Packers may be playing more zone coverage under new defensive coordinator Joe Barry. In fact, Jean-Charles' skillset is similar to that of 2018 second-round pick Josh Jackson, who arrived in the NFL as a ball-hawk with marginal speed but great recognition.
** Sixth round (No. 214) Cole Van Lanen, G, Wisconsin
Van Lanen (6-4, 305) is a great story out of Bay Port High School and the University of Wisconsin.
"This is a one-in-a-million chance and opportunity," Van Lanen said. "I am so excited to really work my butt off and help this team win a Super Bowl. Just to have it be from a few miles from where you grew up, thisis the team I watched my entire life. To be part of such a special program, I'm beyond excited, that's for sure."
** Sixth round (No. 220) – Isiah McDuffie, LB, Boston College
McDuffie (6-1, 227) is an undersized linebacker with good speed and exceptional instincts. He has a chance to be a special teams' contributor while he gets up to speed with the defense.
** Seventh round (No. 256) – Kylin Hill, RB, Mississippi State
Hill (5-10, 210) played in 40 games during four seasons with Mississippi State, where he rushed 452 times for 2,535 yards and 16 touchdowns. He also caught 67 passes for 631 yards and six touchdowns.
Hill ran a 4.52 40-yard dash and didn't test well on the agility drills, but is a gamer that has a chance to replace the departed Jamaal Williams (free agent to Detroit) as the No. 3 running back.
Hill's ability to catch the football is a plus. So is the fact that he fumbled just once in 2019, his best season at Mississippi State, when he ran for 1,352 yards and 10 touchdowns.