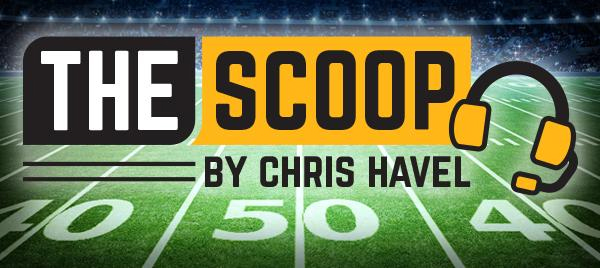 By Chris Havel
Suggestion that the less said publicly the better is merely a stall tactic to buy time
GREEN BAY, Wis. – Mark Murphy has it right as long as he sticks to it.
The Packers' president wrote in his monthly fan newsletter on the team's website that Aaron Rodgers' situation has "divided our fan base." Murphy added that the less said publicly by both sides, the better.
Here are a couple of key points.
"Divided" doesn't mean split in half.
I don't need a national poll to know that fans' feelings aren't fifty-fifty on Rodgers' holdout. A majority of fans are tremendously disappointed in the self-absorbed two-time MVP QB's decision to stay away.
Murphy's choice of the word "divided" – while not incorrect – was being kind to Rodgers and his fragile ego. It would only exacerbate the issue if Murphy had come out and declared, "Nine out of 10 fans I'm hearing from think Rodgers is dead wrong and needs to show up."
At least Murphy's efforts at diplomacy are evolving.
The second part of Murphy's statement – that both sides agree the less said, the better – is meaningful only if the Packers stick to it.
When Rodgers decides to return to Green Bay and play for the Packers, I'm not at all interested in hearing how both sides kissed and made up. I don't want a news conference with smiles, hugs and back-slaps.
I want Rodgers to come in and do his job.
After 16 seasons it's strictly a transactional relationship based upon Rodgers' words and actions. So be it.
When he comes back – and I believe he will – I want him to play quarterback to the best of his ability, to be cheered when he's amazing and to be booed when he stinks. No more, no less.
Now, I might be interested in a "Rodgers returns" news conference, but only if it was going to be the truth, the whole truth and nothing but. That isn't going to happen, so what's the point?
Is it to create the illusion "it's all good" between the team and its star?
The Packers shouldn't go there.
When Rodgers revealed that he has "philosophical" differences with the team, I respected that. He's played forever and has achieved a great deal.
A philosophical difference might be Rodgers wanting a particular player in the draft, and the Packers going in a different direction. That's ok.
What I didn't agree with was his not-so-subtle condemnation of the Packers' "culture."
Cultural problems suggest something serious, perhaps even sinister, is going on in the workplace. What aspect of the Packers' "culture" does Rodgers believe to be unhealthy? The word "culture" – without knowing specifics – opens the door to include major problems.
If Rodgers has reason to seriously believe the Packers' "culture" is messed up, then he needs to step up and spell it out. He's had ample time to do so since word of his discontent surfaced. He hasn't done so.
Until then, I can only conclude that his criticism of "culture" is bogus.
Murphy's statement continued:
"As I wrote here last month, we remain committed to resolving things with Aaron and want him to be our quarterback in 2021 and beyond. We are working to resolve the situation and realize that the less both sides say publicly, the better."
Here's something else the Packers and Rodgers should be able to agree on: Their best chance to win the Super Bowl is to do it together.
Rodgers may be unhappy with GM Brian Gutekunst, but the fact is the Packers' GM has put together a pretty impressive roster. Some national sites list the Packers among teams that have had the worst offseason. That's due to Rodgers' holdout and nothing else.
The Packers' draft appears to be strong. The defense added size, speed and talent, while the offense added quality linemen and a multi-threat weapon in Amari Rodgers.
Furthermore, head coach Matt LaFleur knows how to win. He believes in his scheme and is proceeding as best he can with veteran Blake Bortles and second-year pro Jordan Love at quarterback.
The Rodgers trade speculation has been entertaining and unrealistic.
Consider the notion that Rodgers and receiver Julio Jones might team up. Today it amounts to nonsense. Tennessee is in the midst of trading for Jones, and the Packers aren't trading Rodgers to the Titans.
While it is true Green Bay would save $22.85 million in cap space for 2021 if they dealt Rodgers, the Packers aren't to that point yet. They are obligated to do everything they can to retain Rodgers.
However, if July gives way to training camp and the preseason, and Rodgers is still a no-show, Green Bay will face a difficult decision. Do they trade Rodgers? Do they let him twist in the wind all season and then trade him in 2022?
Those are tough questions to answer.
Meantime, LaFleur should continue to prepare for a season without Rodgers, and Murphy should stick to the plan of the less said, the better.
And that goes double for the day Rodgers returns.