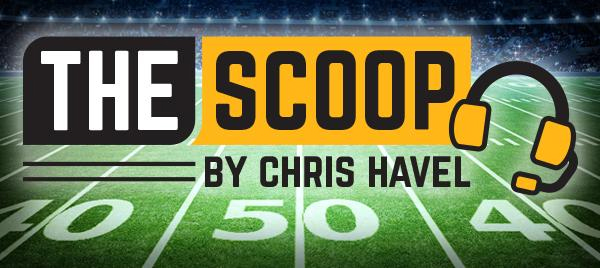 By Chris Havel
Second-year quarterback takes vast majority of reps during minicamp
GREEN BAY, Wis. – Fourteen months after the Packers traded up to draft him in the first round, Jordan Love finally had a chance during last week's mandatory minicamp to show what he can do on the field.
The reviews were mixed, which isn't surprising, but the bottom line remains the same: Love will be force-fed all the reps he can swallow while Aaron Rodgers' holdout drags through the summer.
On Tuesday, Love struggled to complete passes downfield and repeatedly settled for check-downs to the running backs. His accuracy wasn't where it needs to be if he's going to be a good NFL starter. He completed just 12 of 23 passes in the team portion of practice.
On Wednesday, Love looked like a first-round quarterback.
He had his best day in front of selected media (due to COVID-19 limits) and ran the offense with a semblance of command and precision.
Love got the defense to jump offside and made the most of the free play by delivering a strike to Allen Lazard in stride for a 45-yard touchdown between two defenders.
He also connected with Aaron Jones and A.J. Dillon on a pair of "wheel" routes that went for 30 yards apiece. He hit both players in stride as they zipped past a would-be defender up the sideline.
Later, he fired a strike to Marques Valdez-Scantling for another big play.
On Thursday, Love was a bit more scattershot while making some throws and missing others. First-round draft pick Eric Stokes stepped in front of a pass intended for MVS and intercepted it for a "pick-six." He also fumbled a handoff exchange with Dexter Williams, but rallied to fire touchdowns to Juwann Winfree and Robert Tonyan later in the drill.
Love's numbers were decent for the week, according to ESPN.
He completed 40 of 70 passes (57.1 percent) during the 11-on-11 drills, compared with 37 of 64 (57.8 percent) all of the 2020 training camp. There was no preseason because of the pandemic.
It was interesting to see how head coach Matt LaFleur handled the week.
On Tuesday, LaFleur acknowledged that Love has a lot to learn, but that the Packers haven't scaled down the playbook to accommodate him. When Love struggled, LaFleur didn't point the finger at anyone else.
On Wednesday, when Love played well, LaFleur was quick to note that the entire offense played better. It was a subtle way of reminding everyone that all 11 are in it together. It can only promote ownership and accountability on everyone's behalf, not just the quarterback's.
"Every day is a new learning experience," LaFleur said of Love. "And when you have limited reps and you weren't getting the bulk of the reps all throughout the course of the season – and this is never an excuse; it's just a reality, right? There was no preseason (last year), so there's just a ton of learning that's going on.
"It's great to see when (Love) does have success because again that will build the confidence, and that's really what we're looking for. But also, it's everybody else around him, too. When they're playing at a high level, it makes that guy's job a lot easier."
It also is noteworthy that LaFleur is expanding the roles of the running backs (Jones and Dillon) as receivers out of the backfield. High completion percentage passes to the backs and tight ends are a quarterback's best friend – especially if he's an inexperienced QB.
The Packers' offense appears to be more talented and quarterback friendly than at any time during Rodgers' 16 seasons. If he returns, that's great. If not, Love has at least a fair chance to be successful.
Andrew Brandt, the Packers' former salary cap guru, sent out an interesting tweet last week.
Brandt's tweet: Beyond the noise, the Rodgers-Packers situation is the same as it always has been and will be: The Packers aren't trading him (at least not in 2021), and he can't trade himself.
By taking the stance that they won't trade Rodgers, the Packers are keeping the door open to his return while facilitating (as best they can) a smoother transition to Love if Rodgers never returns.
Fans will be hard on Love if/when he struggles, but the Packers can always say, "We had to expedite Love's growth a year earlier than we would have preferred."
In that way, the Packers can put the offense's struggles on Rodgers' absence as much as Love's prematurely accelerated role.
Either way, Love didn't hesitate when asked if he'd be prepared to be the Week 1 starter if necessary.
"A hundred percent," he said. "Obviously, this is a time where I'm getting a lot of extremely valuable reps that I might not have been getting in a normal circumstance. So I'm just going to take it day by day … but yeah, that's what I'm here for. I was drafted here to play quarterback, so I'll definitely be ready Week 1."
It's difficult to know for sure until it is live NFL action, but Love appears to be more confident and at ease in the huddle and at the line.
"That's a part of my game that I'm trying to improve as well, just being able to take charge of this offense and be able to command these guys and take a leadership role," he said. "Last year, obviously I wasn't in that role. That was Aaron's voice being heard and whatnot. Now I've just got to be able to take that next step and take command of it and lead these guys."
Initially, many felt sympathetic toward Love for being in this situation.
The more I consider it, I tend to think Love's actually in a great place. He has an excellent head coach and staff to learn from, and he has a proven scheme to operate in. Furthermore, the Packers' offense may be as deep and talented as it has been in years.
So while Rodgers deliberates, and Love works, the Packers will continue to prepare for their Sept. 12 season-opener at New Orleans.
It's less than three months away – with or without Rodgers.