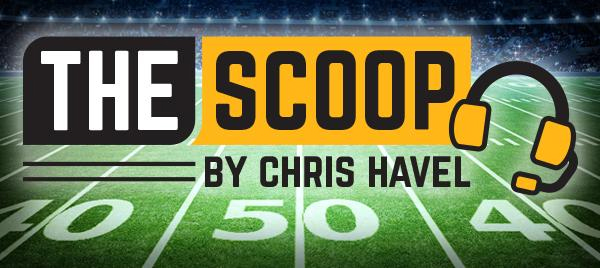 By Chris Havel
Green Bay is deeper, more talented and better prepared at CB, LB, OL and QB
GREEN BAY, Wis. – In two months, the Packers will kick off their regular season at New Orleans against the Brees-less Saints.
By then Aaron Rodgers' future in Green Bay may be determined, and fans may not feel like they're being held hostage emotionally.
One can hope anyway.
Meantime, I've got five predictions that will be fulfilled between now and the Packers' Sept. 12 opener in The Big Easy.
** No. 1 – Rodgers returns Sept. 4 (or doesn't)
Whether Rodgers plays in Green Bay again is an annoying mystery.
What Rodgers requires to return is anyone's guess.
Here goes my best guess …
Rodgers may want the Packers' written assurance that he'll have a say so in determining where he is traded next spring. It could be an "I'm willing to be traded there" list of teams Rodgers would play for. If the Packers don't agree, Rodgers doesn't report.
Certainly, Rodgers' demands include a significant pay raise for the MVP quarterback and contractual "outs" to reduce whatever money he would be otherwise obligated to repay if he doesn't play in Green Bay.
I can't see the Packers agreeing to give Rodgers serious input on personnel decisions, and they definitely aren't going to fire/demote any current employee(s) because Rodgers demands it.
If that happened, there really would be a culture crisis in Green Bay, rather than the one alleged by Rodgers (per a source, of course).
Frankly, I believe Rodgers will show up Friday, Sept. 4, practice the following week and start against the Saints. Based on his history, it's clear he doesn't feel he'll need the preseason to be ready.
Rodgers expressed his thoughts on training camp's importance in 2019. Here is an excerpt from an article that appeared on Packers.com in August. Rodgers hadn't taken a single snap with the No. 1 offense and there was one preseason game to play.
"If we didn't play, I'd feel great going into Week 1," he said. "If we did, I wouldn't really be worried too much about the results. If we go down and score a touchdown, it's not going to give me any more confidence than I already have in the scheme. If we go three-and-out, it's not going to dampen any confidence I have in what we've established so far in training camp practices."
Rodgers spoke of the importance of practice reps in training camp, which he got in 2019 but wouldn't be getting this year. Then again, that was two seasons ago, and Rodgers has come a long way in this scheme. He probably could play at a decent level without camp or the preseason.
I'd pencil in Friday, Sept. 4 as Rodgers' "Decision Day."
Either he'll report on or near that date and start for the Packers at New Orleans, or he'll continue the holdout and risk sitting out the season.
The Packers aren't trading him before next spring, and I can't see Rodgers being willing to miss an entire season at age 37. Then again, I don't know how upset he is about whatever it is that he feels the Packers have done to alienate him.
It's enough to make a sane person crazy, but it's even crazier to think Rodgers would skip out on a chance to take a team to the Super Bowl.
During "The Match" celebrity golf event last week, Rodgers was asked to divulge his plans regarding the Packers and the upcoming season.
"I'm going to enjoy the hell out of this week," Rodgers replied. "And then I'm going to get back to working out and figure things out in a couple of weeks."
In a couple of weeks, Rodgers will be expected at camp, but I think he'll exact his final measure of leverage by arriving unfashionably late.
** No. 2 – Jones and Dillon are a dominant 1-2 punch
The Packers' ability to re-sign Aaron Jones stands as one of their biggest moves of any recent offseason. Jones is a touchdown maker. He is speedy, elusive and versatile. He doesn't fumble. He can catch it out of the backfield. He's a willing blocker on blitz pickups.
Jones also has a sense for the big moments and the talent to rise to them.
Now he has a backfield mate who can help take his game up a notch.
A.J. Dillon's combination of speed and power is rare. He flashed it against the Titans on a memorable snowy night in Green Bay. He is better now than he was then, as a rookie, and the sky's the limit.
Whether it's Rodgers or Jordan Love under center, the Saints' defense will have its hands full trying to stop Jones and Dillon. This should be a top storyline heading into the season. It will be after Week 1.
** No. 3 – Packers' defense turns it up under Barry
Joe Barry's resume includes coordinating a defense on an NFL team that went winless. It might be easy to blame Detroit's hapless offense for that, except it isn't like Barry's defense went unscored upon.
At any rate, Barry is in a much better place now, and I have a hunch the Packers will be that much better for having him here.
Early observations of Barry, according to reporters attending the OTA's and minicamps, paint a picture of a high-energy, hands-on coach who speaks clearly, directly and individually to his players.
There is no mistaking who is in charge of the defense.
There also is no overstating the Packers' talent on that side of the ball. It is better than the 23rd overall ranking it managed last season. Now, that talent (Jaire Alexander, Kenny Clark, Rashan Gary and Darnell Savage) is a year older, and it's ready to become more help than hindrance.
** No. 4 – Davante Adams gets paid, finally!
Adams is among the greatest receivers in Packers' history. Soon, he will become one of the NFL's highest-paid receivers, too.
With Adams, the Packers' receiving corps is among the league's best. Without him, it is untested rookie Amari Rodgers and a group of receivers one might see at a Canadian Football League tryout camp.
Actually, the supporting cast is replete with unfulfilled promise.
Allen Lazard was on pace to put up big numbers before being injured last season. Lazard is a capable No. 2 NFL receiver. He just needs to stay healthy to remind everyone.
Devin Funchess went to a Super Bowl with Cam Newton at quarterback. Perhaps that's why he didn't seem fazed about Aaron Rodgers' status.
Funchess, who opted out due to COVID-19 last season, has a chance to give the receiving corps a boost.
Equanimeous St. Brown also has had his moments. If EQ can stay healthy, he provides quality depth.
With these receivers, plus Bobby Tonyan and the tight ends, the Packers should have plenty of complementary pieces to go with the newly minted Adams.
** No. 5 – The OL dominates as it awaits Bakhtiari's return
While David Bakhtiari chugs the Bucks on to victory and rehabs his surgically repaired knee, the Packers' offensive line plots its survival until the All-Pro left tackle returns.
In fact, I suspect the offensive line will find a way to thrive.
The talented running backs (Jones and Dillon), plus a rugged collection of more-than-willing to block tight ends, gives the Packers' offensive line a terrific running start.
Coupled with the talented coaching of offensive line coach/run game coordinator Adam Stenavich and offensive line assistant Luke Butkus, the offensive line should be able to protect the quarterback.
Draft picks Josh Myers (center), Royce Newman (guard-tackle) and Cole Van Lanen (guard) should be able to contribute immediately, with Myers as starting center and Newman and Van Lanen in backup roles.
When the Packers kick it off against the Saints on Sept. 12, Green Bay's offensive line will be talked about in terms of its great potential. By game's end, they'll be talking about how dominant it was in victory.
By the way, that's a prediction I'm willing to make – whether Rodgers plays or sits it out.
Remember, it is the Brees-less Saints, after all.