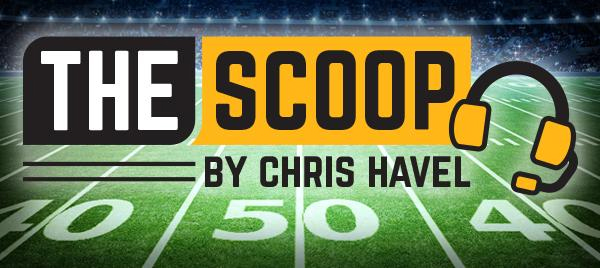 By Chris Havel
GREEN BAY, Wis. – The Packers' offseason has been part mini-series, docudrama and sitcom all rolled into one, with football as the backdrop.
Who needs HBO's Hard Knocks when you've got this type of dysfunction? And it was real. It didn't have to be ginned up.
Thankfully, for the time being, that is in the past.
Perhaps with Aaron Rodgers' return and the start of training camp, the Packers can get back to normalcy and the business of football.
Rodgers, who skipped the Packers' entire offseason program and enjoyed doing so, met with media last week to tell his side of the story.
In a 31-minute news conference reminiscent of the Seinfeld episode "The Strike" which is better known as "Festivus, for the rest of us," Rodgers cut loose during his airing of grievances.
He sounded more like a lawyer presenting his opening argument in the court of public opinion than he did the NFL's reigning MVP.
He criticized the Packers for failing to use him as a resource regarding the team's personnel decisions. He also ripped his employer for trying to "throw money at him" rather than working to fix perceived problems.
We common folk could only wish our employers tried that resolution.
"I just expressed my desire to be more involved in conversations directly affecting my job," Rodgers said.
Then he listed Charles Woodson, Jordy Nelson, Julius Peppers, Clay Matthews, Randall Cobb, James Jones, John Kuhn, Brett Goode, T.J. Lang, Bryan Bulaga, Casey Hayward and Micah Hyde as "guys who were exceptional players for us but (also) great in the locker room."
Rodgers believes the Packers either released those players too soon, mistreated them in the process, or both.
Of the 12 players cited by Rodgers, a strong case can be made that the Packers should've retained Woodson, Peppers, Hayward and Hyde. The rest were released because it's part of doing business in the NFL.
Clearly, Rodgers is a much better quarterback than GM.
Rodgers didn't cast aspersions toward GM Brian Gutekunst, though.
That's because he didn't have to.
When asked about his relationship status with the Packers' GM, Rodgers responded with a chilly, "It's professional."
This is where the irony gets rich.
While many fans are disappointed with Rodgers' actions, the truth is they wanted the Packers to retain many of those same players. And the notion that Rodgers wouldn't come back – according to sources – unless the GM was fired might be interesting if it weren't so ridiculous.
The reason Rodgers returned – in his words – is because of this team and its tremendous potential to compete for and win a Super Bowl.
Who does Rodgers think built this team?
Oh, that's right, it was the GM.
Gutekunst did appease Rodgers to a degree by trading for Cobb.
Rodgers and Cobb are close friends. So are their significant others.
"To get Randall back is really special," Rodgers said. "It's something that I talked about back in February, wanting to bring in a true slot receiver. I thought it would make our offense more dynamic. I think Randall's a dynamic player — he has been when he's been healthy."
Cobb has been very good – when he's been healthy – which is the point. He hasn't been healthy the past couple of seasons.
That's why GM's control rosters and players play.
Apparently, Rodgers asked Gutekunst to bring in a true "slot receiver" and specifically mentioned Cobb in his post-season exit interview. Gutekunst complied by drafting highly regarded Clemson slot receiver Amari Rodgers in the third round of the NFL draft.
Nevertheless, Rodgers wanted Cobb, so now he's got two slot receivers.
It could get dicey if Cobb underperforms in training camp while a Juwann Winfrey or Devin Funchess is playing lights out.
Who do the Packers cut in that case?
Does Gutekunst do the right thing and cut Cobb or risk all-out war with Rodgers as the regular season approaches?
It will be interesting to see what happens if it becomes an issue.
Rodgers' comments about Green Bay "not being a vacation destination" and that players come here to "play with me" didn't sit well with fans.
Again, Rodgers said the quiet part out loud.
He's the reigning MVP. He can say whatever he wants.
But does that make it right?
To his credit, Rodgers did arrive at the start of training camp.
He also professed his undying love for his team and its fans.
When asked if he wants to be here, he didn't mince words.
"I love my teammates. I love the city. I love my coaches. It is a lot of fun to be back here and like I said, 'I'm competitive and I realize the type of team that's in place here. It's a team that has a lot of talent on it. It's been close the last couple years, so I'm definitely excited about this season.' I've had a lot of great conversations over, I'd say, the last two weeks with various teammates past and present and that's definitely refueled the fire to go out and lead and perform at my best."
Rodgers didn't dwell on what may happen next season.
He's here now, he's "all-in" and he's ready to win games.
"That's why I just have to focus on this season," he said. "I love this team, I love the organization, the fans, and the opportunity to play on Lambeau Field has been a dream come true.
"To be in my 17th season is special. I don't take that for granted. I'm not a victim here at all. I just want to reiterate that. I've been paid a ton of money by this organization. I'm so thankful to be a starter here for my 14th season. Not many guys have the opportunity to do that. So I don't feel like anything has been done to me here. It's a business. It's an incredible opportunity to play this game. But it's a tough business, too."
It's a tough business under the best of circumstances. The fact that Rodgers and the Packers' front office didn't work to build a relationship in the past came back to haunt them in the present.
Now we'll see what unfolds going forward.
In that regard, little has changed.
Much of the Packers' success hinges on Rodgers' ability to stay healthy, the defense's ability to improve under new coordinator Joe Barry, and head coach Matt LaFleur's steady hand at the rudder.
For his part, Rodgers didn't downplay what it means to be the Green Bay Packers' quarterback.
"It's still an honor," he said. "It's still something I'm very proud of. You know I did see something about Favrey (Brett Favre) and Bart (Starr) playing 16 years here, and this is obviously No. 17 (for Rodgers). So there's something special about that."