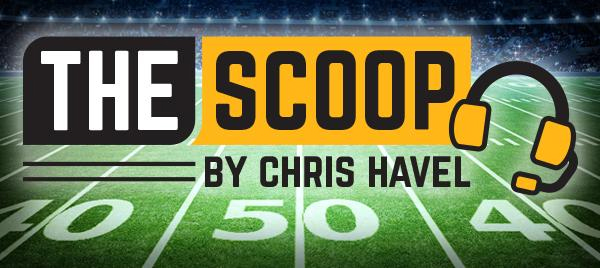 By Chris Havel
GREEN BAY, Wis. -The Packers' Family Night Scrimmage was a huge success Saturday night at Lambeau Field.
No one drowned.
That isn't to say some of the first- and second-year players' heads weren't swimming with assignments to execute, inclement weather to navigate and 34,835 fans to impress.
It's a tall order in a single, weather-shortened evening, but players such as Kabion Ento, Krys Barnes and even veteran Devin Funchess managed to make enough plays to be noticed for the right reasons.
Beyond that the fans were amazing.
A little rainfall – ok, a lot of rainfall – couldn't dampen their enthusiasm for Packers football. After the pandemic limited last year's scrimmage to a small gathering of fans, they weren't going to miss this one.
"What a great experience to have fans back in the stands, man," Packers head coach Matt LaFleur said. "They brought a lot of juice, a lot of energy. I think that you don't truly appreciate how much more joy and just how much more fun the whole experience is to have that many people in less-than-ideal conditions to show up for practice.
"That was pretty cool."
There were no injuries, according to LaFleur, so the only casualty was the post-practice fireworks display, which had to be canceled.
LaFleur noted that he also had to forego several periods, including red zone, because the start was delayed by lightning. When practice did start LaFleur was told he had maybe an hour before they'd get washed out.
"Heck, we could still be out there," LaFleur said at his post-practice news conference. "I got some bad information, but we did get to go 'live' (tackling) as promised, and we got a lot accomplished tonight."
Once practice unfolded it appeared the defense outplayed the offense.
Ento made nice plays to defend two passes, although he whiffed trying to tackle receiver DeAndre Thompkins on play that went for big yards.
Inside linebacker Krys Barnes was active as usual, and his running mate, De'Vondre Campbell, flashed his considerable length and athleticism.
Clearly, the Packers' inside linebacker unit is much improved. Campbell is a productive, durable player in his prime. He is what Christian Kirksey was supposed to be, but with more size, speed and length.
"He's been lights out," LaFleur said of Campbell. "You can see the instincts that he has and he's very, very fluid. There's been a couple instances in practice – whether it's as a blitzer, whether it's coverage – where (you can see) he's a very good athlete."
Safety Darnell Savage, Jr., made a juggling interception after Davante Adams bobbled a pass from Aaron Rodgers.
For his part, Rodgers' accuracy, arm strength and swagger were on display. He routinely threw the football into a waste-basket sized net from 25 yards, and also did so twice from 45-plus yards.
Rodgers looked in mid-season form.
Funchess also drew notice with two nifty catches from backup quarterback Jordan Love. He hauled in a 25-yard grab along the boundary and also did a clever toe-tap along the sideline for another.
Funchess has missed the past two seasons – he sat out 2019 with an injury and opted out in 2020 due to the pandemic – so he's anxious to get back to playing football and having fun.
"I got to have fun again," Funchess said. "I've got to have fun with the guys and just put on a show for the crowd that was here."
Funchess undoubtedly is in a roster battle, especially with Randall Cobb in the house, but he's confident he'll catch on. As a rookie, he caught two passes for 40 yards in Carolina's Super Bowl L loss to Denver. In that 2016 season he caught 31 passes for 473 yards and five TDs.
Funchess appears to be in terrific shape, too.
It'll be interesting to see how the receiver position shakes out.
The Packers' offense was clean for the most part, although there were several poor quarterback-center exchanges between Love and undrafted rookie center Jacob Capra.
LaFleur seemed pleased aside from the unforced errors.
"There was a little bit of sloppiness … we definitely need to clean up," he said. "Shoot, we're a week away from our first preseason game, so that'll definitely be a point of emphasis throughout the week."
** Charles Woodson inducted into Pro Football Hall of Fame
Former Packers' cornerback Charles Woodson gave an emotional, family-oriented speech Saturday night as part of his induction into the Pro Football Hall of Fame in Canton, Ohio.
Woodson spent seven of his 18 NFL seasons in Green Bay, where he earned NFL Defensive Player of the Year honors in 2009 and won a Super Bowl in 2010.
In seven seasons with the Packers, Woodson racked up 38 interceptions, 15 forced fumbles, 99 passes defended, 11 ½ sacks and nine "Pick 6's."