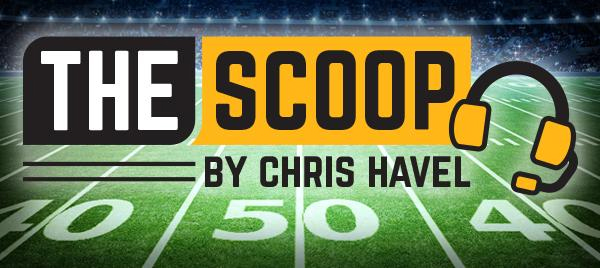 By Chris Havel
GREEN BAY, Wis. – Hurricane Ida's devastation turned the site of the Packers-Saints season opener into an educated guess until Wednesday, when the NFL announced the game would be played in Jacksonville.
So how will this matchup of NFC contenders play out?
That is anyone's guess, educated or otherwise.
The Las Vegas odds-makers designated TIAA Bank Field a neutral site, as if it was taupe or beige, when discerning Packers fans know it will be a resplendent dark green-and-gold on Sunday afternoon.
The Packers are favored by 4 ½ points – presumably getting the three points traditionally assigned to the home team – that is unless the Jaguars are playing at home that week.
My advice is to take Green Bay, give the points and rest easy while Aaron Rodgers shreds New Orleans' banged up secondary.
But don't take my word for it.
The ESPN FPI (Football Power Index) computer simulation also had the Packers defeating the Saints in Sunday's opener. According to the computer, both teams will finish 11-6 and advance to the post-season, where the Packers will knock out the Rams AND the 49ers.
But wait … it gets better.
Green Bay goes on to avenge its loss to the Bucs in last year's NFC title game with a 39-26 upset of top-seeded Tampa Bay. The computer didn't say whether Tom Brady will retire, or Rodgers will return to Green Bay, but it did predict (correctly) Packers-Bills in Super Bowl LVI.
Green Bay's first step toward that end comes Sunday in Jacksonville, where the forecast calls for a high of 88 degrees, 71-percent humidity and the obligatory Florida tagline: a chance of showers.
That's like saying there's a chance of Rodgers raining TD passes.
It will happen, the only question being the total volume.
Saints defensive tackle Malcolm Roach knows what they're up against, although I question his definition of excitement.
"It's pretty exciting," Roach said. "Last year we started off against Tom Brady, so it's like an even thing, two great quarterbacks (that) I get to start my seasons off with. Last year it was Tom Brady and this year it is Aaron Rodgers. At the end of the day it is just football though."
That is true.
At the end of the day it is just football … football without Hall of Fame quarterback Drew Brees for the first time in 15 seasons … and without All-Pro receiver Michael Thomas and Pro Bowl placekicker Will Lutz and starting cornerback Brian Poole … all sidelined by injuries.
The Saints' secondary is further compromised because Ken Crawley, the next corner up, might be down with an undisclosed injury. That leaves Marshon Lattimore as the Saints' only pedigreed cornerback.
New Orleans is so desperate it worked out former Atlanta Falcons cornerback Desmond Trufant on Monday.
That would qualify as good news if the Saints were giving a look-see to the Trufant of old, rather than an old Trufant.
He turns 31 on Friday.
He last played with the Detroit Lions.
Need I say more?
Better still, here is what Saints coach Sean Payton said about Trufant: "He was in today to work out … we are looking at veteran players like him that have that experience, but yeah, nothing (to report) at this time."
Given that glowing assessment it doesn't sound like Payton has Trufant penciled in to start opposite Lattimore against Green Bay.
The Saints also are without starting tight end Nick Vannett.
New Orleans does have the streaky Jameis Winston at quarterback, the scintillating Alvin Kamara at running back and the surprising Marquez Calloway at receiver.
It's enough firepower to do damage, especially with Payton, a truly clever play-caller, orchestrating the attack.
Then again, can New Orleans match Green Bay point for point?
That seems doubtful with Rodgers, Aaron Jones, Davante Adams and Robert Tonyan all healthy, well-rested and raring to go.
Green Bay's greatest unknown – aside from Za'Darius Smith's status due to a back injury – is the offensive line's configuration. Common sense suggests it will be (left to right): Elgton Jenkins, Lucas Patrick, Josh Myers, Royce Newman and Billy Turner.
Packers coach Matt LaFleur acknowledged the inherent challenge of starting two rookies (Myers and Newman) at center and right guard.
"I have not experienced two rookies – especially side-by-side – starting on opening day," he said. "But they've got good guys around them and we've got confidence in them to go out and perform at a high level."
It will be interesting to see how the Saints' defense attacks it.
Cameron Jordan and Marcus Davenport are scary edge rushers, and linebackers Demario Davis and Kwon Alexander are talented and savvy.
Clearly, the Packers will employ their vaunted play-action passing game to disrupt the Saints' pass rush, a task that becomes easier if Green Bay can effectively run the football.
Look for a healthy dose of Jones and A.J. Dillon pounding away early.
Defensively, the Packers' pass rush could be without Za'Darius Smith, who remains questionable with back issues. LaFleur remains "hopeful" that the team's sack leader will play.
Meantime, edge rusher Rashan Gary and safety Darnell Savage will look to continue their superb play that began in the second half of last season.
The addition of De'Vondre Campbell should stabilize inside linebacker, although Kamara undoubtedly will put Campbell's physical prowess (he's 6-4, 232 and can run) to the test.
Both defenses will be forced to deal with un-scouted looks.
"You've got to trust your rules," LaFleur said. "Guys have to understand the ins and outs – they've got to be able to adjust on the fly – but that's true of any week."
LaFleur knows it won't be easy against the Saints.
"I've got a lot of respect for Coach Payton, (defensive coordinator) Dennis Allen and what they're able to do on both sides of the ball," he said. "It'll be a great challenge for us."
Not to worry.
What are the odds that ESPN's computer simulation will be wrong?
Then again, the computer had the Bears reaching the playoffs, and the Bills over the Packers, 27-17, in Super Bowl LVI.
That's why they play the games.