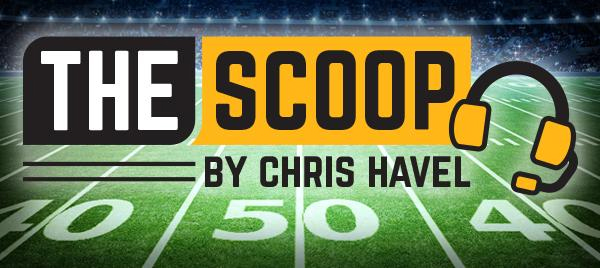 By Chris Havel
GREEN BAY, Wis. – The Packers arrived fashionably late Monday night, but Lambeau Field's 77,240 fans refused to let Mother Nature rain on their team's second-half parade to Detroit's end zone.
After six mostly forgettable quarters to start the season, Aaron Rodgers and the offense scored 21 unanswered points and re-established one of the NFL's most dynamic weapons.
Aaron Jones scored four touchdowns – including three on pass catches – and Green Bay's defense pitched a second-half shutout to lead the Packers to a 35-17 victory over Detroit on Monday Night Football.
Rodgers was 22 of 27 for 255 yards, four touchdowns and a 145.6 passer rating. He was sacked three times but didn't have a turnover. Davante Adams also had a big night with eight catches for 121 yards, including a 50-yard bomb on third-and-12 that seemed to ignite Green Bay.
"Sometimes it just takes one play," Rodgers said. "I think the throw over the top to Davante kind of got us going."
Rodgers brushed off the criticism after their Week 1 loss.
"I think we maybe tried to show that we cared a little bit more tonight," Rodgers said. "There are so many overreactions that happen from a week-to-week basis, so it's nice to come out, have a good performance and get the trolls off our back for at least a week."
Frankly, the Packers (1-1) couldn't have started much worse following a 38-3 loss to New Orleans last week in the season opener. That was especially true of Green Bay's defense.
The Lions (0-2) scored on three of their first four possessions while racking up 197 yards to build a 17-14 halftime lead. Detroit quarterback Jared Goff had an eternity to throw (3.28 seconds per pass), which was the second-most time to deliver a strike in any game of Goff's career.
With Za'Darius Smith on the injured list, the Packers' pass rush was non-existent in the first half. It enabled Goff to hook up with Quintez Cephus on a 46-yard completion over cornerback Kevin King.
Goff also rushed four times for another 46 yards in the half.
It looked like a repeat of the disaster in Jacksonville.
In fact, the Packers' defense opened the season by surrendering points on nine of 12 drives, including seven touchdowns. That's when new defensive coordinator Joe Barry's unit grew a spine.
The Lions never got inside the Packers' 20 following intermission after going 2-for-2 in the red zone in the first half.
The Packers' pass rush came alive, Goff committed two turnovers and Green Bay's defense – led by De'Vondre Campbell's interception and team-high 13 tackles – ultimately put Detroit out of its misery.
Green Bay fans finally saw a glimpse of whatever it was that led Packers coach Matt LaFleur to hire Barry.
"I did think we had a pretty good week of prep," LaFleur said. "I felt pretty good going into our prep versus New Orleans, and certainly when we went out there it didn't look very good. So our guys, they're resilient. They'll continue to battle. We've got a lot of veterans, not only on the offense but on the defense as well, and we've got to continue to improve each and every day and each and every week, and we've got to make sure we take it and look at it one game at a time.
"You can never get too high on yourself in this league because you will be humbled in a hurry, and I think that happened to us a week ago."
The Packers' first good move on offense was going to the inside-zone running scheme. The second good move was sticking with it.
After abandoning the run against the Saints, the Packers rushed 31 times for 96 yards against the Lions. Green Bay's 3.1 yards-per-carry was on the low end, but it was the number of attempts that mattered most.
It forced Detroit to honor the run even as it deployed a two-shell look (two safeties deep) that practically dared Green Bay to run.
LaFleur and the offense obliged.
Jones rushed 17 times for 67 yards and a touchdown. His long run was just 9 yards, so it wasn't easy, but he augmented it by catching six passes in as many targets for 48 yards and three touchdowns.
A Packers' running back hadn't caught three touchdown passes in a game since Andy Uram did it in 1942 against the Chicago Cardinals.
Jones had a heavy heart this offseason. His father, Alvin Jones Sr., died on April 8. While celebrating one of his four touchdowns, Jones lost a necklace with a black football that held some of his father's ashes.
"I think the grounds crew is about to go out there and look right now," Jones said. "But if there was any place to lose it, that's where my dad would've wanted me to lose it, so I know he's smiling."
Jones said his father taught him to persevere.
"My dad's always taught me as a man, it's how you respond to adversity, how you respond is what makes a man, really," he said. "I think we came out and did a great job of responding. We played well. We played at a high level."
The Packers will try to build upon Monday's win when they travel to Santa Clara, Calif., to face San Francisco on Sunday Night Football.
The 49ers (2-0) are coming off back-to-back wins that differed greatly. They blew out the Lions 41-33 in the opener and grounded the Eagles' offense in a 17-11 victory at Philadelphia on Sunday.
The Packers likely will need to string together two strong halves to KO the 49ers in a matchup of NFC contenders.