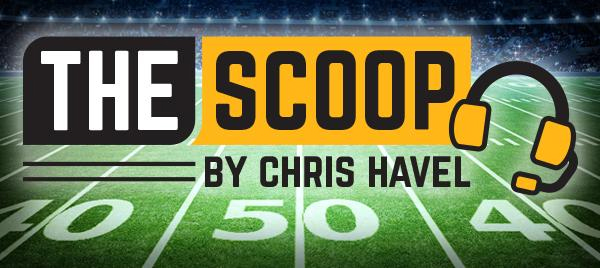 By Chris Havel
GREEN BAY, Wis. – The Packers' game plan was splendid, their execution sensational and the outcome pure bliss.
After the 49ers took their first lead of the game with 37 seconds to play, and after Sunday Night Football's Al Michaels and Cris Collinsworth stopped gushing, Aaron Rodgers and Davante Adams went to work.
Rodgers hit Adams for a 25-yard completion to midfield. After a spike and an incompletion with 16 seconds to play, Rodgers hooked up with Adams for a 17-yard gain to the 49ers' 33. A spike left three seconds to play and Rodgers pumping his fist in the air.
Mason Crosby took it from there.
The Packers' ageless kicker knocked a 51-yard field goal through the uprights as the final gun sounded, giving Green Bay a thrilling 30-28 victory over San Francisco at Levi's Stadium in Santa Clara, Calif.
Crosby was calm, cool and collected before the game-winning attempt. He was ecstatic after it.
"Celebrating with the guys in the end zone, seeing that energy and feeling that juice, is what it's all about," Crosby said. "And then carrying on into the locker room and guys pouring water all over my head and everybody, that's what this game is all about. It was really special."
Afterward, Rodgers was asked about his thoughts going into the drive.
"My first thoughts in devising how I wanted to get us into field-goal range was how could I get 17 the ball," Rodgers said.
That was good thinking.
In fact, Rodgers was grateful to have Adams at all after Jimmie Ward's helmet-to-helmet hit left the Packers' receiver woozy with 7:41 to play. Ward wasn't penalized, and Adams wasn't finished.
After a brief trip to the tent, presumably for a concussion evaluation, Adams returned to steal the show and seal the deal.
"Just what a competitor, man," LaFleur said of Adams. "And then to go out there and have two big catches in the final two-minute drive, he is the ultimate competitor. I think he's the best receiver in the National Football League, and I think he shows it on a weekly basis."
Adams finished with 12 catches for 132 yards and a touchdown. Rodgers was 23 of 33 for 261 yards, two touchdowns and a 113.3 rating. He targeted Adams 18 times against a depleted 49ers' secondary.
Rodgers was asked how much time he needed to drive the football into field goal range. The Packers had no timeouts.
Rodgers deadpanned: "Thirty-seven (seconds)."
LaFleur joked that Rodgers could've moved into range even quicker.
"Thirty-five seconds … maybe 34," he said.
Rodgers was sacked just once, despite playing behind an offensive line that featured Yosh Nijman making his first career start at left tackle. Nijman started in place of the injured Elgton Jenkins (ankle), who was manning left tackle until All-Pro David Bakhtiari comes off the PUP list.
The Packers committed seven penalties for 87 yards, but were surprisingly crisp along the offensive line. False starts, holding penalties and turnovers weren't a factor despite the 49ers' vaunted pass rush and Levi's Stadium ear-shattering noise level.
The Packers' run game was effective enough to keep the 49ers' defense honest, which in turn made the play-action passes believable.
Aaron Jones rushed 19 times for 82 yards and a touchdown. Marquez Valdes-Scantling had three catches for 59 yards and a touchdown, while Allen Lazard's only catch was a 42-yarder on the opening drive.
Robert Tonyan had just one catch, but the tight end's blocking in the running game was exceptional.
The Packers' comeback win triggered a massive sideline celebration. After a disheartening Week One loss to the Saints, followed by a gritty victory over the Lions, Green Bay wanted this one dearly.
"I feel good about our team," Rodgers said. "Week One was an anomaly. I said that and I believe that. We bounced back Week Two. Played a great team tonight right down to the wire. This plane ride is going to feel incredible."
The Packers' defense bared its teeth for the first time this season.
The 49ers' Jimmy Garoppolo was 25 of 40 for 257 yards with two touchdowns and an interception. He was sacked four times and finished with a so-so 87.2 passer rating.
San Francisco's run game never sprouted legs.
Trey Sermon had 10 carries for 31 yards and fullback Kyle Jusczyk added five carries for 14 yards.
In fact, the 49ers gained more yards on one kick return (Trenton Cannon's 68-yarder) than they did rushing (21 for 67 yards).
Cannon's big return just before halftime keyed the 49ers' first touchdown.
Trey Lance rushed in from 1 yard to make it 17-7 at the half.
The 49ers closed to within 17-14 on Garoppolo's 8-yard touchdown pass to Brandon Aiyuk on their opening drive of the second half.
After that it was game on.
Green Bay's defense under new coordinator Joe Barry had its moments. Safeties Darnell Savage (six tackles) and Adrian Amos (five tackles) played near the line to assist in the run defense.
Meantime, tackles Dean Lowry and Tyler Lancaster elevated their play, while Kenny Clark was his dominant self.
Inside linebacker De'Vondre Campbell had 12 tackles, while cornerback Jaire Alexander had an interception and three passes defended. Rookie cornerback Eric Stokes – playing more snaps because Kevin King was out with an illness – had a pass defended and five tackles.
All in all it was a good night for Green Bay's defense.
It was an even better night for the team.
"How can you not be romantic about football," Rodgers said.