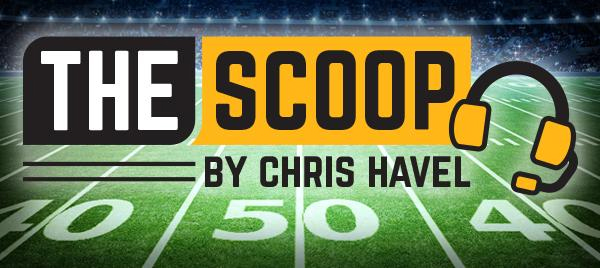 By Chris Havel
GREEN BAY, Wis. – The Packers' "next player up" mentality has served them well this season.
They keep losing players, winning games and forging ahead. It's a credit to their preparation, mental toughness and quality of depth.
Green Bay's 27-17 victory over Pittsburgh on Sunday in front of 78,281 fans at Lambeau Field is the most recent example. The outcome never seemed in doubt although the Steelers did enough to make it interesting.
Pittsburgh (1-3) scored on its first possession to take a 7-0 lead and end an 11-game streak of scoreless first quarters. The Steelers' big play was a 45-yard touchdown pass to Diontae Johnson, who caught it against the Packers' best cover corner, Jaire Alexander.
Green Bay (3-1) was undaunted.
The Packers proceeded to build a 14-10 lead on Aaron Rodgers' 4-yard touchdown run and Randall Cobb's 23-yard touchdown catch, and they looked to make it 17-10 with a Mason Crosby field goal before halftime.
The Steelers' Minkah Fitzpatrick blocked the field goal attempt, recovered it and raced 75 yards for an apparent touchdown. However, Pittsburgh was penalized for being offside and the play was negated. Crosby then calmly drilled the 26-yard chip shot to make it 17-10.
In between the Steelers' opening touchdown and a late score with just over four minutes to play, the Packers outscored Pittsburgh 27-3.
Packers' coach Matt LaFleur applauded his team's approach coming off a thrilling, last-second victory against San Francisco last week.
No letdown here.
"I told our guys, I thought that was a mature win," LaFleur said. "I thought just our whole mentality all week … it was very workmanlike. The guys came in focused. There are a lot of pros in that locker room."
Cobb was front and center.
He caught five passes (on six targets) for 69 yards and two touchdowns. He had just four catches through three games but was more of a focal point Sunday given Marquez Valdes-Scantling's hamstring injury.
Cobb was drafted by Green Bay and played here from 2011-2018 before exiting for Dallas in free agency in 2019. Last year he played in Houston, but was reacquired by Green Bay in a training camp trade.
Rodgers lobbied for Cobb and the Packers obliged him.
It looks like a wise decision.
"He's still a really good player," Rodgers said.
Cobb spoke of the chemistry he has with his All-Pro quarterback.
"He understands how I move, so whenever I'm getting ready to break on my route, he knows," Cobb said. "It's muscle memory. It's been a couple of years, but it's kind of like when you get back around your friends and you remember things that you hadn't even thought about in so long. It's kind of that connection that we have."
Cobb converted three key third downs, including his second touchdown.
"I pride myself on being the third-down guy," he said.
For a second straight week the Packers' offensive line faced a talented front seven and held up reasonably well.
Rodgers completed 20 of 36 passes for 248 yards, two touchdowns and no interceptions for a 95.6 passer rating. He was sacked three times and endured eight QB hits. That's too much on a weekly basis, but given the opponent and the injuries it was good enough to get the 'W.'
The Packers lost Alexander to an AC-joint separation midway through the third quarter. They came into the game without linebacker Krys Barnes, offensive lineman Elgton Jenkins, corner Kevin King and MVS.
That was in addition to All-Pro left tackle David Bakhtiari and edge rusher Za'Darius Smith, who are on injured reserve.
That's seven starters sidelined by injuries.
Alexander's shoulder injury is of major concern because he is their top cornerback. A dislocated AC-joint typically forces a player to miss anywhere from one to four weeks, depending on the severity.
LaFleur said he didn't know how long Alexander may be out.
"Obviously he's a guy that's really important to us, just one of the premier corners in this league. So certainly we'd like him to be OK. Hopefully it all checks out well and he'll be back with us."
Rookie Eric Stokes, who started in place of King, played every snap. He finished with eight tackles, two passes defended and the first interception of his career to seal the win.
"I think that's the measure of a good football team," Rodgers said. "We faced adversity right away, we made proper adjustments right away, we didn't freak out and we focused on the little things in the details."
A.J. Dillon rushed for 81 yards on 15 carries, including a long of 25 yards. Aaron Jones had 48 yards on 15 carries with a season-long run of 15 yards. Jones also lost a fumble, but the Packers' defense had his back.
LaFleur praised his defense's performance.
"I was really proud of our defense," he said. "Any time a team has the ball 11 times and they score on three possessions that's a pretty good night. I thought the energy was there, the effort was there. I think our defense is getting better and better and hopefully we can continue that."
Kingsley Keke's sack and forced fumble on Ben Roethlisberger killed one drive, and the Packers' stout run defense prevented Pittsburgh from grinding out lengthy drives.
Najee Harris, the Steelers' outstanding rookie running back, managed just 62 yards on 15 carries. He also caught six passes for 29 yards but wasn't much of a factor.
Roethlisberger completed 26 of 40 passes for 232 yards. He was sacked twice, but frequently had too much time to throw.
Green Bay's pass rush needs to bare its teeth, especially if Alexander is going to be sidelined for a substantial amount of time.