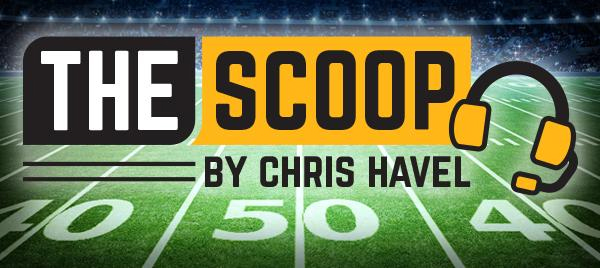 By Chris Havel
GREEN BAY, Wis. – The Packers have turned Soldier Field into their once-a-year weekend getaway.
The popular "Stay, Play and Win" package has all the amenities an NFL team could desire: A hostile crowd to taunt, a worthy rival to defeat and a deeply gratifying hop-skip return trip home.
For Green Bay, its fans and its quarterback, it doesn't get much better than the Packers' 24-14 victory over the Bears in front of 62,332 fans on a gorgeous autumn afternoon on Chicago's lakefront.
For the Bears and their fans it's just more of the same old, same old.
Close, but not quite.
In a gritty, hard-hitting game, Bears rookie quarterback Justin Fields connected with Darnell Mooney on a 5-yard touchdown pass to pull Chicago to within 17-14 with 8:44 to play in the fourth quarter.
Typically that means "game on" in the NFL.
On Sunday it meant "game over."
Perhaps feeling the Bears tugging at his cape, Aaron Rodgers went Superman to lead a 7-play, 75-yard retort. The decisive drive was fueled by a "wink-and-a-nod" sight adjustment between Rodgers and Davante Adams that resulted in a 41-yard pass completion to the Bears' 21.
Three plays later, Rodgers capped the drive with a nifty 6-yard scamper into the end zone to push Green Bay's lead to 24-14.
It prompted one feisty Bears fan to give Rodgers the double middle-finger salute. While she was expressing her right to free speech, Rodgers exercised his own, shouting, "I still own you! I still own you!"
Rodgers doesn't actually own Bears fans. He merely lives rent free inside their heads during the NFL season. It's a time-share arrangement he continued after his predecessor, Brett Favre, retired years ago.
"Sometimes you black out on the field – in a good way," Rodgers said by way of explaining his excited utterance. "I looked up in the stands and in the front row all I saw was a woman giving me the double bird, so I'm not sure exactly what came out of my mouth next."
The Packers have now won 10 of 11 games at Soldier Field dating back to their 2010 NFC Championship victory. Rodgers is 22-4 against Chicago in games that he has started and finished.
"I love this rivalry," Rodgers said. "It's been a lot of fun over the years. That's what I told Justin (Fields) on the field. I said, 'Enjoy this. It's a special rivalry, unlike any other in our game.'"
The Rodgers-to-Adams connection also is like no other. Packers coach Matt LaFleur detailed their 41-yard pass play.
"(Rodgers) checked it to the double move," LaFleur said. "(It's) just a great job by those guys. He recognized the look and thought we could get it, so that's what he did. It's nice to have big-time players that can make you look pretty good."
It's also nice to have reserves that can step in and do the job, and a defense that can be more help than hindrance.
The Packers' defense held up despite playing without Za'Darius Smith, Kevin King and Jaire Alexander. They also lost Preston Smith (oblique strain) in the first half and Darnell Savage (concussion) in the second.
Still, the Packers found a way to prevail for a variety of reasons:
** Lucas Patrick played well after replacing starting center Josh Myers (knee injury) four plays into the opening drive. Patrick's downfield block to spring Aaron Jones on a screen pass was exceptional. LaFleur said he didn't think Myers' injury was a season-ender.
** Jonathan Garvin filled in for Preston Smith and held up once he settled in. Garvin had two solo tackles, a sack and a quarterback hit. Perhaps Garvin's biggest play was a drive-killing tackle of Fields on a third-and-6 play in the third quarter.
** Henry Black stepped in after Savage left with a concussion early in the third quarter. Black had four tackles in 37 snaps.
** Rasul Douglas replaced Isaac Yiadom in the first half after it was apparent Yiadom wasn't getting the job done. Douglas logged 52 snaps and had five tackles while holding up in coverage.
** Punter Corey Boroquez blasted an 82-yard punt (62-yard net) to flip the field on the final play of the third quarter.
Early in the game Kenny Clark went down with an apparent leg injury. Clark was slow to get up and limped to the sideline.
"When he was down I thought I was going to throw up," LaFleur said.
No worries. Clark returned with a vengeance. He racked up two sacks in a three-play stretch to effectively end the Bears' last-ditch drive.
"We talked about that after the game – a lot of guys stepped up," Clark said. "Guys have been coming in and just making an impact on our team. It says a lot about our depth. It says a lot about how these guys prepare. Everybody prepares as a starter. It's next-man-up mentality."
Rodgers completed 17 of 23 passes for 195 yards, two touchdowns and a 128 passer rating. He was sacked three times and hit another four times, but still managed to rush seven times for 19 yards.
Aaron Jones rushed 13 times for 76 yards, including a 28-yard burst. A.J. Dillon added 59 yards on 11 carries with a 36-yard jaunt.
Green Bay (5-1) finished with 154 yards rushing against a salty Bears' front seven, but Jones chose to praise the Packers' defense.
"They did a great job," he said. "Holding a team to 14 points in the NFL, that's hard to do, especially away. They have the next-man-up mentality and they're flying around. They have leaders over there.
"I'm proud of the defense."
The Bears (3-3) missed a chance to pull even with the Packers atop the NFC North standings.
"This hurts," Bears coach Matt Nagy said. "It stings. It's not fun. Our guys understand that."
Meantime, Jones feels good about where the Packers are at right now.
"I think it shows we will be OK," he said. "It shows we can win games in multiple ways. We have the leaders that we need. We have everybody in the locker room to get the job done, just continue to put the work in and stack successes."
Arizona (6-0) is the NFL's only unbeaten team. The Packers are one of three teams, along with the Ravens and Cowboys, who are currently on a five-game winning streak.
Buffalo (4-1) also can make it five straight wins with a victory over Tennessee tonight on Monday Night Football to wrap up Week 6.
As Jones said, the Packers are in a good place: First place.