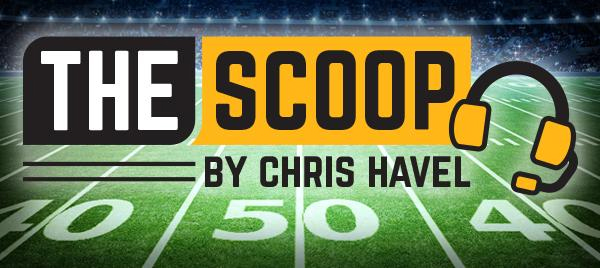 By Chris Havel
GREEN BAY, Wis. – In the aftermath of a humiliating season-opening loss, the Green Bay Packers have hammered out seven straight wins in workmanlike fashion.
The Packers (7-1) have more wins than the rest of the NFC North Division combined. If the playoffs began today, Green Bay would be the No. 1 seed ahead of Arizona (7-1), Dallas (6-1), Tampa Bay (6-2), the L.A. Rams (7-1), New Orleans (5-2) and Carolina (4-4).
The Packers have turned off-season drama into in-season dominance.
Furthermore, head coach Matt LaFleur's win-loss record (33-7) is the NFL's finest through 40 games since the AFL-NFL merger in 1970.
Green Bay's gritty 24-21 victory at Arizona Thursday night was the most recent testament to LaFleur's coaching, Aaron Rodgers' leadership and the team's resiliency and depth.
They outplayed the previously unbeaten Cardinals despite being without Davante Adams, Allen Lazard and defensive coordinator Joe Barry, all inactive due to COVID-19 protocols.
Yet they stuck to the game plan despite an early seven-point deficit and responded twice by opening 10-point leads when the Cardinals rallied. Ultimately they won it with a game-clinching end-zone interception.
The Packers have prepared, persevered and prevailed all season.
The same can't be said of their NFC North counterparts.
Sunday's games were a train wreck for the rest of the division. Minnesota (3-4), Chicago (3-5) and Detroit (0-8) all lost at home against opponents that presented a decent chance for them to get right.
Instead, it all went wrong.
The Cowboys edged the Vikings 20-16 with Cooper Rush making his first NFL start in place of the injured Dak Prescott (strained calf). It's never good when a team can't beat a backup quarterback at home.
The Bears and rookie quarterback Justin Fields had some positives at Soldier Field before being steamrolled by the 49ers 33-22.
The winless Lions stayed that way as a weak Philadelphia squad dominated Detroit in a 44-6 rout.
Now, the Packers must prepare for a trip to Kansas City to face the underachieving Chiefs (3-4) in a nationally televised Sunday afternoon matchup once billed as a Super Bowl preview.
Rest assured the Packers and their fans will be watching Monday Night Football with keen interest as the Chiefs and Patrick Mahomes face the hapless Giants (2-5) at MetLife Stadium in East Rutherford, N.J.
While the Packers keep winning, they also continue dealing with injuries up and down the roster. The most recent were season-ending injuries to tight end Robert Tonyan (knee) and running back Kylin Hill (knee).
Tonyan was third on the team with 18 catches for 204 yards and two touchdowns. He also had developed into an effective blocker, both as a chipper against edge rushers and in the running game.
LaFleur expressed his disappointment in no uncertain terms.
"It's sickening for me as a coach," he said of Tonyan's injury. "Bobby is a tough one to replace. He's a guy that's so versatile in terms of both the run game and the pass game."
The Giants are looking to unload disappointing tight end Evan Engram and his $6 million salary. Engram, the 23rd overall pick in 2017, has 20 catches for 171 yards and no touchdowns this season. He is a talented player who might blossom in the right system, but it seems unlikely the Packers would go outside the organization to replace Tonyan.
It's more likely they will rely on Marcedes Lewis and Josiah Deguara while increasing Dominique Dafney's playing time. Dafney played 14 snaps at Arizona and was given a high grade by Pro Football Focus.
Dafney possesses enough speed to be a legitimate downfield threat.
Hill's replacement could be Patrick Taylor, who has been on the Packers' practice squad throughout the season. Taylor is a big, fast running back but lacks experience and has had issues with fumbling.
Malik Taylor is likely to replace Hill as the team's kick returner.
All-Pro left tackle David Bakhtiari continues to work through his PUP window to return from a knee injury. Receiver Marquez Valdes-Scantling also is close to returning from a hamstring injury.
Both Bakhtiari and Valdes-Scantling could be ready for Sunday's 3:25 kickoff at Kansas City.
The Packers also received an encouraging tweet from Za'Darius Smith following their exciting win at Arizona on Thursday night.
Smith tweeted: "Just landed back in Green Bay!! I can't wait to get back on the field with my bros!" #GoPackGo!
That sounds like Smith's injured back, which required surgery, is on the mend. The Packers also continue to hold out hope that their top cornerback, Jaire Alexander, will return from his shoulder injury.
LaFleur struck an encouraging tone in terms of Smith and Alexander.
"I think everybody is totally invested in the process and trying to come back for this football team because we're going to need everybody," he said. "We've fought through a lot of adversity in terms of the injury bug this year. We've found different ways to win, which is always good. But certainly, we're looking forward to getting some of these guys back."
And the sooner, the better for the Packers.