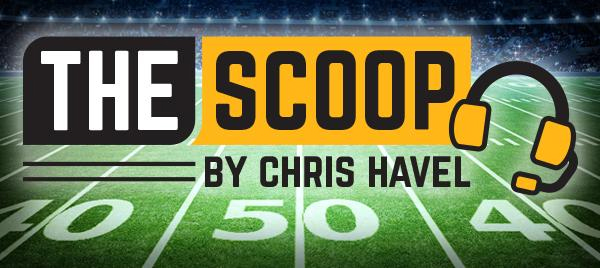 By Chris Havel
GREEN BAY, Wis. – The Packers spent the better part of four quarters searching for blitz-beating counterpunches to combat the Chiefs' pressure-happy defense.
By the time they finally hit one it was too little, too late.
With MVP quarterback Aaron Rodgers quarantining in Green Bay after testing positive for COVID-19 last week, Jordan Love was making his first NFL start. The highlight was Love's 20-yard touchdown pass to Allen Lazard with 4:54 to play.
That made it a one-possession game, but the Packers never got the ball back in a frustrating 13-7 loss to the Chiefs Sunday at windswept Arrowhead Stadium.
"Obviously, not good enough," Love said of his first start. "I think we started off a little slow; I started off a little slow, personally. I think we got into a bit of a rhythm later. Obviously, it was too late … just not good enough."
The Packers (7-2) saw their seven-game winning streak snapped, but they still remain the NFC's No. 2 seed going into Week 10. If Rodgers is cleared to play, LaFleur said he'll be the starter when the Packers host Seattle on Sunday.
Meantime, the loss reaffirmed several notions going into the game.
** No. 1 – The Packers' defense is legit.
Kansas City's Patrick Mahomes had the least productive day of his career. The former MVP and Super Bowl-winning quarterback completed 20 of 37 passes for 166 yards – his fewest in a full game – and eked out 237 yards in total offense.
Tyreek Hill, the human cheetah, had just four catches for 37 yards. However, his 13-yard reception on third-and-10 enabled the Chiefs to run out the clock. The Packers' defense had forced a season-high four "three-and-outs" to that point.
Aaron Jones praised the Packers' defense and lamented the missed opportunity.
"Any time you can hold an offense that explosive to 13 points your defense had a great night and you should win the game," Jones said. "I felt in that fourth quarter we found a rhythm offensively. If we could've found that rhythm earlier …"
Perhaps most impressive is that Green Bay's defense dominated despite losing cornerback Eric Stokes to an ankle injury in pregame warmups, and All-Pro defensive tackle Kenny Clark to a back injury in the second quarter.
Still, coordinator Joe Barry's unit battled and played well all day.
** No. 2 – The Packers' offense isn't the same with Love at quarterback.
Whereas Rodgers likely would've made the Chiefs' defense pay for its impunity, Love struggled to give his receivers a chance to make plays. He finished 19 of 34 for 190 yards with one touchdown, one interception and a 69.5 passer rating.
Packers head coach Matt LaFleur didn't absolve Love of his mistakes, but he did accept the brunt of the blame.
"This one falls on me, squarely," he said. "Certainly, for us to be 2-for-12 on third down, obviously we didn't have a good enough plan for some of the zero pressures that they brought on us."
Davante Adams, the obvious blitz-beater, caught six passes for 42 yards. His long catch was just 14 yards. Love targeted him 14 times to get the six completions. Their lack of chemistry is understandable, but none the less disappointing.
** No. 3 – The Packers' special teams' units are a disaster.
Mason Crosby missed a 40-yard field goal attempt wide left on the Packers' last drive of the first quarter. Then, Crosby had a 37-yard attempt blocked on the Packers' first possession of the second quarter.
The kicking miscues cost the Packers six points – the difference in the final score – while Malik Taylor's muff on Amari Rodgers' misjudged kickoff return led to a chip-shot field goal for Kansas City and a 13-0 halftime deficit for Green Bay.
"Obviously we could have used those six points," LaFleur said. "And we basically gave them points when we fumbled the ball. You can't have that happen."
That left it to Love and the offense to back the defense's strong play and bail out the special teams' gaffes.
Ultimately, they weren't up to the task.
Love confirmed that he was jittery at the outset.
Chiefs' defensive coordinator Steve Spagnuolo – who deploys the NFL's most blitz-heavy scheme – seized the opportunity to pounce.
Spagnuolo brought five or more pass rushers on 51 percent of Love's drop-backs. According to ESPN Stats & Research, Love hit just 6 of 17 passes for 30 yards against the blitz, with 20 coming on the touchdown to Lazard. He also was blitzed 69 percent of his third- and fourth-down drop-backs.
Kansas City (5-4) repeatedly brought the house; Green Bay didn't have an answer.
LaFleur criticized his own game plan.
"We have to have a better plan to handle those pressures," he said afterward. "And we did not tonight. It falls squarely on me and not having a good enough plan versus that pressure."
LaFleur said Love "battled" and showed "great resiliency."
"For his first game, going out there in a hostile environment, I thought he handled himself exceptionally well," he said. "We prepared for (the blitz). We knew it was going to come. And we didn't plan for it well enough."
Love was disappointed with his play.
"You never know when your opportunity is going to come," he said. "I got it today and not being able to win that game – we had a lot of chances on offense because our defense played a really good game – and we still lost. That's the most disappointing thing … that I wasn't able to execute and go get some points early."
The Chiefs' best drive was their first drive that covered 64 yards in 15 plays and was capped by Travis Kelce's 1-yard TD catch.
After that it was a defensive tug-of-war.
The Packers outgained the Chiefs 301-237 with a 122-77 edge on the ground. The Chiefs' high-powered offense mustered just 3.8 yards per play.
Kevin King, Chandon Sullivan and Rasul Douglas played well at cornerback, and safety Darnell Savage also made several big plays. Rookie defensive tackle T.J. Slaton was strong in relief of Clark, and linebackers Krys Barnes (nine tackles) and De'Vondre Campbell (seven tackles) made several key stops.
LaFleur heaped praise on his defense.
"That was a championship-level effort, championship-level execution," LaFleur said. "I was really proud of those guys."
The Packers' Jones rushed 12 times for 53 yards and A.J. Dillon added 46 yards in eight carries, plus another 44 yards on four receptions.
Love felt like the Packers' offense had chances to make plays against the blitz.
"We knew they like to bring a lot (of pressure) a lot (of plays), especially with me being a young quarterback," he said. "All it took is one big play and (the blitz) wouldn't have come as much. We weren't able to execute those plays."
After the game, Love said he believes he's ready to be a starting NFL QB.
"Yeah, I do," he said.
Clearly, LaFleur was most disappointed in his own performance.
"I thought our guys battled," he said. "I thought Jordan, I was really proud of the way he played. He hung in there. He was taking hits and delivering the ball. I thought he did a really good job. But I think that ultimately I've got to be better.
"This one falls squarely on me."