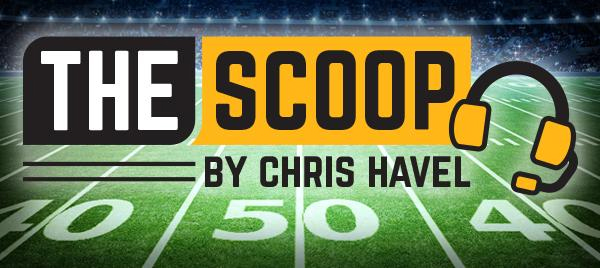 By Chris Havel
GREEN BAY, Wis. – While the Packers' offense searches for the 10 points per game fewer it's scoring from last year to this, it has found an unflinching ally in its stingy, shoulder-pad popping defense.
That's right. It is Green Bay's defense, rather than the offense, that is killing it.
First-year coordinator Joe Barry's unit doesn't have a flashy nickname like Dallas' "Doomsday Defense," or the L.A. Rams' "Fearsome Foursome," or the Seahawks' "Legion of Boom!"
No, the Packers' defense merely lowers the boom like it did in a 17-0 shutout victory over Seattle on Sunday. It was Russell Wilson's fifth straight loss at Lambeau Field and it's the first time he's been shut out in his 150-game career.
While Aaron Rodgers and the offense sputtered before scoring back-to-back fourth-quarter touchdowns to seal the win, the Packers' defense had Seattle and Wilson back on its cleats from the outset.
The Seahawks didn't cross Green Bay's 35-yard line in the first half.
Barry's "Ballers" smothered Seattle's running attack by holding Alex Collins to just 41 yards on 10 carries. Wilson scrambled five times for 32 yards. That was it.
In the second half, Seattle's offense moved in position to score only to have Kevin King and Adrian Amos thwart drives with impressive end-zone interceptions. King, Amos, Darnell Savage and Rasul Douglas were on point all day.
"We did what we set out to do – not give up anything cheap, nothing deep," Amos said.
The Packers' defense hasn't allowed any points in six straight quarters dating back to the second-half shutout at Kansas City last week. Green Bay has now held four of its past five opponents to 14 points or fewer.
Seattle's drive chart was an incredible 10-possession abomination.
It consisted of punt, punt, punt, punt, end of first half, punt, interception, punt, interception and turned over on downs.
Wilson completed just five passes on 16 targets for 49 yards to high-octane receivers D.K. Metcalf and Tyler Lockett.
Seattle racked up just 208 yards in total offense with Wilson being sacked three times and pressured constantly. Wilson's passer rating was a measly 39.7.
"We knew the offense ran through them – well, it runs through Russell but through the pass game, and those are the dynamic guys," King said. "Running after those guys, they do all kinds of stuff. It was a team effort. It took the whole defense to contain those guys, and to contain Russ."
The Packers got five hits on Wilson with Rashan Gary, Whitney Mercilus and Preston Smith each getting a sack. De'Vondre Campbell and Krys Barnes had five tackles each, and Douglas had four tackles, a pass defended and a tackle for loss.
Green Bay (8-2) recaptured the NFC's No. 1 seed with its win over Seattle and the Arizona Cardinals' 34-10 loss to Carolina also on Sunday.
The Packers will welcome the win, but their already erratic offensive attack could be without Aaron Jones, who exited in the third quarter with a knee injury. Early reports indicate Jones may have a sprained MCL, which means he could miss several weeks but should be able to return.
Backfield mate A.J. Dillon compensated for the loss by running with power and passion while compiling 66 yards on 21 carries and another 62 yards on two catches. He also rushed for both touchdowns to lead the Packers' offense while Rodgers tried to acclimate himself after missing 10 days on the COVID-19 list.
Rodgers completed 23 of 37 passes for 292 yards with one interception and a 75.5 passer rating. He was sacked once and often lined up in the shotgun with an empty backfield, a strategy that made the Packers needlessly one-dimensional to defend.
Finally, after Jones left with the injury, Packers coach Matt LaFleur elected to have Rodgers line up under center with Dillon behind him. The Packers' ability to impose their will when it mattered most was impressive.
Dillon basically ran the football down Seattle's throat.
Faced with third-and-goal from Seattle's 3, Dillon ran through six-time All-Pro linebacker Bobby Wagner on his way to the end zone. That pushed Green Bay's lead to 10-0 with 10:37 to play in the fourth quarter.
Dillon was the driving force on Green Bay's next touchdown drive. He caught a 50-yard screen pass to push the Packers deep into Seattle territory. Then he slammed into the end zone on a 2-yard run to make it 17-0 with two minutes left.
Dillon said he received encouragement from Jones after No. 33 left the game.
"When he first exited the game, he looked at me and said, 'Get the job done, finish it off,' " Dillon said. "That's like my big brother on this team, I love him to death, so for him to believe in me, that trust, was great."
Likewise, Dillon has a fan in Rodgers.
"I'm very proud of him. He's a great kid," Rodgers said. "He's a guy that's become very reliable and his catch and broken tackles and run down the sidelines to get us out of a backed-up situation, into their side of the field to put the game away and go up three scores, I mean, that was the play of the game, for sure.
"He probably had the three plays of the game with the touchdown runs and that catch-and-run."
Offensively, the Packers aren't matching their NFL-best 31.8 points per game. Some of it has to do with injuries to key players. All-Pro left tackle David Bakhtiari, who continues to recover from a knee injury, was signed to the active roster last week. Center Josh Myers remains out with a knee injury, although he is expected to return at some point.
Tight end Robert Tonyan and No. 3 back/return specialist Kylin Hill were both lost to season-ending knee injuries, and now Jones is going to be out for a while.
LaFleur has been adept at mixing and matching. Last week, he had to prepare Jordan Love to start just in case Rodgers wasn't cleared off the COVID-19 list. Rodgers, who was quarantined for 10 days, ingested the game plan via Zoom throughout the week.
He said he felt ok aside from the usual soreness.
"You're always wondering how it's going to look on game day when you haven't had any reps with him," LaFleur said of Rodgers not practicing. "But we've got so much confidence in his ability to go out there and execute. I thought there were a lot of plays, for whatever reason, that didn't quite work out."
LaFleur expanded on the thought.
"I thought there were a couple plays where we had opportunities where he threw some great balls and we just didn't come up with it," he said. "And there were some where I'm sure he would like to have back, just like there is every game."
The Packers have the week to prepare for Minnesota (4-5) on Sunday at U.S. Bank Stadium. The Vikings scored an impressive 27-20 victory at the L.A. Chargers on Sunday, with Justin Jefferson catching nine passes for 143 yards. Kirk Cousins threw for two touchdowns and Dalvin Cook rushed for 94 yards and a score.
If Green Bay gets the win at Minnesota it will hold a 4 ½-game lead over the Vikings in the NFC North with six games to play. A Vikings' win would trim the Packers' lead to 2 ½ games, so a Green Bay win would be a major step toward capturing the division title.