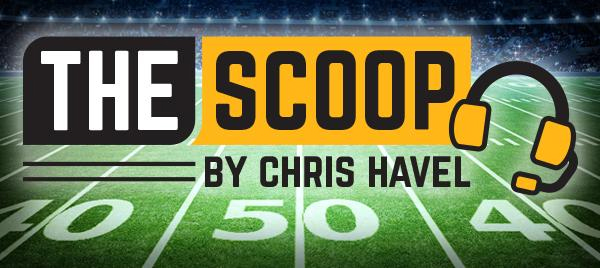 By Chris Havel
GREEN BAY, Wis. – While the Vikings celebrated a walk-off win Sunday at U.S. Bank Stadium, the Packers licked their wounds and reflected upon an unsettling limp-off loss.
Indeed, the Packers' 34-31 setback at Minnesota hurt from head to toe.
Despite dealing with an excruciatingly painful toe injury, Aaron Rodgers threw for four touchdowns. Most days that's enough to win. Not this day. Rodgers is now 21-4 when he throws for four-plus touchdowns.
Left tackle Elgton Jenkins played 48 snaps before his left knee crumbled while trying to block safety Harrison Smith. The Packers are hoping Jenkins' injury isn't a season-ending ACL tear. They're also praying David Bakhtiari returns sooner than later from his knee injury.
All that and Mason Crosby's right foot continues to be a pain in the butt.
Crosby missed a 32-yard chip-shot in the first half. He is now 15 of 23 (65 percent) on the season, and just 7 of 14 on field goal attempts between the 30- and 49-yard line.
But wait – there's more.
The Packers' offensive line committed five penalties that led to five first-and-20 situations. That isn't staying ahead of the sticks. It's putting yourself behind the 8-ball.
Terrific "next-man-up" performances by Equanimeous St. Brown, Josiah Deguara and Yosh Nijman (again) on offense, plus a stellar showing by edge rusher Preston Smith, went for naught.
Physically the Packers played the Vikings to a draw, but mentally they committed way too many self-inflicted wounds to prevail.
"It's hard to win in this league and it's hard to score points when you're behind the sticks," Packers coach Matt LaFleur said. "We knew it was going to be important to be in third-and-manageable situations or stay out of third down altogether and we got backed up too many times."
After trailing 16-10 at the half, the Packers' offense rallied for three straight touchdown drives in the second half.
Davante Adams caught touchdown passes of 10 and 18 yards to give Green Bay a short-lived 24-23 lead with 7:49 to play.
The Vikings' Kirk Cousins countered with a 23-yard touchdown pass to Justin Jefferson with a little more than two minutes to play.
Dalvin Cook tacked on the 2-point conversion to give Minnesota a 31-24 lead.
That's when Rodgers hooked up with Marquez Valdes-Scantling on a 75-yard touchdown to tie it at 31-31 with 2:08 to play.
The problem was the Packers never got the football back.
Cousins led the Vikings on an eight-play, 64-yard drive that resulted in Greg Joseph's 29-yard field goal to make it 34-31 at the gun.
"Definitely an emotional rollercoaster," Adams said. "That's a great way to explain it, especially at the end because, you know, we thought we had the ball back."
It appeared Darnell Savage made a game-clinching interception but the pick was overturned by replay. Savage came close to having two other interceptions, but one was batted away by a receiver and another was nullified by Kingsley Keke's roughing-the-passer penalty.
Ultimately, the Packers were doomed by four promising first-half drives that went field goal, punt, missed field goal and punt.
Rodgers hasn't practiced in weeks and it looked like it in the first half. MVS had four catches for 123 yards and the touchdown, but he only had two catches for 44 yards on eight first-half targets.
It took too long for the Packers' offense to get in sync.
"I thought in the second half we finally started to get into a better rhythm," LaFleur said. "We started to be a little bit more aggressive, and our execution was on point. There was a lot of good within the game. Certainly, we'd like to finish a couple of those drives a little bit better."
Rodgers completed 23 of 33 passes for 385 yards, no interceptions and a 148.4 passer rating. He also rushed twice for 21 yards on the sore toe.
A.J. Dillon rushed 11 times for 53 yards in Aaron Jones' absence. He also caught six passes for another 44 yards, but it wasn't enough to overcome Cousins' hot hand and Jefferson's brilliance.
"Our defense has been playing so good (but) some days you have to outscore teams that get hot on offense," Rodgers said. "We had an opportunity to score 40 points today, and when you're playing an offense that's hot, that has a hot quarterback, and stud receivers and a stud back, you've got to keep scoring.
"We've had a couple of games like this over the years – thinking about 2012 especially – where we've got to outscore them at their place. We didn't do that today. But I think for us personally on offense, we've got to start faster. We've got to score touchdowns on those opening plays, so I know Matt (LaFleur) will be looking at that this week and dial up some good stuff for L.A."
The Packers (8-3) face the Los Angeles Rams (7-3) on Sunday with kickoff set for 3:25 p.m. at Lambeau Field.
It will be interesting to see how the Packers respond. They haven't lost back-to-back games in two-plus seasons under LaFleur. They also have the bye week beckoning after the Rams' game.
Minnesota (5-5) now trails the Packers by 2 ½ games in the NFC North.
Cousins hit 24 of 35 passes for 341 yards and three touchdowns for a gaudy 128.4 passer rating. Jefferson caught eight passes for 169 yards and two touchdowns. Adam Thielen added eight catches for 82 yards.
The Packers had numerous opportunities to get Minnesota's offense off the field, but each time they came up short in key moments.
Savage's near interception stood out.
"That's the chance to get their offense off the field and not let them get the ball rolling," Preston Smith said of the missed opportunities, including his strip sack that was recovered by Minnesota.
"Kirk hit his throws today. We allowed him to be comfortable and that's what happens when you let him get comfortable."