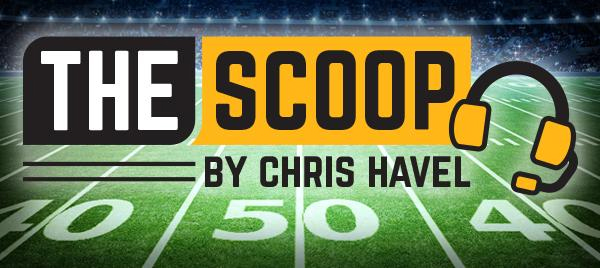 By Chris Havel
GREEN BAY, Wis. – The Packers cleared their final pre-bye hurdle – a star-studded Rams team – in brisk, businesslike fashion.
If they were fatigued from the 12-week grind it didn't show.
They were present and on point all day.
The Packers neither dallied nor daydreamed during a thorough 36-28 dismantling of the Los Angeles Rams on Sunday at Lambeau Field. They built a 19-point lead late in the third quarter, staved off a late Rams' rally and pushed through the finish line.
"We talked about emptying the tank and I think we're at a point where everybody's pretty exhausted," Packers coach Matt LaFleur said. "But it definitely feels good going into the bye week on a win."
The Packers (9-3) trail the NFC's top-seeded Cardinals (9-2) by just a half-game while owning the head-to-head tiebreaker. Now they get time to rest, recover and rev up for the stretch run.
They are off until Dec. 12 when they host Chicago in a nationally televised Sunday night game.
Whether the Packers' victory over the Rams is their most impressive win is debatable. That it was one of their most important is undeniable.
Aaron Rodgers and Davante Adams agreed wholeheartedly.
"It's huge, man," Adams said. "It's going to make this bye week that much more enjoyable."
Rodgers echoed that sentiment.
"This was an important one," Rodgers said afterward. "I like where we're at. I like our football team. This is shaping up … and we've got some more home games, winter games – where we can throw the football (and) control the clock – down the stretch."
Kenny Clark took it a step further.
"Everything is right in front of us," he said.
What's behind them is a win over a talented Rams team that was coming off its bye week after two embarrassing losses. The Las Vegas odds had the Rams favored by 2 ½ points. They lost by nine going away.
The Packers' defense deployed a "light box" – just three down linemen on most plays – while daring the Rams to run on early downs. The intent was to force Matthew Stafford into throwing in unfavorable situations on third down.
The strategy worked.
The Rams rushed 11 times for a 3-yard average on first down. That led to difficult third-down situations. Stafford completed just 1 of 7 passes on third down, the lone completion being a 79-yard touchdown pass to Van Jefferson.
Stafford also found Odell Beckham Jr. for a 54-yard touchdown in single coverage against Rasul Douglas, but that was it.
Cooper Kupp, the NFL's leading receiver, caught an inconsequential seven passes for 96 yards and was a non-factor. At one point, Kupp had more pass attempts (one) than passes targeted at him (zero).
That illustrates just how disjointed the Rams' offense looked early on.
Stafford completed 21 of 38 passes for 302 yards, three touchdowns and a 96.6 passer rating. He also was sacked twice, harassed frequently and threw a "pick six" interception for a third straight game.
Stafford's latest gaffe came on a pass intended for Kupp.
Douglas read the play, jumped the route and returned the interception 33 yards for a touchdown to extend Green Bay's lead to 36-17.
"Cooper Kupp, don't he got like 10,000 yards receiving already in like eight weeks," Douglas chided. "We know that's (Stafford's) guy. We know a lot of balls get thrown to him and he makes a lot of plays."
Douglas credited defensive backs coach Jerry Gray for recognizing what the Rams were apt to do in that situation and relaying it to the secondary. When the moment presented itself Douglas pounced.
LaFleur had high praise for the instrumental in-season acquisition.
"I just love how he competes," he said of Douglas. "You see it play in, play out. The guy is so competitive. You see it in practice every day. Obviously he's made two plays that have made major impacts this year."
Douglas had a game-sealing end-zone interception in Green Bay's 24-21 victory at Arizona in Week 8.
When asked about the Rams' recent acquisition of OBJ, Adams responded by making it about Douglas: "Sometimes it's just taking a chance. You never really know for sure. You go get a star (like OBJ) there's a better chance for it panning out."
OBJ had five catches for 81 yards and the long touchdown. Douglas had the "pick six" to come away with the victory.
"Shout out to the (Packers) scouting department for getting Rasul," Adams added. "He's been a difference-maker on that defense. The confidence, the speed he plays with, he can give up a touchdown but still have the confidence to go out and make a 'pick six.' The energy he plays with is contagious and the defense feeds off of it.
"I'd like to say he capitalized on his opportunity and he's a great teammate. It's fun playing with him."
Douglas had six tackles and four passes defended to go with his "pick six" but he wasn't the only defender with a big day.
Packers' rookie corner Eric Stokes was targeted 10 times. He allowed just three catches for 20 yards. Clark had six tackles, a sack and two quarterback hits. Rashan Gary had a sack, a forced fumble and three tackles while playing with his left elbow heavily braced.
In all, the Packers' defense forced three turnovers while Green Bay committed just one on Randall Cobb's fumbled punt.
Meantime, the Packers' patchwork offensive line held up against a Rams' pass rush featuring Aaron Donald, Leonard Floyd and Von Miller. Rodgers endured one sack and 20 pressures while playing with a painful broken left pinky toe. He was hit only twice in 45 drop-backs.
Yosh Nijman started at left tackle in place of the injured Elgton Jenkins and played well. He was responsible for both hits on Rodgers, but otherwise kept his quarterback clean.
"The offensive line was fantastic," Rodgers said. "One phantom sack, the gift I gave my workout buddy Greg Gaines with the zero-yard sack on the scramble. I thought they did a nice job. I thought we mixed it up with the quick game, getting the ball out of my hand."
Rodgers was especially pleased with Nijman's performance.
"I gave him a big hug after the game and told him, 'I almost forgot about that side of the line,' and that's a huge compliment because I didn't have any worries about my backside," Rodgers said.
"You're going against two likely Hall of Famers (Miller and Donald) and a stud in Floyd who's been doing it at a high level now for half a decade. That's a tough, tough assignment."
Equally tough was the challenge of facing an ornery, well-rested Rams team coming off its bye. Ultimately, the Packers were sharp enough to make the Rams (7-4) look like a team that's tired … tired of losing.