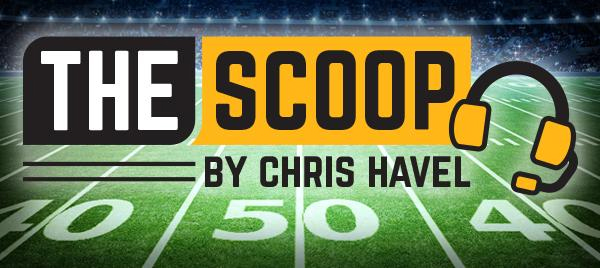 By Chris Havel
GREEN BAY, Wis. – The Bears unveiled a secret weapon in Jakeem Grant Sr. – his teammates call him Mighty Mouse – and the diminutive speedster set the Packers back on their cleats in a wild first half.
Grant scored on two long touchdowns to breathe life into what had been a moribund Bears outfit. In between his heroics, Damiere Byrd scored on another long touchdown catch and it was "game on."
But Chicago's hopes of an upset vanished almost as quickly as they appeared when Green Bay's not-so-secret weapon, Aaron Rodgers, lit up the Bears' defense for 341 yards and four touchdowns.
Rodgers turned a six-point halftime deficit into a 45-30 blowout victory over the Bears on Sunday night at Lambeau Field.
Green Bay (10-3) overcame numerous special teams' gaffes – including several that might be comical if they weren't so maddening – to maintain the NFC's No. 2 seed.
The Packers will leapfrog Arizona (10-2) and claim the top seed if the Cardinals lose to the Rams (8-4) on Monday Night Football. Green Bay beat Arizona earlier this season and owns the head-to-head tiebreaker.
Throughout the first half Sunday night the Packers couldn't afford to think about playoff seeding. They had their hands full with the Bears, who were doing their best to pull off the upset.
The Bears' defense pressured left tackle Yosh Nijman and it paid off with two sacks and a fumble in the Packers' first nine plays. Chicago's offense added a clever "tap pass" from Justin Fields to Grant that caught Green Bay napping and covered 46 yards for the score. Fields' slant pass to Byrd went 54 yards and left defenders grasping at air.
The Bears' special teams units also racked up 213 yards in the first half to more than offset the Packers' 218 yards of total offense. It's no wonder the Packers trailed 27-21 at the half.
Packers coach Matt LaFleur was displeased, but he did applaud his team's positive response to adversity.
"There was no panic," LaFleur said. "A lot of times that can trickle down from the coaches if there is panic, and I thought our staff did a nice job of just, 'Hey, guys, here's what we need to get corrected.' "
That was true of Green Bay's offense and defense.
The Packers outscored the Bears 24-3 in the second half.
Aaron Jones scored on a 3-yard run and a 23-yard pass on the Packers' first two possessions after intermission to flip the script. The Packers' offense racked up 27 first downs, including 16 in the second half, which was as many as the Bears had all night.
Defensively, Preston Smith's sack and forced fumble set up Jones' second touchdown, and coordinator Joe Barry's refocused unit slowed the Bears' offense to a crawl in the second half.
Meantime, the Packers' special teams units were atrocious.
Grant's 97-yard punt return gave Chicago a 24-14 lead late in the first half. Khalil Herbert's 42-yard kick return set up Cairo Santos' 44-yard field goal to make it Bears 27-21 at the half.
Amari Rodgers, Malik Taylor and Marquez Valdes-Scantling each had muffs in the return game that could've been costly. Rodgers was bailed out by a Bears' penalty. Taylor's muff went out-of-bounds at the 5, but the offense drove it to midfield and punted. MVS' muff occurred on the Bears' onside kick, which Chicago recovered but couldn't advance.
Frankly, the Packers' special teams units couldn't have been worse.
"Certainly, the special teams was not good enough," LaFleur said. "It's not up to our standard. It's never an excuse. We lost some key special teams guys tonight, and that's just the reality, and we've got to find guys to step into those roles, and we've got to execute better. Bottom line: We've got to coach better, and we've got to execute better."
Equanimeous St. Brown left early with a concussion and his absence was felt by the coverage units. St. Brown also missed an opportunity to see more playing time at receiver with Randall Cobb on injured reserve.
LaFleur said he wasn't contemplating a coaching change, which was one of the few bits of good news for coordinator Maurice Drayton. The other was Mason Crosby's 20-yard field goal and 6-for-6 effort on PATs.
Everything else was painful to watch.
"That got real weird, man," Davante Adams said after the game. "Haven't been a part of one like that. I have now. Hopefully we don't have to deal with that again."
The Packers' defensive leaders took a substandard first half to heart.
Preston Smith, who had two sacks and a forced fumble, was dominant on the field and vocal in the locker room at halftime.
"What we put on tape in the first half was not a reflection of who we are as a team and it definitely wasn't who we were as a defense, especially," Smith said of his halftime talk. "I just told them we've got to fix our stuff and get back to being us."
Cornerback Rasul Douglas verified that the message was received.
"(Smith) was like, 'We don't play like that,' " Douglas said. "We've got to play better in all three phases. Most of the defensive guys, we play all special teams and defense, and all the points came from that. He was just upset. We were all upset. This ain't it. We don't lose at home."
Douglas did his part by stepping in front of a Fields pass intended for Darnell Mooney and returning the interception 55 yards for the score. It was Douglas' second straight game with a "pick six." Hall of Famer Herb Adderley is the only other Packers' player to do so.
Chandon Sullivan's second-half interception closed out the game.
"We weren't playing sound football," Preston Smith said. "We made a lot of mistakes and they were capitalizing on all our mistakes and it caused them to have great success on their end and put up some points. But I felt like we fixed those mistakes at halftime and made sure that we got back to playing football like we're known for playing football."
The Packers took several hits on the injury front. In addition to EQ's concussion, right tackle Billy Turner was lost to a right knee injury in the first half. Turner hadn't missed a snap all season. He was replaced by veteran Dennis Kelly, who stepped in and didn't miss a beat.
It just reinforced the notion that All-Pro left tackle David Bakhtiari can't return soon enough to an offensive line that's been ravaged.
"Yeah, we've gotten decimated, no doubt about it," LaFleur said. "But nobody's feeling sorry for us, I can promise you that. The mindset that we have is it doesn't matter, you find a way to get it done."
Rodgers got it done despite a fractured left pinky toe that he said was a lot worse for the wear.
"It feels worse," Rodgers said of his toe. "I don't know what kind of setback that I had tonight but we'll look at it (Monday). Definitely took a step back tonight."
Rodgers' performance seemed unaffected despite the painful injury.
He hit 29 of 37 passes without an interception for a 141.1 passer rating.
Adams led the way with 10 catches for 121 yards and two touchdowns, while Allen Lazard added 89 yards and a touchdown. Veteran tight end Marcedes Lewis also contributed with four catches for 51 yards, both single-game highs in a Packers' uniform.
Lazard marveled at Rodgers' ability to perform despite the injury.
"For him to be able to do what he's been doing … I think it's just a testament to his talents, but I think it just shows you how talented he is above the neck as well," Lazard said. "I think that pays dividends when it comes to that position, obviously. Yeah, he's a special guy and I'm so thankful to have him in our locker room as a friend. He's done a great job as a leader."
While the Packers and Rodgers determine how to proceed with the MVP's left pinky toe, Green Bay's upcoming opponent – the Baltimore Ravens – are also dealing with an injured quarterback.
Lamar Jackson injured his right ankle and had to be carted off the field Sunday in the Ravens' 24-22 loss at Cleveland. Jackson's status is unknown for Sunday's game, but when he returned to the sideline he was wearing a protective boot. Jackson first injured the ankle the week prior when he went out-of-bounds and stepped on a yard marker.
If Jackson can't play the Ravens (8-5) will start Tyler Huntley, who hit 27 of 38 passes for 270 yards and a touchdown against the Browns. Huntley didn't have a turnover and rushed six times for 45 yards.
The Packers can take nothing for granted going into Sunday's game.
"Tyler showed a lot of grit, and I felt like the whole team did that," Ravens coach John Harbaugh said. "That's who we are and that's why we have a chance to still win the championship in the AFC North and go on from there. That's what we'll be fighting to do the next four weeks."
Meantime, the Packers will continue their fight to capture the NFC's top seed, to which Green Bay fans say, "Go Rams!" if only for a night.