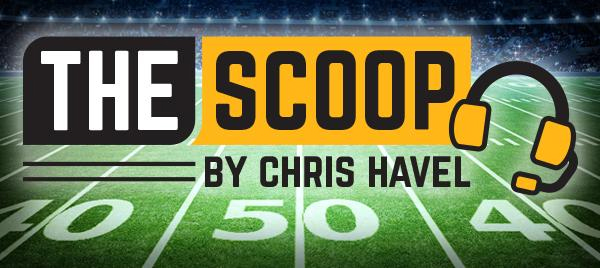 By Chris Havel
GREEN BAY, Wis. – Aaron Rodgers' record-setting touchdown passes stole the show, and Rasul Douglas' late interception sealed the win, but it was Green Bay's inconsistency in yet another nail-biting victory that raised eyebrows.
On a gorgeous Christmas Day, the Packers' 24-22 victory over Cleveland enabled Green Bay to maintain its one-game lead as the NFC's top playoff seed. It also was the second straight game in which the Packers (12-3) blew a double-digit lead and eventually were forced to win in the final moments.
"We've got to do a better job of closing out games," Rodgers said afterward, a comment directed as much at the Packers' conservative offense as their defense.
Unwelcome drama aside, the game also featured several history-making highlights:
** Rodgers threw his franchise-record 443rd touchdown pass to Allen Lazard. It came on an 11-yard stick route that gave Green Bay an early 7-6 lead. Lazard was understandably thrilled to be on the receiving end of history.
"My reaction was just like, 'Oh, s***! I caught it,' " he said. "Seeing (Rodgers') picture up there with the '443' and then I was just thinking about my journey, that this dude's thrown '443' touchdowns and I have maybe 12 or something like that total here the past three years. Just to be part of his legacy, to be part of this organization, it was a huge moment of gratitude for me and everyone else."
While Rodgers was celebrating with teammates, the Packers' scoreboard highlighted his career and displayed a videotaped message from Brett Favre, who previously held the record.
Favre's message said, "Hey, 12, congratulations, man, on passing my touchdown record. I have one request. Go get us another Super Bowl. Congrats."
Rodgers was moved by the gesture and the moment.
"Definitely got me a little teary-eyed on the bench," he said. "A moment I'll never forget, for sure. I'm thankful for Favre's message, for the response from the guys and the crowd obviously was really special."
Packers head coach Matt LaFleur added, "I got chills when that happened. I thought that tribute to him was outstanding."
** Rodgers' 9-yard touchdown pass to Davante Adams was the Dynamic Duo's 66th TD hookup and moved them past the Rodgers-to-Jordy Nelson tandem and into first place in team history.
Rodgers connected with Adams again on a 1-yard scoring strike to give Green Bay a 21-12 halftime lead. Adams finished the day with 10 catches for 114 yards and two touchdowns to become the only player in NFL history to have 10 games featuring 10-plus catches, 100-plus receiving yards and multiple touchdowns.
"He's the G.O.A.T.," Adams said of Rodgers. "His name is in every single record book – I want to say he's got all the records. It's nice to be there with him."
Rodgers said it's nice playing behind this offensive line.
The Packers (left to right) had Yosh Nijman, Jon Runyan, Lucas Patrick, Royce Newman and Dennis Kelly up front.
"No sacks tonight," Rodgers gushed. "I took a couple of shots but no sacks, which is incredible, the way those guys are playing up front. Yosh, Jon, Lucas, Royce and Big Dennis – they battle and man, it's been fun playing with those guys."
"This is a fun team," Rodgers added. "We made some really smart additions – some in the offseason, some in-season – and a lot of them have really paid off."
None of them has been as big as Douglas, whose two interceptions pushes his season total to five.
"I don't think Rasul is a role player," Rodgers said. "He's a star. He's around the football all the time. He's making plays and winning games for us."
While the Favre video was the perfect touch, Cleveland quarterback Baker Mayfield displayed no touch whatsoever.
Mayfield was 21 of 36 for 222 yards with two touchdowns and the four picks for a 55.3 passer rating. He was sacked five times. Rashan Gary got him twice, while Preston Smith, Tipa Galeai and Dean Lowry registered one sack each.
The Packers also got interceptions from Chandon Sullivan and Darnell Savage to go with Douglas' "Daily Double." In all, Mayfield's three first-half interceptions led to three first-half touchdown passes by Rodgers.
The disparity between the Packers' future Pro Football Hall of Famer and Mayfield was staggering. Then again, so was the teensy-weensy final margin of victory. The fact that the Packers won by only two points despite forcing four turnovers and registering five sacks is fairly incredible.
It's also a bit concerning.
Last week, Baltimore rallied from a late 14-point deficit to within a 2-point conversion of beating the Packers. This week, the Browns trailed 24-12 at halftime but held Green Bay to a field goal and three consecutive punts.
Green Bay's offense went from atomic to anemic during the halftime intermission.
Adams caught eight passes for 88 yards and the two touchdowns in the first half. He managed just two catches for 26 yards in the second half.
Rodgers was 18 of 23 for 154 yards and three TDs in the first half. He was merely 6 of 11 for 48 yards in the second half.
Did LaFleur get too conservative? He admitted it was possible, especially when left tackle Yosh Nijman was replaced by Ben Braden for a series in the second half.
LaFleur called three straight running plays and the Packers punted.
Rodgers wished he would've put the football in his hands.
"We've got to find out exactly what we want to do in those situations and then go do it," Rodgers said. "And just trust. Put the ball in my hand, give me an opportunity to deal the ball to Davante or anybody else who's open, and go close out games in that situation."
While LaFleur appreciated Rodgers' sentiment, his explanation of his play selection made sense. He wanted Braden to get comfortable, but he also felt like he had a good play called on third down. It just didn't work.
But it doesn't mean he lacked confidence in Braden or anyone else. It's just how the series played out.
LaFleur said he has ultimate faith in his playmakers.
He didn't stop short of criticizing his defense, though.
"The splash plays are great," LaFleur said. "Obviously the difference in the game was the four turnovers and the five sacks, but I would say just 'down in' and 'down out' we have to be more consistent and make sure that we're doing a better job in the run game. You've got to give (the Browns) credit, but absolutely do I think we need to be better? No doubt about it. We've got to do a better job of setting the edge and we've got to do a better job of tackling. That was probably our worst tackling performance of the season."
The Browns' Nick Chubb rushed 17 times for 126 yards and a touchdown. Cleveland was 7 of 12 on third down tries, rushed 25 times for 219 yards and piled up 408 yards in total offense.
But Green Bay's defense made a final stand once again.
"Our defense has closed out a lot of games, like the last two weeks with stopping that 2-point conversion (in the 31-30 win at Baltimore) and Rasul coming up with that big pick," Rodgers said.
"It's nerve-racking, but winning is difficult in this league."