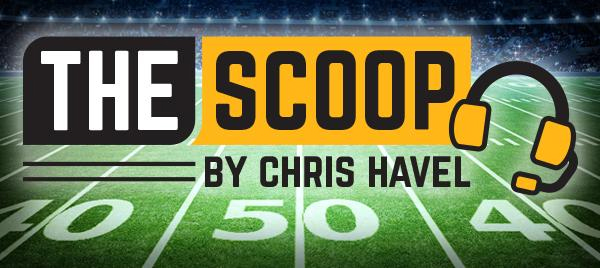 By Chris Havel
GREEN BAY, Wis. –The Packers got most of what they came for Sunday in their regular-season finale at Detroit's Ford Field.
Davante Adams grabbed a pair of team receiving records, David Bakhtiari started at left tackle for the first time in more than a year and the NFC's top-seeded Packers got in some good work without sustaining any notable injuries.
What Green Bay didn't get was a win against the Lions, whose caution-to-the-wind play calling keyed their 37-30 victory over the Packers.
"I might have a better perspective tomorrow," Packers coach Matt LaFleur said. "We're all competitors and we don't like losing. I am happy in the fact that we got out fairly healthy."
Marquez Valdes-Scantling, who exited with a sore back after 15 snaps, is the lone injury concern. The good news is that MVS and the rest have two weeks off.
Clearly, LaFleur was displeased with his defense's undisciplined play.
The devil-may-care Lions (3-13-1) trotted out a fake punt that didn't work and two flea-flickers that did. The first came when Jared Goff and receiver Tom Kennedy played hot potato with the football before Kennedy lobbed a pass to a wide-open Kalif Raymond for a 75-yard touchdown. The second came when Goff hit an uncovered Brock Wright for a 36-yard score after more backfield shenanigans. That put the Lions up 24-13 early in the second half.
"Defensive football in general comes down to discipline, and people owning their roles, and when you aren't disciplined or you go outside the scheme, bad stuff happens," LaFleur said. "We cannot have that. We need all 11 doing their damn job. And if they don't stuff like that happens."
The Packers wisely held out running back Aaron Jones (knee) and linebacker De'Vondre Campbell (elbow) while limiting the snaps for nose tackle Kenny Clark (28 snaps) and edge rushers Rashan Gary and Preston Smith (26 snaps each).
Despite the limited playing time Gary had a team-high four pressures while Clark and Smith combined for another three. Dean Lowry registered a sack and rookie T.J. Slaton was solid in extended time.
Offensively, the Packers' Aaron Rodgers played well in a half.
Rodgers was 14 of 18 for 138 yards and two touchdowns Sunday. He finished the season completing 68.9 percent of his passes for 4,115 yards, 37 touchdowns, four interceptions and a 111.9 pass rating.
While Rodgers likely sewed up his fourth MVP award, Adams established a pair of Packers' single-season receiving records. He finished with 123 catches for 1,553 yards (both records) and 11 touchdowns. His 123 catches broke his own team record, while his 1,553 yards eclipsed Jordy Nelson's team record set in 2014.
Rodgers was sacked three times on Sunday, but that was more a byproduct of miscommunication along a reconfigured offensive line.
Bakhtiari, the five-time All-Pro, played 27 snaps without allowing a pressure. He got lathered up, moved well and looked like he's ready to roll in the playoffs.
"Long, long journey," he said after the game. "I was expecting to be back earlier. It was tough. Definitely wore mentally on me (more) than anything … so happy just to see the other side. I was really just pumped to be out there today. It meant a lot."
It meant a lot to his quarterback, too.
"I'm so proud of him. It seemed like he was fantastic," Rodger said of Bakhtiari. "He's a great person and he makes our team better. Obviously, he's an incredible player. To celebrate him and his happiness today is pretty special. There's nothing like running out there and seeing 'The Big Giraffe.' "
Rookie center Josh Myers returned from a Week 6 knee injury to play 32 snaps before being replaced by Patrick, who started at right guard in place of rookie Royce Newman. Newman played 36 snaps at right guard once Myers departed.
Dennis Kelly took at the snaps at right tackle, but it is possible starter Billy Turner will return from a knee injury in time for the NFC Divisional playoffs.
Rodgers reiterated a LaFleur saying: We'll play the best five up front.
"We talked about momentum, and that was important, but I really wanted to get out there with Dave and Josh," Rodgers said. "That was my main focus. Obviously (we) wanted to get Davante his record, but get some rhythm within the offense, get some rhythm with those two guys especially. We've got to figure out what our best five is and what our healthiest five is."
Jordan Love relieved Rodgers after taking a knee to end the first half.
Love finished 10 of 17 for 134 yards with a touchdown, two interceptions and a 64 passer rating. He was sacked once and played so-so in his second-half stint.
Love's big play was a 62-yard touchdown pass to tight end Josiah Deguara, who utilized a great downfield block by Patrick to get into the end zone. Deguara's touchdown gave Green Bay a short-lived 30-27 lead with 4:49 to play.
Allen Lazard, who made five catches for 75 yards and two touchdowns, marveled at Patrick's all-out hustle.
"I was screaming. I had a pretty good view of it," Lazard said of Deguara's touchdown. "Lucas Patrick, got to give a shout-out to him, he threw an amazing block, knocked out two guys, Josiah was able to sneak inside of him and break off one tackle … that was a huge play for him and I think it was a huge confidence boost for him."
Back-to-back interceptions by Love led to the Lions' final 10 points and the win.
One was a poor throw and the other was a tipped pass that rookie Amari Rodgers had in his hands but couldn't corral.
Still, Rodgers thought Love did some good things.
"He's a great kid. He really is. He cares about it," Rodgers said. "He works his butt off. He asks good questions. He's got a great, wry sense of humor. He's a quiet kid, but I respect that. I was a quiet kid as a young player, too. I really enjoy his personality. I enjoy his friendship and we have a lot of fun together. I'm proud of the way he played today."
Now, the Packers (13-4) get to rest and watch the NFC's wild-card round beginning with No. 7 seed Philadelphia at No. 2 Tampa Bay noon Sunday, followed by No. 6 San Francisco at No. 3 Dallas at 3:30 p.m. The fifth-seeded Cardinals are at the No. 4 seed L.A. Rams on Monday at 7:15 p.m.
The Packers will play host to the lowest-remaining seed after the wild-card round.
If the Eagles beat the Bucs, Philadelphia is at Green Bay.
If Tampa Bay wins and the 49ers defeat Dallas, the 49ers will be at Lambeau Field.
If Tampa Bay and Dallas both win, the Cardinals-Rams winner comes here.
For his part, Rodgers said he liked what the Packers accomplished Sunday.
"It wasn't too dissimilar to Week 2 against (Detroit)," he said. "They were ahead 17-14 at half, I believe we ended up beating them 35-17. It felt very similar to that and we feel good about offensively where we're at and what we accomplished."