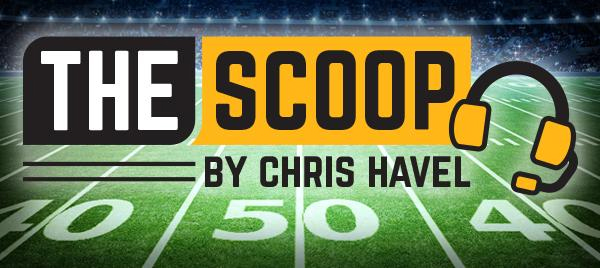 By Chris Havel
GREEN BAY, Wis. – Matt LaFleur has accomplished a great deal in three seasons as the Packers' head coach.
His 39-10 regular-season record makes him the all-time winningest coach in NFL history in their first three seasons. He also was integral in Aaron Rodgers' return to MVP form, Davante Adams' record-breaking play and the development of a dynamic running game featuring Aaron Jones and A.J. Dillon.
LaFleur didn't have to do it alone, either.
He assembled a crackerjack coaching staff in the days after he was hired in 2019.
All that success brings an inevitable tradeoff. If your team is well-coached and worth a damn – and you can't have one without the other – the staff will be raided.
So it goes with LaFleur's top assistants.
Nathaniel Hackett, who was LaFleur's offensive coordinator and right-hand man, was hired as the Denver Broncos' new head coach. Based on all the accolades from current Packers, it is clear Hackett was exceptional.
LaFleur also lost talented Luke Getsy, his quarterback coach and passing game coordinator, who exited to become the Chicago Bears' offensive coordinator.
Getsy will work under the Bears' new head coach, Matt Eberflus, who was the Indianapolis Colts' defensive coordinator. Getsy's promotion will earn him the opportunity to call plays while continuing his journey to become a head coach.
Oddly, there isn't anyone panicking at 1265 Lombardi Avenue.
That's because LaFleur has built such great trust in matters such as putting together a cohesive, dynamic staff.
LaFleur will fill Hackett's vacated OC job by promoting offensive line/run game coordinator Adam Stenavich. The Marshfield native was promoted to that position (OL/run game) on March 1, 2021 after it was clear he could coach at a high level.
Stenavich, who starred at left tackle at Michigan (2002-05), had a brief NFL career before diving into coaching.
Stenavich, 39, is credited with the development of Elgton Jenkins, Jon Runyan and many others.
LaFleur will continue to call plays with Stenavich taking over Hackett's duties. It will be interesting to see if there is a heightened emphasis on the running game with Stenavich as the OC and the possibility of Rodgers' departure.
The Packers' staff also may lose tight end coach Justin Outten if he chooses to tag along with Hackett and become his OC in Denver. If Outten leaves it will be interesting to see if LaFleur dips into his current staff once more.
Getsy's vacancy is being filled by offensive line coach Luke Butkus.
Who would've imagined a "Butkus" coaching in Green Bay? LaFleur did when he hired him Feb. 7, 2019. By all accounts Butkus is an intense, fiery competitor who brings a decade's worth of experience to the job.
Butkus, 42, is in his 11th season coaching in the NFL. He previously worked for Jacksonville (2013-15), Seattle (2010-11) and Chicago (2007-09). He is the nephew of the Bears' Hall of Fame linebacker, Dick Butkus.
In other Packers news, LaFleur and his staff have been chosen to coach the NFC in Sunday's 2 p.m. Pro Bowl at Allegiant Stadium in Las Vegas. LaFleur's NFC squad will face an AFC team led by Tennessee coach Mike Vrabel and his staff.
LaFleur was Vrabel's offensive coordinator for one season before being named the Packers' head coach.
The Pro Bowl can be a terrific recruiting tool for prospective free agents. It provides LaFleur and his staff a chance to showcase their program to players. It also will give NFL fans plenty of time to get familiar with LaFleur.
The coaching honor typically goes to the conference's highest-remaining seed that didn't reach the Super Bowl.
As an aside, it may be small comfort to Packers' fans, but Green Bay went 3-1 during the regular season against the NFC and AFC Championship participants. They beat the Bengals, 25-22, in overtime at Cincinnati. They defeated the 49ers, 30-28, at San Francisco. And they beat the Rams, 36-28, at Lambeau Field.
Their only loss was 13-7 at Kansas City in a game Rodgers didn't play.
** THE AFC AND NFC CONFERENCE CHAMPIONSHIP GAMES
The Bengals and Rams will face off in Super Bowl LVI on Sunday, Feb. 13, at SoFi Stadium in Inglewood, Calif.
The Bengals upset Kansas City 27-24 in overtime at Arrowhead Stadium on Evan McPherson's 31-yard field goal. The Chiefs and Patrick Mahomes opened an early 21-3 lead, but Cincinnati and quarterback Joe Burrow kept on coming.
In the NFC, the Rams trailed the 49ers by 10 points going into the fourth quarter. They exited with a 20-17 victory when Cooper Kupp corralled an 11-yard touchdown pass from Matthew Stafford to make it 17-14.
Matt Gay added field goals of 40 and 30 yards to seal the victory.