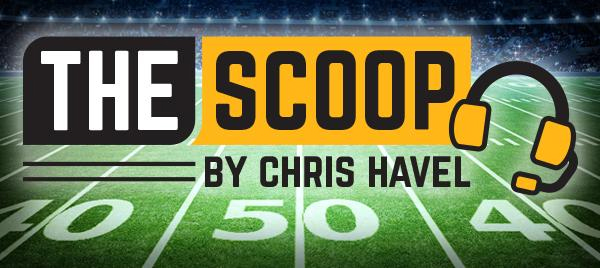 By Chris Havel
GREEN BAY, Wis. – Parting is such sweet sorrow.
The sorrow comes with the realization that Aaron Rodgers likely has taken his final snap at quarterback for the Green Bay Packers.
The sweet part is daydreaming about how to spend all that draft capital.
Rodgers, who is coming off a second-straight MVP-caliber season, should command a king's ransom on the open market.
In 2016 the Vikings included a first-round pick in a package deal with Philadelphia to acquire Sam Bradford, who played poorly and sparingly with Minnesota. In 2018 the Cardinals signed him to a one-year, $20 million deal with $15 million guaranteed. Bradford never played any meaningful snaps in Arizona, either, making it one of the worst free agent signings of the decade.
The lesson: Teams are forever willing to overpay at quarterback.
The list of top-notch quarterbacks who might be available this offseason features Rodgers, Russell Wilson, Deshaun Watson and Jimmy Garoppolo. There have been strong indications that teams would part with a second-round pick and perhaps a third- or fourth-rounder to acquire Garoppolo.
If that's the going rate for a QB with Garoppolo's abilities, it's not absurd to suggest Rodgers would command a first-round pick, a pair of seconds and a third. There's always the possibility that Packers GM Brian Gutekunst could pry two first-round picks from another team, and to that Packers fans say, "Go get 'em."
Rodgers would stand head-and-shoulder pads above the other available QBs.
He had a terrific 2021 season. He completed 68.9 percent of his passes for 37 touchdowns, four interceptions and an NFL-best 111.9 passer rating. Any decline seems minimal despite the fact that he'll be 39 when Super Bowl LVII kicks off.
The problem is Rodgers' contract. He is due $46.6 million on his one-year deal. The Packers would have to do some major tap-dancing to find a way to keep him.
They also might be pressed to use the franchise tag on receiver Davante Adams as a condition of Rodgers' remaining in Green Bay. SPOTRAC has Adams' estimated market value at $25.8 million annually, so a five-year deal would net the perennial All-Pro $129.3 million, with a fair portion guaranteed.
It is doubtful Al Capone's bookkeeper could squeeze all that under the cap.
Clearly, the Packers are better with Rodgers at quarterback than anyone else. But that just may not be realistic, unless the Packers are willing to mortgage their future on a 38-year-old quarterback without knowing what they have behind him.
Jordan Love has had flashes and played well enough in the Packers' 13-7 loss at Kansas City in November. But this isn't about Love. It's about Rodgers. It always has been and always will be until he exits stage left.
Andrew Brandt, the Packers' former salary cap guru and esteemed college professor and NFL pundit, predicted Rodgers would play in Green Bay in 2021. Brandt's prescient view came with a warning: It will be Rodgers' final season here.
Let's say Brandt is correct, a solid bet given his track record, and Rodgers is gone.
The Packers still could franchise tag Adams and work out a long-term deal to help give Love a fighting chance. That would give a measure of stability to a receiving corps in which Marques Valdez-Scantling, Allen Lazard and Equanimeous St. Brown all have expiring contracts. Tight end Robert Tonyan's contract also is up.
If Adams signs elsewhere it would be unfair to thrust Love into that situation and expect him to succeed. Then again, in yet another draft loaded at receiver, the Packers would have the ammunition to take a highly-rated pass catcher or two.
The Packers' draft needs – with or without Rodgers – appear to be the usual suspects. A receiver or tight end with big-play potential would be exciting. There's always room for another defensive lineman to pair with Kenny Clark and pals.
Offensive linemen are always in style in Green Bay, and you can never have too many pass rushers or cover cornerbacks.
Just think what the Packers could do in the draft following a trade that sends Rodgers to the Denver Broncos. Let's say the Packers receive Denver's first-round (9th overall), second-round (40th) and third-round (75th) picks this year.
They would have the 9th, 28th, 40th, 60th and 75th picks.
Merely contemplating the possibilities triggers a flood of anticipation.
Perhaps the Packers have determined that inside linebacker De'Vondre Campbell is vital to their defense. If that's the case the cost to re-sign him (he played on a one-year, $2 million deal in 2021) would be $6.2 million annually. For three years at $18.8 million, according to SPOTRAC, it's a bargain.
Then again, the Packers may be convinced their defense NEEDS a stud linebacker such as Campbell and is compelled to draft fairly high at that position.
All of this begins with whatever Rodgers decides.
He might retire but that seems unlikely.
He could stay in Green Bay, but given the salary cap constraints it seems doubtful. Furthermore, Rodgers has more negotiating leverage this offseason. The Packers have to get out from underneath the $46.6 million he is owed for 2022.
Their decision: Mortgage the future or lay the foundation for future success?
The choice seems fairly obvious. The tricky part will be getting there without the Packers or Rodgers alienating one another. The odds of that happening increase with each passing day that Rodgers takes to make his decision.
If he wants to play, which is likely, the Packers will accommodate him – one way or another.
They don't need the PR disaster and Rodgers doesn't need a tarnished legacy.
In an informal poll on Sports Line (my radio show) last week, Packers' fans were divided almost equally on what they wished to see happen with Rodgers. Slightly more than 50 percent want to see him traded for a boatload of booty. The rest would like the Packers to do what it takes to sign him to a three-year extension.
There is no right or wrong answer.
What matters most is what the Packers do to build a strong team around Rodgers should they re-sign him? That or what they do with all those draft picks to build a strong team around Love.