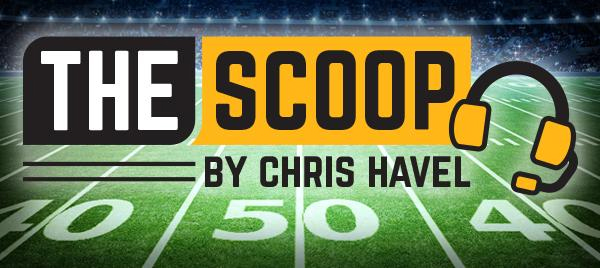 By Chris Havel
GREEN BAY, Wis. – While the "Aaron Rodgers Watch" rolls into late February the Packers are playing out the scenarios with, and without, their star quarterback.
This week, I'll take a look at the Packers' offense going into 2022.
The specter of life without Rodgers is daunting, but it's not all doom and gloom.
A look at the Packers' offensive players currently under contract should be reassuring to fans.
The offensive line will be (left to right): David Bakhtiari, Jon Runyan, Josh Myers, Royce Newman and Elgton Jenkins. The Packers could restructure Billy Turner's contract, which currently includes a $9.1 million salary cap hit, to keep him.
If they let Turner walk, which seems likely, the Packers' offensive line will feature a trio of ascending young players sandwiched between a pair of All-Pro tackles. That's a strong group whether it's Rodgers or Jordan Love barking out the signals.
Bakhtiari is coming off an injury and may be asked to restructure his contract. Jenkins is due a healthy extension at some point. Those are just details, though. The Packers' offensive line enters 2022 in excellent shape.
In the backfield, Aaron Jones and A.J. Dillon rank among the NFL's top one-two backfield tandems in the game. Their diverse skills make them the embodiment of "Thunder" and "Lightning." Kylin Hill's return from a knee injury adds depth.
Dillon has developed into a short-yardage jackhammer with exceptional vision and really good feet. He also has soft hands out of the backfield and is a rising star. Jones had an "off" season by his standards, but should rebound in a big way.
Packers coach Matt LaFleur has shown a willingness to run the football. It remains the key to success in his play-action centered attack. So long as defenses have to honor the run it gives the coach and quarterback the ability to throw when they want to as opposed to because they have to.
The tight end position returns Marcedes Lewis, although his age (37) and cap number ($2.4 million) could lead to a restructure or release. Josiah Deguara will be counted on heavily as he enters his third season. Robert Tonyan is coming off a knee injury and currently not under contract. Common sense suggests Tonyan's value is greatest in Green Bay, and that he'll reach a deal with the Packers.
Tyler Davis and Alize Mack are the backups.
If the quarterback position raises the $46.6 million dollar question (Rodgers' scheduled salary for 2022), the receiver position raises the $25.9 million dollar question (Davante Adams' calculated market value for 2022).
The NFL's window for designating the franchise tag begins Tuesday (Feb. 22) and runs through Tuesday, March 8.
The Packers are likely to tag Adams for the one-year, $18.5 million price tag. That is the precursor to a long-term deal or perhaps a tag-and-trade maneuver.
My best guess is that if Rodgers is here, so is Adams, which means salary cap manager Russ Ball will have to do a lot of tap-dancing to make it work. I still believe if Rodgers is traded, the Packers will try to extend Adams.
The Packers' history shows they don't let their best players walk.
The rest of the receiving corps is in a state of flux.
Marquez Valdes-Scantling, Allen Lazard and Equanimeous St. Brown are without contracts. MVS's calculated market value is $8.7 million. Lazard's is $7.7 million. Amari Rodgers, Juwann Winfrey and Rico Gafford are currently under contract.
The return of Adams and MVS or Lazard, plus the obvious need to draft and integrate a talented rookie, should be enough to carry the Packers' receiving corps. The prospect of Adams opposite the next Justin Jefferson is exciting. The contributions of MVS and Lazard can't be discounted, but neither has developed into a reliable WR2 due to injuries and inconsistency.
Whether the Packers keep MVS or Lazard likely depends on who they draft. If it's a tremendous deep threat with marginal blocking ability, keeping Lazard makes sense. If it's a bigger, stronger receiver with decent speed then it's MVS.
Randall Cobb's cap number is $9.5 million for 2022 so he's going to have to restructure his deal in order to stay. I suspect Cobb will leave if Rodgers does, though he may not be back either way.
Meantime, LaFleur has completed his coaching staff.
He hired Rich Bisaccia to coach special teams and Byron Storer, a former teammate of Rodgers' at Cal, to assist him.
He also hired Tom Clements to be the quarterbacks coach. Clements is credited by Rodgers for helping him develop into a perennial All-Pro quarterback.
Furthermore, the Packers aren't entertaining any trade talk involving Rodgers.
Some Packers fans have extrapolated all of that to mean Rodgers is returning. Frankly, that's mostly fans weaving pieces of information into a narrative that's to their liking. The fact is the Packers have agreed to give Rodgers time to make the best decision for his NFL future. To enter into any trade talks would be unnecessary and could blow up the bridge to Rodgers' return.
Once Rodgers makes his decision, and the NFL draft draws closer, the Packers will have plenty of willing trade partners. Until then it's way too premature.
It's been six weeks since the season ended. After 17 seasons in Green Bay, Rodgers has earned the time necessary to get this decision right.