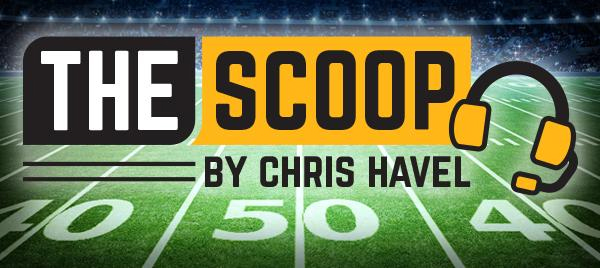 By Chris Havel
GREEN BAY, Wis. – After all these long seasons, this is what "all in" looks like.
It looks like a 38-year-old philosophy professor with a hip man-bun, Zen outlook and burning desire to finish an uncompleted journey.
And it looks like $200 million over four years, with $153 million guaranteed, being delivered by Brinks truck to Aaron Rodgers' front door. That is the Packers' cost to retain the NFL's back-to-back MVP QB and a legit claim as Super Bowl threat.
It looks like "Super Bowl or Bust!"
Rodgers and the Packers were finalizing terms Tuesday on a four-year deal that would effectively tether them for at least two seasons. It comes on the same day Green Bay is expected to place the franchise tag on receiver Davante Adams. The deadline is 3 p.m. today for teams to apply the designation.
Adams would cost the Packers $19.2 million under the franchise tag. However, the teams would likely continue to work on a salary cap-friendly long-term deal.
It's impossible to imagine Rodgers returning to Green Bay while Adams is exiting. While the quarterback and receiver weren't directly tied in terms of contract negotiations, it was clear they preferred to continue playing catch together.
Fortunately, it appears "Rodgers-to-Adams" will continue being a thing here.
I write "fortunately" because this qualifies as a win-win for the Packers and Rodgers. Sure, the stakes are as high as they can be. The Super Bowl is a lofty goal, but with Rodgers' return it's most definitely a doable goal.
Rodgers is now the NFL's highest-paid player.
I chuckle when fans gripe about that circumstance and say, "And he's worth it."
There aren't any guarantees – beyond the $153 million, at least – in terms of winning Super Bowls and riding off into the sunset. But who wouldn't want to see what Rodgers, Adams and the rest can do this season?
Rodgers remains at the tail end of his prime, but his ability to diagnose defenses, execute the offense and throw with velocity and accuracy sets him apart.
It will be interesting to see whether the Packers can afford to retain inside linebacker De'Vondre Campbell and/or cornerback Rasul Douglas. The Packers are expected to release Za'Darius Smith, which will save about $15 million on the salary cap. They also continue to engage in contract negotiations with Jaire Alexander on an extension. Alexander currently counts $13 million toward the cap. An extension would free up as much as $6 million beneath the cap.
Meantime, the offense looks like it will be as formidable as ever under coach Matt LaFleur. The line features David Bakhtiari, Jon Runyan, Josh Myers, Royce Newman and Elgton Jenkins. The running backs are first-rate with Aaron Jones and A.J. Dillon.
Adams will key a receiver corps that has the prospect of adding a high draft pick.
The tight end position still has to come together, but there is time for all of that. The key piece of the puzzle is back in the fold.
How that could be construed as a negative is surprising. To those who say, "Boo, who, Rodgers took too long to decide," I reply, "What's it to you? Were you that inconvenienced? He was making a career-defining decision, after all."
Rodgers has been playing at a high level for two-plus seasons. He broke Brett Favre's franchise record of 442 career touchdown passes, finishing the season with 449. He threw for 37 touchdowns to just four interceptions while posting the NFL's best passer rating in 2021.
The Packers' Super Bowl odds from 15-to-1 to 12-to-1 at Caesar's Sports Book, which has Green Bay listed as its favorite to win the NFC championship.
What this means for Jordan Love remains to be seen, but in the short-term he will continue to polish his skills as Rodgers' backup. The notion that the Packers should trade Love – and perhaps receive a second-round pick – is silly. Love is largely an unknown and his value on the open market is minimal.
The more important question is what does Rodgers' return mean for the Packers? Frankly, it means everything.
The Packers' front office, starting with team president Mark Murphy, deserves praise for repairing its relationship with Rodgers. It was a wise business move, and it served the best interests of the team and its fans.
If the goal is to win a championship, Rodgers' return makes it possible.
At the end of the day, Rodgers' best interests and the Packers' were one and the same. Rodgers' best chance to win Super Bowls is in Green Bay. Conversely, the Packers' best chance to do likewise is with Rodgers barking out signals.
The Packers are all in. So is Rodgers.
Best of all, they're in it to win it … together.