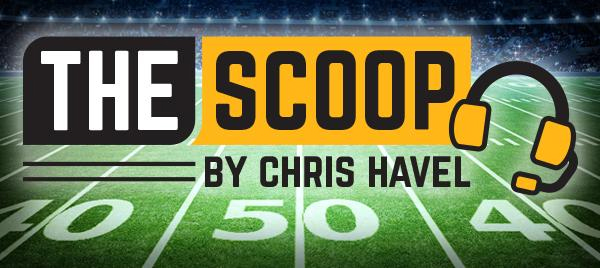 By Chris Havel
GREEN BAY, Wis. – The Packers' defense made tremendous strides last season thanks to the always steady and occasionally spectacular play of veteran linebackers De'Vondre Campbell and Preston Smith.
On Monday, the Packers retained half of that winning tag-team by signing Preston Smith to a four-year, $52.5 million contract extension.
Smith, 29, was on the final year of his previous deal. He would have cost the Packers about $19.5 million against the salary cap. The extension sliced about $9 million off the cap while rewarding Smith's durability, leadership and talent.
He will earn $25 million during the next two seasons with a chance to reach $31 million in incentives, according to reports. The entire package could pay Smith as much as $71 million over five seasons.
Smith wreaked havoc with nine sacks, 38 tackles and two forced fumbles. He and Rashan Gary (9 ½ sacks) represent one of the NFL's most formidable pass-rush duos while remaining strong against the run.
Smith, who is entering his seventh season, has 49 ½ sacks while missing just one game in that span. He agreed to a pay cut last offseason to remain in Green Bay and the move paid off.
Perhaps Campbell and/or cornerback Rasul Douglas will take note.
Smith's return, in part, led to the release of edge rusher Za'Darius Smith. The Packers would've had to absorb a $26 million cap hit to retain Za'Darius Smith. That wasn't going to happen. Now he'll get to test the open market.
Meantime, the Packers are setting their sights on re-signing Campbell, who was added late last offseason and responded with an All-Pro performance. Campbell racked up a team-high 146 tackles with five passes defended, two sacks, two interceptions and two forced fumbles.
It will be interesting to see how the Packers make it all work under the cap. They still have possible restructures with Dean Lowry and David Bakhtiari.
Aaron Rodgers reportedly agreed to a four-year extension, which will save the team significant money on the cap. They also are working with cornerback Jaire Alexander on an extension. Alexander currently counts $13 million against the cap and an extension would allow the Packers to push money in future years.
Preston Smith's extension gives Packers GM Brian Gutekunst much greater flexibility in the draft. Instead of being obligated to find a pass rusher no later than Day Two, Gutekunst can consider a receiver, defensive lineman or edge rusher with the 28th pick overall.
The Packers must be under the salary cap by 3 p.m. Wednesday, which is the start of the new league year.
The news wasn't all bliss Monday.
Davante Adams loves playing catch with Rodgers, but the All-Pro receiver apparently isn't interested in playing tag with the Packers.
The Packers placed the $20.1 million franchise tag on Adams last week. Gutekunst has made it clear he intends to use the tag "as a bridge to hopefully an extension down the road."
It would be silly to blame Adams for seeking long-term financial security. He is arguably the finest receiver in the game, as well as being a first-rate teammate and one half of the NFL's top quarterback-receiver duo.
Adams, 29, played out the balance of his four-year, $58 million extension last season. He had 123 catches for 1,553 yards, 11 touchdowns and 84 first downs. Adams and the Packers have until July 15 to reach an accord or else the receiver will go into the 2022 season on the franchise tag. Adams isn't obliged to attend minicamps, training camp or other team workouts until he signs the tender.
As it stands, the Packers are in a good place as the league year approaches. They have signed Aaron Jones, Preston Smith and Rodgers to extensions.
When they ante up for Adams – it seems unthinkable that he will play elsewhere – they will actually create more cap space.
In a perfect NFL world, the Packers will extend Adams, re-sign Campbell and add a receiver, tight end and defensive player (edge rusher or defensive lineman) in the first three rounds. If Campbell isn't likely to return, or signs elsewhere before the draft, look for the Packers to take an off-ball linebacker no later than Day Two.
Despite the news on Adams, the Packers are in a pretty good situation going into the 2022 season. As a bonus, they can look forward to a rematch with Tom Brady and the Buccaneers in the regular season.