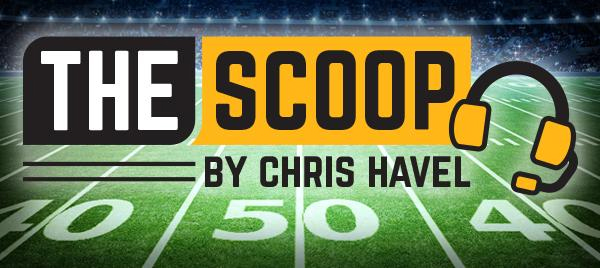 By Chris Havel
GREEN BAY, Wis. – A Packers fan's journey to Mock Draft Land can be either exhilarating or exasperating depending upon one's viewpoint.
Typically, a fan's reaction is rooted in their perception of their team's greatest needs, and which players they have seen or read about that tickle their fancy. If the player and the need intersect at a point that makes sense in the draft it's a win-win.
If not, well, let the second-guessing begin. It's that way with every draft because not even the NFL experts can agree on teams' needs and players' potential.
The closest to a consensus in the 2022 NFL Draft is Michigan edge rusher Aidan Hutchinson being selected by Jacksonville with the first pick overall.
Beyond that it gets crazy.
Bucky Brooks, the former Packers' cornerback and current NFL.com draft analyst, is a shrewd talent evaluator. Chad Reuter, also a draft analyst for NFL.com, is another writer with impeccable credentials.
Brooks has zero quarterbacks being chosen in the first round. That hasn't happened since the 1996 draft when St. Louis – back in the day when they still had the Rams – selected Michigan State's Tony Banks with the 42nd pick.
Reuter has five quarterbacks going in Round 1.
Furthermore, CBS Sports draft analyst Chris Trapasso, another first-rate reporter, has two quarterbacks being taken in the first round.
Five quarterbacks, two quarterbacks or no quarterbacks. Take your pick … or not.
If the experts can't agree on the number of signal callers taken in the first round, how can they possibly know what the Packers will do with the 22nd and 28th picks?
The short answer is they can't unless a source within an organization tips them off. And even then sources can be wrong and circumstances can shift dramatically.
Some say the draft is an inexact science. I say it's an educated guess, but it's hardly a crapshoot because the more educated the team, the better the guess.
So what will the Packers do in the April 28-30 draft?
My best draft prediction – until further notice (aka next Monday) – is as follows:
** With the 22nd pick …
The Packers will be on the clock before the 22nd pick.
Green Bay will send the 22nd, 92nd and 140th picks to the L.A. Chargers in return for the 17th pick, which they will use to select Ohio State receiver Chris Olave. With the Davante Adams trade, the Packers need to find a legit WR1, while the Chargers can still get their offensive lineman at 22.
Meantime, Olave fits the bill for the Packers.
The six-foot, 187-pound receiver is a sure-handed, silky smooth route-runner who possesses a great feel for the game. Lance Zierlein, an NFL.com draft analyst, refers to Olave as "the quiet storm" of the Buckeyes' receiving corps.
"His movements are fluid and easy from snap to the catch and all points in between," he writes. "He's fast but efficient and plays with bend and foot agility to uncover on all three levels. He's an inside-outside hybrid appealing to offenses looking for a field-stretcher with the ability to take on a sizable catch load."
Olave sounds like he's exactly what the Packers need.
Clearly, no one player can replace Adams, but Olave's skillset should enable him to come in and produce right away. He has the speed (4.39 in the 40-yard dash) to take the top off a defense, as Packers coach Matt LaFleur says, but also possesses great intermediate route-running and tremendously soft hands.
Olave's speed will threaten defenses from Day One while he polishes his craft.
The Packers' goal isn't to replace Adams. It's to find ways to improve the Packers' offense as a whole. The scoring production slipped from 31.8 points per game in 2021 to just 26.8 last year. And that was with Adams.
Drafting a talent such as Olave is a critical first step in the right direction.
I also believe they'll draft another receiver AND sign a veteran free agent.
I wouldn't be surprised if Packers GM Brian Gutekunst already has a gentleman's agreement with an unsigned veteran such as Will Fuller. The Packers have enough salary cap space to sign Fuller, but would be wise to keep it under wraps for now.
Strategically, the Packers can better hide their first-round intentions if nobody knows they've already got a veteran receiver in their back pocket.
** With the 28th pick …
The Packers select Purdue edge rusher George Karlaftis with the 28th pick.
Karlaftis (6-4, 266) was a first-team All-Big Ten and third-team AP All-American with the Boilermakers last season. Karlaftis had five sacks, 11 ½ tackles for loss and three forced fumbles in 2021.
Karlaftis did 26 reps at 225 pounds in bench press at the combine, and he flashed explosiveness with a 38-inch vertical leap and his agility with a time of 4.36 seconds in the 20-yard shuttle. He didn't run the 40-yard dash at the combine, instead preferring to run outside in 30-degree temperatures at his pro day. He nailed it with a 4.71 40-yard dash time.
Some fans may be less than thrilled with this pick, but the reality is he will develop into a starting-caliber edge rusher by Year 2. Meantime, he will be the perfect addition to Rashan Gary and Preston Smith in pass-rushing situations.
Some scouts have drawn favorable comparisons with former Kansas City and Minnesota edge rusher Jared Allen. That's high praise for Karlaftis and is an indication of the high ceiling NFL scouts see for him.
** With the 53rd pick …
The Packers select Penn State receiver Jahan Dotson. If he is already off the board, they'll go for North Dakota State receiver Christian Watson.
Drafting Olave along with Dotson/Watson would cement the receiving corps for years to come. It also undoubtedly would put smiles on the faces of Aaron Rodgers and LaFleur.
Dotson (5-11, 185) is a 4.3 speedster with arguably the best hands in the draft. He has a knack for beating defenses deep even when they're in the correct coverage. He would be as explosive a weapon as the Packers have had in years.
Watson (6-4, 208) has exceptional body control and the explosiveness to outleap DB's on contested catches. He is similar to MVS except he's bigger, just as fast (he runs 4.3 in the 40-yard dash) and a more polished route-runner out of college.
Watson also has more reliable hands than MVS.
As a bonus, whether it's Dotson or Watson, both are exceptional return specialists.
** With the 59th pick …
The Packers select Central Michigan offensive lineman Bernhard Raimann with the 59th pick. Raimann (6-6, 303) benched 225 pounds 30 times at the combine. He also was clocked at 5.05 seconds in the 40-yard dash, and a 4.49-second time in the 20-yard shuttle.
Raimann began his college career as a tight end, but moved to tackle in 2020 amid the COVID-19 pandemic, and scouts say his transition is fairly remarkable. He is a very good technician at this stage and should develop into a starting left tackle.
Raimann provides the Packers' offensive line with a quality tackle of the future.
** With the 132nd pick …
The Packers select San Diego State punter Matt Araiza with the 132nd pick.
Talk about a "boom or bust" selection.
Araiza, whose nickname is "Punt God," has tremendous leg strength and the ability to flip the field. He may be the highest-drafted punter since Todd Sauerbrun went 56th overall in 1995.
Araiza had 18 punts of 60-plus yards last season, including two of 80-plus yards. He also can kick off and had 62 of 73 kickoffs go for touchbacks.
If it's not Araiza with the 132nd pick, I see the Packers going for a tight end. Virginia's massive Jelani Woods may be a possibility. Woods (6-7, 259) did 24 reps at 225 pounds on the bench press. He also clocked a 4.61 40-yard dash so he's no speed burner by any means. However, his size and in-line blocking are similar to the Packers' Marcedes Lewis.
Woods also is very good at using his body to shield defenders.
To recap, the Packers will strengthen their receiving corps by adding Olave and Dotson or Watson in the draft, plus the veteran Fuller. That gives Rodgers more than enough weapons to make the offense click.
Karlaftis is too good of a player at too valuable a position to pass up. Raimann will shore up the offensive line and eventually develop into a starting tackle.
I was only half-serious about Araiza. It's something to consider, but it's more likely the Packers will select a tight end or inside linebacker at 132.