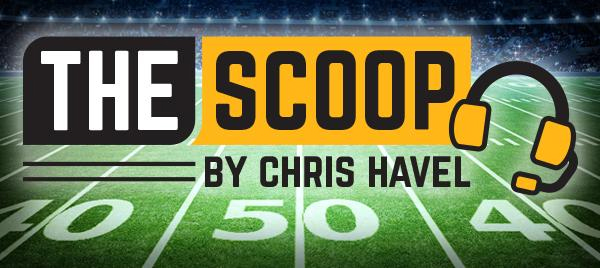 By Chris Havel
GREEN BAY, Wis. –The Packers' goal isn't merely to replace Davante Adams.
It's to make the offense more potent despite his departure.
Green Bay's top three receivers are Allen Lazard, Randall Cobb and the recently signed Sammy Watkins. Individually, none is in the same universe as Adams. Collectively, though, recent history suggests they can match Adams' totals.
The three-year averages (2019-2021) for each receiver are as follows:
** Cobb has averaged 40 catches on 57 targets for 548 yards and 3.3 TDs.
** Lazard has averaged 36 on 52 for 481 yards and 4.7 TDs.
** Watkins has averaged 39 catches on 65 targets for 493 yards and 2 TDs.
That trio's totals equal 115 catches on 174 targets for 1,522 yards and 10 TDs. Here are Adams' 2021 statistics: 123 on 169 for 1,553 yards and 11 TDs. As crazy as it sounds Cobb, Lazard and Watkins can offset Adams' absence.
That isn't possible without Watkins, the third proven veteran, whom the Packers signed to a one-year, $4 million contract last week. Look for the experienced Watkins to begin as the team's WR1 and play well in this offense.
Aaron Rodgers reportedly lobbied for Watkins so the hunch is he'll do everything he can to make it work with the former fourth overall pick in 2014.
Granted, this may seem like putting green-and-gold lipstick on a Packers' pigskin. But Adams' exit, while a major loss, also is an opportunity to reshape the attack.
One obvious advantage of the three-for-one is that no single devastating injury can wipe out the receiving corps. That wasn't the case with Adams as the top dog. Adams only missed one game due to injury, but the extended unavailability of Marquez Valdes-Scantling, and pesky injuries to Cobb and Lazard, took its toll.
Aaron Rodgers targeted Adams because he trusted him to get open and catch it. He also went to Adams repeatedly because whenever MVS, or Cobb, or Lazard were unavailable No. 17 WAS the only viable weapon at receiver.
I contend that Watkins, Cobb and Lazard can and will adequately replace Adams – and make the offense more diverse in the process – under two conditions:
** That Packers GM Brian Gutekunst drafts two receivers in the first three rounds, including one with the 28th pick, who can contribute immediately.
** That Packers coach Matt LaFleur can get what he needs out of the running backs and tight ends in the passing game. In other words, he needs to get more out of them than he did last season.
A.J. Dillon and Aaron Jones combined for 86 catches on 102 targets for 704 yards and eight touchdowns. Robert Tonyan, Josiah Deguara and Marcedes Lewis teamed up for 66 catches on 90 targets for 673 yards and four touchdowns.
With a healthy offensive line to pave the way, the Packers should be able to run more frequently and effectively than they did last season. That is going to be especially true in the red zone, where the Packers struggled a year ago.
If they weren't scoring touchdowns in the red zone they were missing field goals. If a team can't run it in the red zone – and they don't have a monster target (a huge tight end or tall receiver) – quarters can get pretty cramped inside the 20.
The good news is that Jones and Dillon are among the NFL's top running back duos, and that Deguara can hold the fort until Tonyan gets healthy.
That leaves the balance of the receiving corps to make or break the season.
A year ago, Malik Taylor, Equanimeous St. Brown, Juwann Winfree, Amari Rodgers and MVS managed minimal production. The five receivers combined for 49 catches on a whopping 106 targets for 645 yards and three touchdowns.
LaFleur can live with 13.3 yards per catch, but the 46 percent completion percentage when targeting those five is unacceptable.
This is where the upcoming draft and rookie receivers come into play.
Green Bay can get what it needs at receiver WITHOUT trading up or using the 22nd pick. A receiver such as Arkansas' Treylon Burks or Georgia's George Pickens would be a strong choice with the 28th pick. The Packers could add Cincinnati's Alec Pierce in the late-second or early-third round.
This would allow the Packers to select a premier defensive player at 22.
And after listening to defensive line coach Jerry Montgomery last week, it sounds like there is sincere interest in drafting an interior defensive lineman with exceptional pass rush ability. It sounds like a job for Georgia's Devonte Wyatt.
Wyatt, 6-3, 307, has been linked to the New York Jets with the 19th pick, and defensive-minded head coach Robert Saleh loves him.
However, Wyatt could be there when the Packers are on the clock at 22, and it would be difficult to pass him by.
Wyatt is built to play the three-technique in defensive coordinator Joe Barry's scheme. The three-technique lines up on the weak side (opposite the tight end) between the tackle and guard, just off the guard's outside shoulder.
The idea is to create a one-on-one matchup between the three-technique and one of the guards. The center is usually too far away to help, and the tackle generally has his hands full with the edge rusher.
Wyatt, in a one-on-one matchup, could be incredibly disruptive next to Kenny Clark and opposite Dean Lowry.
Wyatt gives great effort and his exceptional lateral quickness allows him to beat zone blocks. He became a starter in 2020 at Georgia (25 tackles, two for loss) before becoming a disruptive cog in the Bulldogs' dominant defense.
Wyatt had 39 tackles, seven for loss, with 2 ½ sacks and two forced fumbles for the national champions.
He would be a nice fit in Green Bay.
If the Packers select a defensive player at 22, they can draft Burks or Pickens with the 28th pick, and nab Pierce at 59, and still have lots to work with at receiver.
Essentially, the Packers need to improve upon the 49 catches for 645 yards and three touchdowns. Either Burks or Pickens should be able to produce that as a rookie by themselves. Add another high-end receiver such as Pierce and the Packers' attack just got more diverse and, just perhaps, more lethal.