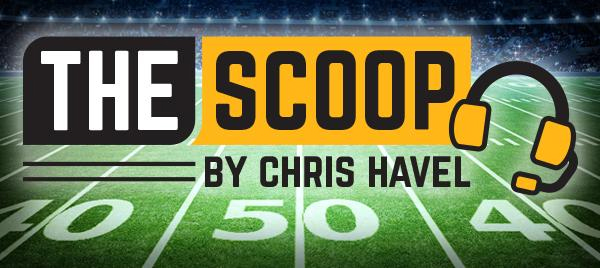 By Chris Havel
GREEN BAY, Wis. –The Packers have several advantages entering the NFL draft.
Their greatest asset is a talented, deep roster on both sides of the football. They don't have to do the "Jacksonville Dance" and spin themselves into a seizure trying to decide which of a dozen or more gaping holes they should try to fill.
That isn't the challenge in Green Bay.
The Packers' needs are few and apparent. Their draft ammunition is abundant.
That is a testament to the collaborative success of GM Brian Gutekunst, head coach Matt LaFleur and the salary cap guru, Russ Ball.
Getting to this point isn't easy, but it can be rewarding.
Just ask the New England Patriots. They had the coach (Bill Belichick), the quarterback (Tom Brady) and the GM (aka Belichick's personal assistant) to make it work with late first-round picks year after year.
Occasionally, the Patriots would get multiple first-round picks and the rest of the league would moan and groan about the rich getting richer.
That's where the Packers are at, or at least where they're hoping to be.
The Packers (39-10 under LaFleur) have assembled a team that is only a few pieces away from completing the Super Bowl puzzle. For that reason alone this should be regarded among the most pivotal draft classes in franchise history.
If Gutekunst nails it, the Packers can set themselves up into the foreseeable.
The Packers' needs are receiver (two), defensive line, tight end, offensive tackle and inside linebacker. In fact, that's where I see them going with their top five picks (No. 22, No. 28, No. 53, No. 59 and No. 92) and a bit of wheeling-dealing.
So without further ado here are my Packers' predictions for the 2022 NFL draft:
** No. 22 – The Packers may be tempted to trade up for a receiver, but they won't.
It's not their style. They have been making hay at the position with second- and third-round receivers even before they selected the Kansas farm boy, Jordy Nelson, in the second round of the 2008 draft.
Greg Jennings was the 52nd pick in 2006. James Jones was the 78th pick in 2007. Jordy Nelson was the 36th pick in 2008. The Packers also drafted Texas tight end Jermichael Finley with the 91st pick in 2008. That pass-catching quartet became even more lethal with the selection of Randall Cobb at No. 64 in the 2011 draft.
History is destined to repeat itself.
While Ohio State's Chris Olave and Garrett Wilson, USC's Drake London and Alabama's Jameson Williams are terrific receivers, they won't be Packers. The price is too steep, especially for the immediate return on investment.
If replacing Davante Adams were as simple as trading up and selecting Olave with a top 15 pick the Packers might pull the trigger. But they won't.
They will bide their time and wait to land receivers.
Meantime, they are thrilled to select Georgia defensive lineman Devonte Wyatt with the 22nd pick. Some NFL scouts believe Wyatt is the best player at his position in the entire draft.
Wyatt (6-3, 304) was the most disruptive force on the Georgia Bulldogs' dominant defense. He carried that through at the Senior Bowl, where he led everyone at the position in "win rate" during the one-on-one pass rush drills.
The better the competition, the taller Wyatt stood.
He became a full-time starter at Georgia in 2020 (25 tackles, 2 TFLs) and developed into a dominant player in 2021 (39 tackles, 7 TFLs, 2 FF, 2 ½ sacks).
Wyatt's proponents are enamored of his interior pass rush ability.
The Packers could line up Wyatt next to Kenny Clark on Day One and be better.
As a "three technique" Wyatt would line up in the "B gap" – the gap between the guard and tackle – to create one-on-one mismatches. The center is too far away to help, and the tackle is busy with Rashan Gary or Preston Smith off the edge. That leaves Wyatt single-blocked and highly dangerous.
Even a less-talented player such as Kingsley Keke managed to flash next to Clark. Imagine the possibilities of putting a disruptive weapon like Wyatt next to him? It's a sure bet the Packers' brain trust has done so.
Even Wyatt's detractors have little of substance to offer.
They say his strength is "adequate" and he "struggles to withstand a second blocker." For comparison's sake, Clark's strength is off the charts, but even HE struggles to withstand a second blocker. It's a red herring, but it makes the point.
Lining up Wyatt and Clark together means an offense can't double-team both. Something's got to give – namely the pass pocket – and that means trouble for opposing offenses and quarterbacks.
Wyatt, according to scouts, also "lands his initial punch with pop," "locates ball carriers quickly when two-gapping," and "hustles around looking to make a play."
Wyatt would be an excellent choice at 22.
With the 28th pick, the Packers will be faced with three options.
They could trade down and add a pick or two. They could stay put and select a receiver. Or they could stay put and select an offensive lineman.
The offensive line prospects at 28 come down to Mississippi State's Charles Cross, Northern Iowa's Trevor Penning or Central Michigan's Bernhard Raimann.
Another possibility in the second round is Tulsa's Tyler Smith.
This is where it gets tricky.
The Packers' quest for starting-caliber offensive tackles – like every other NFL team – is a never-ending search. That's why a tackle has to be in play.
One factor will be the number of receivers already off the board. Some mock drafts have as many as six receivers being selected in the first round. If that's true it's likely that Wilson, Olave, London and Williams will be gone by 28. It's also possible that Penn State's Jahan Dotson also will be gone.
That leaves Arkansas' Treylon Burks or Georgia's George Pickens at 28. In order to select either beyond 28, they would have to trade up from 53 or 59.
That's why I see the Packers drafting Burks at 28.
Burks (6-2, 225) has been compared to the Tennessee Titans' A.J. Brown, who has become one of the NFL's top receivers entering his fourth season.
Burks, like Brown, shredded SEC defenses.
He had 66 catches for 1,104 yards (16.7 average) and 11 touchdowns in 12 starts last season. He also set the school record with six 100-yard receiving games.
Burks was clocked at 4.55 in the 40-yard dash and had a 33-inch vertical leap. For comparison, Nelson (6-2 ½, 217) ran a 4.54 40-yard dash with a 31-inch vertical.
NFL.com draft analyst Lance Zierlien wrote of Burks, "Big, smooth and natural … He's a mismatch receiver combining size, strength and competitiveness similar to the Titans' A.J. Brown … The tape is extremely exciting with real NFL skills jumping off the screen."
Burks had eight catches for 179 yards and two touchdowns against Alabama. He is similar to Wyatt, the Georgia defensive lineman, in that the better the competition, the better he plays.
Fans should be thrilled if the Packers manage to land Wyatt and Burks in Round 1.
In the second round, the Packers are apt to select an offensive tackle or defensive lineman (whichever they didn't get in Round 1). Ole Miss's Sam Williams or Minnesota's Boye Mafe would fit the bill as a second-round edge rusher, while Tulsa's Smith still would be in play at offensive tackle.
Also, look for the Packers to consider Colorado State tight end Trey McBride in the middle half of Round 2, or Iowa State's Charlie Kolar or Virginia's Jelani Woods as a third-round alternative.
The Packers undoubtedly will select a second receiver to go with Burks.
Georgia's Pickens or Penn State's Dotson would be a gift from the football gods, but they'll be gone no later than early second round. That still leaves North Dakota State's Christian Watson, Cincinnati's Alec Pierce and Baylor's Tyquan Thornton as possible Packers.
Watson (6-4, 208) is an explosive, gifted athlete coming from a Division II program. He may take time to develop, but he is an accomplished return specialist and his 4.3 speed in the 40-yard dash will make him an immediate deep threat.
Pierce (6-3,211) was a deep threat at Cincinnati with his 4.41 speed in the 40 and an incredibly explosive 40 ½ inch vertical leap.
Thornton (6-1, 181) is a fluid route-runner with blazing speed (4.28 in the 40) and good hands. He also is a return specialist who has been compared to the Ravens' Devin Duvernay, one of the NFL's top kick and punt returners.