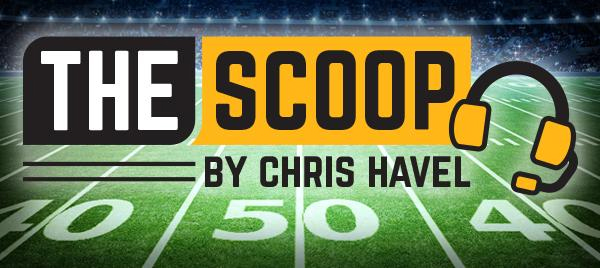 By Chris Havel
GREEN BAY, Wis. – Quay Walker and Devonte Wyatt will trade their Georgia "G's" for Packers "G's" as Green Bay's "D" just became more daunting, with perhaps another Georgia peach – receiver George Pickens – still on the way.
The Packers added scheme-specific defenders in Walker and Wyatt, who starred on Georgia's national championship defense in 2021.
In fact, they joined a trio of ex-Bulldogs selected in the first round of Thursday night's 2022 NFL draft. The list includes: No. 1, Travon Walker, DE, Jaguars; No. 13, Jordan Davis, DT, Eagles; and No. 32, Lewis Cine, S, Vikings.
Meantime, Green Bay became the first team in the common draft era to select players from the same school in the first round. The Packers selected Georgia cornerback Eric Stokes with the 29th pick in the 2021 draft. Packers' coordinator Joe Barry now has an ex-Bulldogs defender at every level of his defense.
"Oh man, that's crazy," Walker said of joining Wyatt and Stokes in Green Bay. "It's a reunion, man. I can't even really say nothin' – I'm gonna start crying all over again."
Jaquavian Jy'Quese (Quay) Walker started 15 games for Georgia's national championship team in 2021. He registered 67 tackles, 5 ½ tackles for loss and 1 ½ sacks in addition to three pass breakups.
Some scouts had another Georgia player – inside linebacker Nakobe Dean – rated as a better pro prospect than his teammate, Walker. However, Dean (5-11, 229) is a fast but extremely undersized inside linebacker. Utah's Devin Lloyd, the other top inside linebacker prospect, was selected by Jacksonville with the 27th pick.
Walker, at 22, makes sense in hindsight.
Think of Walker as a rookie version of Packers All-Pro inside linebacker De'Vondre Campbell, who was instrumental in elevating the defense's play. Campbell led the team with 146 tackles (102 solo), five passes defended, two sacks, two interceptions and six tackles for loss.
Campbell (6-4, 232) and Walker (6-4, 241) are nearly clones.
Campbell ran a 4.58 40-yard dash with a 34-inch vertical jump at the NFL combine. Walker ran a 4.52 with a 32-inch vertical leap. Their ability to read and react against the run, coupled with their skill in pass coverage, makes them a potentially formidable interior duo.
Packers GM Brian Gutekunst said he didn't think Walker would be on the board if they waited to draft him at No. 28. He said Walker's tackling ability, impact in the passing game and exceptional skill when blitzing made him too good to pass up.
The Packers raised their talent level at inside linebacker considerably.
Krys Barnes, an undrafted linebacker from UCLA, started next to Campbell and played well last season. Barnes was third on the team with 81 tackles (58 solo), four tackles for loss, four passes defended, two fumble recoveries and a sack.
Imagine putting Walker – a Top 22 talent – next to Campbell. The heart of the Packers' defense would be a pair of 6-foot-4, 240-pound rangy athletes who understand defense and love to impose their will.
The possibilities are exciting, to say the least. With all due respect to Barnes, there are physical differences between him and Walker that can't be discounted.
"It's been a while since we've been able to stay in certain packages with two inside 'backers and handle everything in run defense and the passing game," Gutekunst said. "This really gives our defense a ton of flexibility."
Gutekunst sounded as if Walker will play right away.
"That makes it really tough on an offense," he said of the dynamic duo inside. "(Walker's) range and speed and explosiveness as a tackler were something that we couldn't pass up."
Walker played in 52 games during four seasons at Georgia, but he didn't start full-time until 2021. He said he reshaped his body and rededicated his mind. The result is starring on a national championship team and being the 22nd player drafted.
"I became smarter," Walker said. "I learned what everybody does around me. Way more smarts on the mental side. There's a whole lot I need to get better at, but nothing I can't get better at."
Then there is Devonte Wyatt, the 28th overall pick, to consider.
Wyatt, 24, is older than most of the Packers' preferred draft picks. However, this isn't a typical draft (COVID-19 led to more experienced players being available in this draft) and the Packers need immediate help in their Super Bowl quest.
Some NFL scouts believe Wyatt is the best player at his position in the entire draft.
Wyatt (6-3, 304) was the most disruptive force on the Georgia Bulldogs' dominant defense. He carried that through at the Senior Bowl, where he led everyone at the position in "win rate" during the one-on-one pass rush drills.
The better the competition, the taller Wyatt stood.
He became a full-time starter at Georgia in 2020 (25 tackles, 2 TFLs) and developed into a dominant player in 2021 (39 tackles, 7 TFLs, 2 FF, 2 ½ sacks).
Wyatt's proponents are enamored of his interior pass rush ability.
The Packers could line up Wyatt next to Kenny Clark on Day One and be better.
As a "three technique" Wyatt would line up in the "B gap" – the gap between the guard and tackle – to create one-on-one mismatches. The center is too far away to help, and the tackle is busy with Rashan Gary or Preston Smith off the edge. That leaves Wyatt single-blocked and highly dangerous.
Even a less-talented player such as Kingsley Keke managed to flash next to Clark. Imagine the possibilities of putting a disruptive weapon like Wyatt next to him? It's a sure bet the Packers' brain trust has done so.
Even Wyatt's detractors have little of substance to offer.
They say his strength is "adequate" and he "struggles to withstand a second blocker." For comparison's sake, Clark's strength is off the charts, but even HE struggles to withstand a second blocker. It's a red herring, but it makes the point.
Lining up Wyatt and Clark together means an offense can't double-team both. Something's got to give – namely the pass pocket – and that means trouble for opposing offenses and quarterbacks.
Wyatt is an excellent choice at 28.
Now, it's time to take a peek at Day Two.
The Packers' defense deployed a third safety on 40 percent of its snaps last season. It is possible Green Bay will draft a safety on Day Two to replace the departed Henry Black, especially with Darnell Savage and Adrian Amos in contract years.
Green Bay had Penn State safety Jaquan Brisker in for a pre-draft visit.
Brisker (6-1, 199) was a second-team Associated Press All-American and first-team all-Big Ten Conference in 2021. He started 12 games and registered 64 tackles, a career-high six for loss, with two interceptions and five breakups.
NFL.com analyst Lance Zierlien wrote: "(Brisker) has the versatility to become a moving chess piece in a variety of coverages and has the size and talent to match up with both "Y" and "F" tight ends. … Brisker is an ascending talent with the NFL traits to become a long-time starter as a Day Two draft pick."
The Packers hold the 53rd and 59th picks in the second round and the 92nd pick in the third round entering Friday night's Day Two, which begins at 6 p.m.
It seems likely they will trade up to select Brisker, another safety, or perhaps a receiver they covet still remaining on the board.
Ok, it's difficult to imagine the Packers NOT selecting a receiver in Round 2.
Georgia's Pickens would be a gift from the football gods, but the Packers will have to trade up into the 30s to get him. That still leaves North Dakota State's Christian Watson, Cincinnati's Alec Pierce and Baylor's Tyquan Thornton as possibilities.
Watson (6-4, 208) is an explosive, gifted athlete coming from a Division II program. He may take time to develop, but he is an accomplished return specialist and his 4.3 speed in the 40-yard dash will make him an immediate deep threat.
Pierce (6-3,211) was a deep threat at Cincinnati with his 4.41 speed in the 40 and an incredibly explosive 40 ½ inch vertical leap.
Thornton (6-1, 181) is a fluid route-runner with blazing speed (4.28 in the 40) and good hands. He also is a return specialist who has been compared to the Ravens' Devin Duvernay, one of the NFL's top kick and punt returners.
Also, look for the Packers to consider Colorado State tight end Trey McBride in the middle half of Round 2, or Iowa State's Charlie Kolar or Virginia's Jelani Woods as a mid-round alternative at tight end.