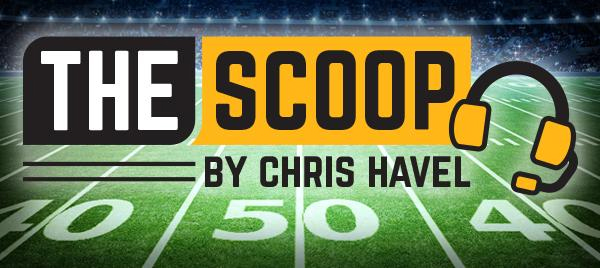 By Chris Havel
GREEN BAY, Wis. – The Packers tabbed Georgia defensive stars Quay Walker and Devonte Wyatt in the first round with the belief that those Dawgs will hunt.
They also selected a trio of pass-catching retrievers to go fetch the football when Aaron Rodgers throws it. Christian Watson, Romeo Doubs and Samori Toure join Sammy Watkins, Allen Lazard, Randall Cobb and Amari Rodgers at receiver.
An exhausted but excited Brian Gutekunst seemed pleased with the draft.
"Obviously a long three days for us," the Packers' GM said. "Really appreciate the scouting staff, personnel staff, all the support staff, our medical team, our football technology, all the coaches, just obviously a lot of work goes into this. It's extremely important for our organization. I'm excited about the guys we got, but it's been a long weekend, but we felt we did some good and helped our team."
The Packers' defense – the team's least concern going in – received the greatest help. Walker and Wyatt fill two key positions with A+ talent. Defensive coordinator Joe Barry's ninth-ranked unit should be a Top 5 outfit this season.
The receiving corps – their greatest need – didn't get any first-round help, but in lickety-split fashion Gutekunst came out blazing in Day 2. He traded the team's 53rd and 59th picks to Minnesota for the 34th overall. Then he selected North Dakota State's Christian Watson.
If Walker, Wyatt and Watson are as good as their draft rankings indicate the Packers should be set to sail into this season and beyond. Meantime, Georgia's rookie linebacker and defensive tackle are thrilled to be together … again.
"It's a reunion," Walker said when a reporter informed him during a Zoom session that the Packers had just selected Wyatt with the 28th pick. "Aw man, that's crazy."
Walker, Wyatt and cornerback Eric Stokes, another Bulldog, represent the Packers' three first-round picks the past two seasons. Stokes was taken at 29 last year.
"It's a blessing," Wyatt said. "Getting drafted with a teammate and already having a teammate that's already down there, so I'm very happy, I'm very confident.
"I'm ready to go ball."
Gutekunst genuinely seemed excited that Walker and Wyatt were both available. He said he selected Walker at 22 because he didn't believe he'd be there at 28. It's also likely that he didn't believe Wyatt would be around at 28, either.
"Obviously they were two of many on that (national championship) defense," Gutekunst said. "The two things with these two particular players, and obviously they're different, but their speed and explosiveness is off the charts. And I think their ability to create havoc in the run game and in the passing game I think, just the all-around nature of those players was something that really drew us to them."
The consensus among scouts is that Walker (off ball linebacker) and Wyatt (three technique defensive tackle) are the best players at their positions in the draft.
All that high praise brings equally high expectations, but the belief is Walker (who will wear No. 7) and Wyatt (No. 95) will be impactful from the start this season.
Watson is the greater question mark.
The NDSU product has great size (6-4, 208) and speed (4.38 in the 40-yard dash) to go with NFL bloodlines: His father, Tim, was a safety originally drafted by the Packers and went on to play elsewhere during his five-year NFL career.
Watson's production at North Dakota State wasn't awe-inspiring, but he played within the Bisons' run-first scheme and was a good teammate and downfield blocker. And when called upon, Watson routinely flashed his big-play ability. He also is willing and able in the kick and punt return games.
Aaron Rodgers, who was a guest on The Pat McAfee Show during the draft, revealed that the Packers had first-round grades on all six receivers that were selected. When Tennessee drafted Arkansas' Treylon Burks at 18 Rodgers figured they wouldn't be taking a receiver in the first round.
He was right.
Gutekunst blanched at the notion offered by some that the Packers "settled" at receiver by selecting Watson in the second round, as opposed to trading up in the first round to get one of six receivers selected in the first 18 picks.
"Settled probably isn't the word I would use," Gutekunst said. "I think there's going to be a lot (of chances for additions) between now and the first game, but I really do like the group.
"Obviously with Sammy and now Christian, we've added some athleticism into the room. We talked a lot about Randall and Allen and how much they mean to our football team. And then the opportunities that may have not existed that will exist for those guys now, along with Amari (Rodgers). So that's a pretty solid group of five and we have some other guys that contributed."
Lazard is the Packers' top returning receiver with 40 catches for 513 yards and eight touchdowns last season. Watkins is a proven pro who shouldn't need a lot of time to begin collaborating with Rodgers, and Cobb was productive last season before being injured late in the first half against the Rams.
Watson, who will wear No. 9, was asked what he'll say when he meets Rodgers.
"I'll say, 'I'm ready to work,' " Watson replied. I'm ready to learn and I'm ready to get after it. I know he's going to be tough on me and that's exactly what I want. I want someone who's going to continue to push me to be the best possible player that I can be, and I know that with him being one of the greatest that he's going to get everything out of me, so shoot, I'm going to tell him I'm ready to work and shoot, I'm ready to go."
The Packers selected Nevada receiver Romeo Doubs with the 132nd pick.
Doubs (6-2, 201) didn't run at his pro day because of a knee injury, but he plays fast and is projected to run the 40 in 4.55 seconds. He produced back-to-back 1,000-yard seasons at Nevada, where his toughness and pass-catching stood out.
Doubs is more a straight-line speedster in the mold of Marques Valdez-Scantling and should make the team as the sixth receiver. He also is a proven and willing returner and gunner on special teams.
Nebraska's Samori Toure was taken with the 258th pick in the seventh round.
Toure (6-1, 191) ran a 4.44 40-yard dash and posted a 34 ½ inch vertical leap. He averaged 19.7 yards per catch which was tops in the Big Ten last season. His route depth was 18th among the top 100 receivers measured by analytics experts, so he's clearly a field stretcher as well as an accomplished return specialist.
Elsewhere in the draft, the Packers selected three offensive linemen: UCLA's Sean Rhyan, Wake Forest's Zach Tom and Penn State's Rasheed Wallace.
They also took edge rusher Kingsley Enagbare, South Carolina, hybrid safety Tariq Carpenter of Georgia Tech and defensive tackle Jonathan Ford of Miami.
Rhyan (6-5, 321) will wear No. 75.
He started all 12 games at left tackle for UCLA last season and has 31 college starts at that position. Rhyan is a candidate to move to guard with the Packers, who have had great success by drafting college tackles and moving them inside. It could allow Elgton Jenkins to move to right tackle, with Rhyan competing at right guard with Royce Newman, while Jon Runyan remains at left guard.