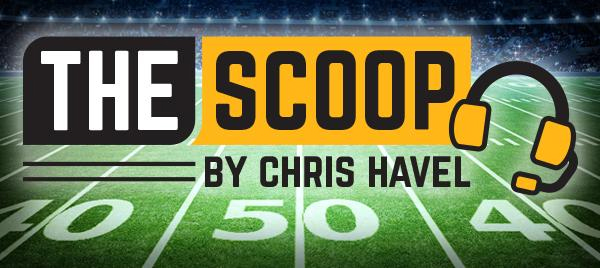 By Chris Havel
GREEN BAY, Wis. – There are at least a handful of reasons to love the Packers' 2022 NFL draft.
Here are my top five:
** No. 1 – A considerable number of national and local media "football experts" dissed the Packers' draft. They turned up their noses and sniveled out a few "boohoos" because the Packers FAILED by not selecting a first-round receiver.
Give me a break.
These are many of the same "experts" who blew kisses and threw bouquets at the Georgia Bulldogs' incredible defense that saw five players selected in the first round. It began with Jacksonville choosing defensive end Travon Walker with the top pick, and it ended with Minnesota tabbing safety Lewis Cine at No. 32.
In between, three Georgia defenders were selected, including defensive tackle Jordan Davis at 13 by Philadelphia. The Packers got the other two in "off ball" linebacker Quay Walker at 22 and defensive tackle Devonte Wyatt at 28.
Walker and Wyatt are arguably the top players at their position. They come to Green Bay with clearly defined roles and high expectations. After the first day of the Packers' rookie minicamp last week, head coach Matt LaFleur was singing the praises of this explosive, athletic draft class.
The reality is this: If the Packers traded up into the low teens to snag a receiver – let's say Ohio State's Chris Olave – it's quite possible and even likely that they wouldn't have been able to draft either Georgia defender, let alone both.
The Packers weren't foolish enough to think one draft pick could immediately replace one of the NFL's top receivers in Davante Adams. They accurately assessed the board, tried in vain to move up, and then stayed put and nailed it.
It has been said the best offense is a great defense. They say it for a reason. Show me a great quarterback and a great defense and I'll show you a Super Bowl champ.
** No. 2 – I love the selection of Wyatt at 28 and not just because I had the Packers drafting him in the first round.
Green Bay hasn't seen a defensive lineman like Wyatt in a long time. Whereas Kenny Clark is a 6-foot-3, 313-pound monster inside, Wyatt isn't far behind the All-Pro defensive tackle in stature (6-3, 309) and skillset.
Wyatt gives the Packers a formidable rotation up front, especially given his interior pass rush ability. Clark has 22 ½ sacks in his six seasons. Wyatt should get his share of sacks, too, while making life a little easier for the veteran leader.
The fact that Wyatt is a mature 24-year-old rookie isn't a negative. In fact, his age and success at Georgia should help him contribute immediately. Clark, 26, was just a baby at 19 when the Packers drafted him. It took him a few years to fully develop and grow with the talent around him.
Now, Clark comes in as a seasoned, hardened veteran with the talented Wyatt to help with the heavy lifting. They join Dean Lowry, Jarran Reed, T.J. Slaton and Jack Heflin to form the Packers' best defensive line since the mid-'90s.
** No. 3 – GM Brian Gutekunst's decision to trade up in the second round and select North Dakota State receiver Christian Watson was prudent and necessary.
In Watson, the Packers' offensive coaches have high-end talent to work with and they didn't have to sell the farm to get it.
Watson (6-4, 208) has all of the measurable skills and a few of the intangibles.
He runs a 4.38 40-yard dash and has the hands and agility to make big plays.
The fact that his father, Tim, played NFL safety for five seasons also is a positive factor. Watson, who selected No. 9, has seen himself as an NFL player for years. Playing for the Division II Bisons, who run frequently and throw sparingly, likely shaped Watson as an all-around player that isn't selfish.
Watson is a skilled return specialist and willing special teams' player. He also loves to block downfield, which is a preferred skill in Green Bay.
Granted, it is possible Watson may not develop into as good a receiver as Olave. He may be better.
** No. 4 – The safest prediction going into the Packers' draft was that they would select a receiver in the first round. The next-safest bet was that there was no way the Packers would execute all 11 draft picks.
Wrong.
It appears Gutekunst succeeded in acquiring high-end talent (Walker, Wyatt and Watson) to help the Packers' Super Bowl push this season. He also brought in eight other players to compete for roster spots and replenish the team's depth.
The 11 rookies represent a low-cost work force. Every time one of them earns a roster spot, it means the Packers won't have to spend more to keep a veteran. They can build for the present and the future.
If tackle Rasheed Walker or receiver Samori Toure proves to be a lightning bolt out of nowhere, the extra picks will be worth it. There's no downside here.
** No. 5 – Whereas fans have a fairly clear picture of the talent and expectations for Walker, Wyatt, Watson and even UCLA guard Sean Rhyan, there are two incredibly intriguing mid-round picks in Romeo Doubs and Kingsley Enagbare.
Doubs has prototypical size (6-2, 204) and speed (4.47 seconds in the 40) with a productive resume at Nevada. Doubs caught 80 passes for 1,114 yards and 11 touchdowns despite opposing defenses knowing he'd be targeted. Nevada quarterbacks had an impressive 130.6 passer rating when targeting Doubs.
South Carolina's Enagbare was considered a top edge rusher in the draft before a late-season injury caused him to miss two games. He required surgery after the season, which undoubtedly lowered his draft stock.
Enagbare's critics cite his lack of explosiveness off the edge, pointing to a dreadfully slow 40-yard dash time (4.87) as evidence. However, Enagbare did flash explosiveness with a 36 ½ inch vertical leap and a 117-inch broad jump.
He had 44 tackles in 12 games last season, including seven tackles for loss with 4.5 sacks and two pass breakups.
Enagbare, who will wear No. 55, looked good in workouts at the rookie minicamp. If Doubs, Enagbare or both hit – and it could happen – Packers fans will have even more to love about this draft.