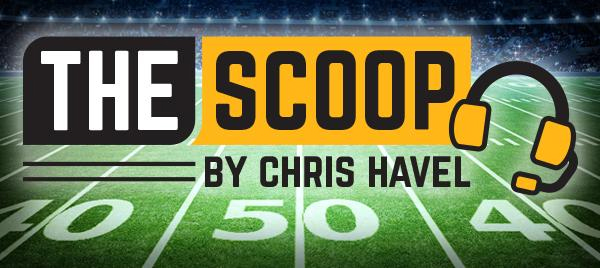 By Chris Havel
Special to EVENT USA
GREEN BAY, Wis. – The Packers have built a receiving corps they can win with. That's not a prediction. That's a fact.
Translation: Allen Lazard, Sammy Watkins, Randall Cobb and the rest are talented enough to give Green Bay's offense, and in particular Aaron Rodgers, everything they need to pass effectively and win games.
The Packers also have shown a propensity to upgrade if necessary.
Notation scribbled in the margin: If the Packers' passing attack needs help this fall fans can expect to see this tweet – "OMG! It's OBJ to GB!"
Why not Odell Beckham, Jr.? NFL GMs, coaches and scouts have to rethink poor first impressions of players all the time. It's just good business.
The first time I saw OBJ in a Giants uniform was Jan. 8, 2017, at Lambeau Field. The Packers were hosting the Giants in an NFC wild-card game and OBJ already was on his last legs in New York.
A lethargic OBJ went hard on some plays, jogged on others and made no impact, other than to give the impression that his "give a damn" was busted.
OBJ caught four passes on 11 targets for an inconsequential 28 yards. The Packers blew out the Giants 38-13 on a day when their catalyst, Randall Cobb, hauled in five passes (on just seven targets) for 116 yards and three touchdowns.
Those were numbers previously associated with OBJ.
I couldn't help but think, "That's OBJ? The NFL's next great receiver?" I didn't bother to double-check his height and weight. I didn't have to look at the program to see that he played smaller, much smaller, than whatever was listed.
Now fast forward to the Los Angeles Rams' Super Bowl victory in February.
One interesting aspect is that the Rams couldn't have gotten there without OBJ. Another is that they won despite losing him to a knee injury after a huge first half.
OBJ was that important to the Rams' offense and eventual championship.
That is why "never say never" is good advice.
The Packers reportedly were interested in acquiring OBJ before the trade deadline. The interest was mutual, according to reports, but OBJ decided to go west.
I thought, "Good. Who needs him?" That was before I (or the Packers) knew Marquez Valdes-Scantling's back would keep him out of the playoffs.
Now, as an unsigned free agent, OBJ is rehabbing his knee and assessing his future. No one should be surprised if it's a future that includes Green Bay. And it's a transaction I would wholeheartedly endorse … five years removed.
Meantime, Packers head coach Matt LaFleur is working with what he's got.
It's a solid receiving corps with a blend of capable veterans (Lazard, Watkins and Cobb) plus talented youngsters (Christian Watson, Romeo Doubs, Samori Toure).
Lazard (6-5, 227) is the lead dog.
He played in 15 games (13 starts) with 40 catches on 60 targets for 513 yards and eight touchdowns. LaFleur would take one touchdown every five catches all day, every day, and twice on Sunday … or Monday … or Thursday.
When the Packers traded Davante Adams to the Raiders they correctly spent draft capital to upgrade the team's overall talent, especially on defense, by drafting linebacker Quay Walker at No. 22 and re-signing free agent corner Rasul Douglas.
The Adams trade also provided a portion of salary cap relief to extend corner Jaire Alexander and sign veteran free agent defensive lineman Jarran Reed.
Further, they used the 52nd and 59th picks to trade up for Watson at No. 34. They capped it off by drafting Doubs in the fourth round and Toure in the seventh.
"I do think that they all offer some versatility, whether or not we want to put them inside or outside," LaFleur said of his rookie receivers. "They're all eager to learn, and we'll just see how much they can handle and how fast they can acclimate themselves to our offense."
All of that has the 26-year-old Lazard excited as he enters his fifth season.
"Davante leaving and everything creates a lot more opportunities for everybody," Lazard told his hometown paper, the Des Moines Register. "I'm pretty excited about that as an individual. Even our room more so, just to be able to spread the ball around, the guys that we were able to add to our room this year – I'm very excited to work with them and see them blossom."
Adams packed his 169 targets when he left for Las Vegas.
So who will fill that crater-sized hole?
Look for Lazard to be targeted 100-plus times. He's done it. He's got experience. He also has the trust of his future Hall of Fame quarterback.
"I think just our repertoire and our history, it's obviously a major amount of comfortability between us two – just understanding the game and understanding what (Rodgers) wants," Lazard said. "I think that's probably the biggest challenge for anybody playing with him, especially young guys, it's just understanding what he's thinking in the moment."
Watson and the other rookies can watch and learn from players such as Lazard, Watkins, Cobb and perhaps OBJ down the road.
Watkins, 28, started 13 games for the Ravens last season. He caught just 27 passes on 49 targets for 394 yards (14.6 yards per catch) and a touchdown. The former fourth overall pick in 2014 should start opposite Lazard to open the season.
Cobb, 31, is the old man in the receiver room. He caught 28 of 39 targets for 375 yards, a 13.4 average, and five touchdowns. He remains their No. 1 slot receiver until further notice, which is to say until/if Amari Rodgers steps up and delivers.
OBJ, 29, started 13 games last season, catching 44 passes on a whopping 82 targets for 537 yards and five touchdowns. The low catch percentage (53.6) was due in part to a 17-for-34 effort in Cleveland before joining the Rams.
It's understandable for Packers' fans to see the loss of Adams as overwhelming, and that Green Bay failed by not acquiring a veteran stud to replace him.
However, it's also reasonable to believe the current receiving corps is plenty good, but if injuries or other factors intervene, the Packers will be on the lookout.
Signing OBJ, if necessary, is the place they're most likely to go.
Until then it's Lazard and Co., and that's not a bad thing.