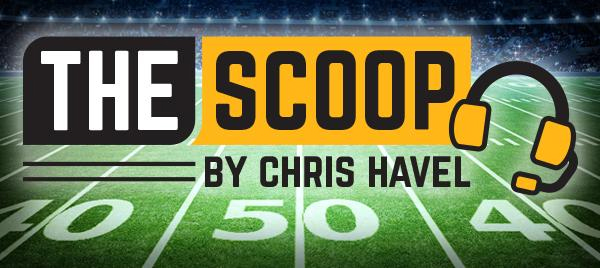 By Chris Havel
Special to EVENT USA
GREEN BAY, Wis. – What did you do during summer vacation?
That question has been the theme of elementary school writing projects for years.
Packers coach Matt LaFleur faces the same question, except there's nothing elementary about the task ahead, and it is more a busman's holiday than a vacation. Indeed, LaFleur's challenge can be accurately described as a project.
By way of being helpful, I offer this unsolicited but well-intentioned "To Do" list for LaFleur to complete during this week's minicamp and subsequent OTAs. Once training camp begins it'll be a sprint to the season-opener.
Might as well get a head start:
** No. 1 – The offensive line needs to be sorted and settled before David Bakhtiari and Elgton Jenkins recover from injuries and return to their starting roles. The Packers' best five up front may seem obvious, but it is always subject to change.
When everyone is healthy it is likely to be (left to right): Bakhtiari, Jon Runyan, Josh Myers, Royce Newman and Jenkins.
That's the easy part.
The greater challenge is getting the line to play at a high level until Bakhtiari and Jenkins return. That's why it is incumbent upon LaFleur to get Yosh Nijman ready to be the opening-day starter at left tackle. The musical chairs that were played leading up to the NFC divisional playoff loss against San Francisco was ridiculous.
Either Nijman can handle left tackle or he can't, and I'm talking about doing the job without having to rely on a tight end or running back to babysit.
To that end, it's critical that Royce Newman and/or Cole Van Lanen prove to a reasonable degree that they can handle right tackle until Jenkins returns. Nijman needs to focus on left tackle.
Meantime, Van Lanen has been working at right tackle with the first unit this offseason, and Newman has been working at right guard and right tackle. He started all 17 regular-season games last year, but was benched in favor of Lucas Patrick in the playoffs.
It's no coincidence that the Packers' third-round draft pick, Sean Rhyan, has been working at right guard behind Newman. If Rhyan is able to unseat Newman – and there's a decent chance – the offensive line would be that much better for it.
Ideally, Bakhtiari and Jenkins will be dominant bookend tackles, Myers will build upon a strong rookie season, and Runyan and Rhyan will own the guard spots. That would leave Nijman, Newman and Van Lanen as reliable reserves.
** No. 2 – It was a year ago, almost to the day, when Aaron Rodgers officially became a holdout by not showing up for the June 8 mandatory minicamp. The media quickly and understandably reported on the possibility of Rodgers declining to show up for training camp, which would have been a nightmare.
That's one less concern off LaFleur's plate this offseason.
It has been replaced by knowing Rodgers is all-in but realizing that the offense must be altered without All-Pro receiver Davante Adams, the speedy Marquez Valdes-Scantling and tight end Robert Tonyan until he returns from injury.
One obvious solution is to occasionally play running backs Aaron Jones and A.J. Dillon together in the same backfield. While that seems to make sense in theory, the question is this: How do they complement each other? They don't.
Jones isn't going to run behind Dillon as his lead blocker and vice-versa. That's what the guards, center, tackles and tight ends are for. The fact is only one of them can touch the football on any given down. Another way they could complement each other is by deploying one as a decoy.
It is possible Jones could line up in the slot, and Dillon behind the quarterback, but the fact is Jones is better catching it out of the backfield than in the slot. Why replace Randall Cobb or Amari Rodgers with a lesser slot receiver?
LaFleur needs to continue the time-sharing arrangement with Jones and Dillon. He doesn't need to have BOTH on the field together. He needs to make sure he maximizes the running back's touches regardless of which one is out there.
** No. 3 – The Packers' defense appears to be in a great place entering the season. LaFleur needs to work with coordinator Joe Barry to make sure the loose ends are tied up before training camp.
The plan for roles and playing time needs to be clear to Devonte Wyatt, Quay Walker, Jarran Reed and Krys Barnes. Will Wyatt, the rookie defensive lineman, rotate with Reed? Will Walker, the rookie linebacker, do likewise with Barnes?
Or will it be an open and ongoing competition for snaps?
Some seemed surprised that Walker is listed behind Barnes on the depth chart. Why? Barnes was the Packers' third-leading tackler last season. He brings experience and production to the party.
Walker's skill and talent are readily apparent, and he'll be a key part of the defense before the season is finished. Meantime, it's Barnes' job until further notice.
** No. 4 – The snap, the hold and the kick appear (fingers crossed) to be fixed.
Punter Pat O'Donnell has been an effective holder for kicker Mason Crosby thus far this offseason, with Crosby banging kicks through the uprights like a machine. He went a perfect 8-for-8 in practice, according to reports, including a 56-yard bomb that cleared the crossbar with plenty of room to spare.
Crosby's leg seems fine, especially now that he doesn't have to worry about "the operation" going bad.
LaFleur needs to make sure special teams' coordinator Rich Bisaccia has the necessary tools to do his job. It begins with the snap, the hold and the kick.
** No. 5 – The Packers' defensive secondary is replete with talent.
LaFleur needs to make sure Barry and defensive backs coach Jerry Gray get the most out of it.
Eric Stokes has been lining up at left cornerback and Rasul Douglas on the right side with Keisean Nixon working in the slot. That appears to pave the way for Jaire Alexander's return which undoubtedly will include playing time as the slot corner.
The Packers' defense could be nasty if Alexander is able to be the featured playmaker. His presence should elevate the secondary from being really good to really special.
The third safety job looks like a battle between Shawn Davis and Vernon Scott. Davis was a fifth-round pick in 2021 by Indianapolis. Scott was a seventh-round pick of the Packers in 2020.
Davis has been working as the third safety in minicamp, but the Packers remain high on Scott despite his troubles with recurring injuries. Scott, who wears HOF safety LeRoy Butler's No. 36, remains confident in his abilities. He sent out this tweet in late April to Packers fans.
"Packer Nation, I can't express how much of an honor it is to be a Cheese Head! You are getting a player who is gonna give his all every play! I haven't even scratched the surface yet! I can't wait to get to work in Green Bay!"
That's a lot of exclamation points in one tweet.
If Scott can stay healthy long enough to prove the Packers correct in sticking with him, Barry's defense might have another unheralded weapon.