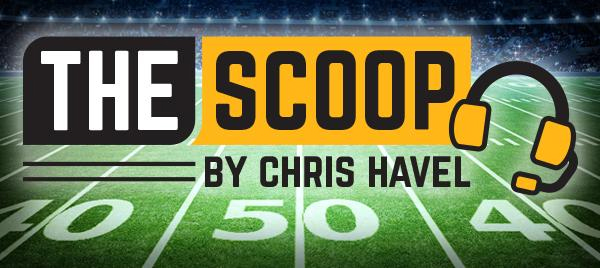 By Chris Havel
Special to EVENT USA
GREEN BAY, Wis. – A month from today the Packers are scheduled to hold the first of 12 training camp practices open to the public.
There must be at least a dozen things to watch for along the way.
Here goes:
** No. 1 – Does the special teams' modus operandi appear noticeably different than its recently failed predecessors? It is always intriguing to see which receivers/running backs/defensive backs line up to return punts and kicks. That's true for this camp, of course, but it's more than that. It's about which players – perhaps more veterans – are integrated into the special teams' routine.
The Packers hired Rich Bisaccia to build championship-caliber special teams units. Frankly, most Packers' fans don't know what that looks like. How could they?
The special teams operation has my attention. In fact, it's had it since the Packers' 13-10 loss to San Francisco in the divisional playoffs.
** No. 2 – Aaron Rodgers is going to have his new favorite target.
My money's on Sammy Watkins. I could be wrong, but I don't think so. Rodgers was on board with the Packers' decision to sign the veteran receiver for a reason. That reason seems pretty simple: He gets open and he catches it. I can't wait to see their chemistry develop in camp.
** No. 3 – Speaking of Rodgers, it's amazing the difference a year makes. Last offseason at this time there was a question as to Rodgers' appearing at the start of training camp.
This year it's full speed ahead toward the singular goal: A world title.
Rodgers looked terrific during his brief appearance at the team's mandatory minicamp, and he'll be the same for camp. Rodgers' presence can't be overstated entering a camp where his leadership – given the receiving corps' state of flux – is absolutely critical.
I'll bet on Rodgers. It's the safest call of them all.
** No. 4 – Will defensive coordinator Joe Barry devise plays that are specific to off-ball linebacker Quay Walker's unique skills? Typically, Walker will be behind Krys Barnes on the depth chart while he learns the ropes as a rookie.
However, Barry may be more aggressive in terms of blitzing from that position with Walker, who's more explosive than Barnes, bringing it.
Two thoughts here: Walker will prove to be special, and Barnes shouldn't be underestimated in that they won 13 games with him.
** No. 5 – Will we be hearing the words "drops" and "Watson" in the same sentence? The hope on behalf of me and Packers' fans is that the answer is a resounding no. If rookie receiver Christian Watson does have a bought of the drops it will be duly noted. However, that doesn't make it any more enjoyable of a topic.
Hopefully it doesn't become "a thing."
I say that because it's easy to see Watson's special talents. The rookie from North Dakota State is physically imposing with sudden downfield burst to go with straight-line speed. I would much prefer discussing Watson's big plays in the open field than his penchant for drops.
That's up to him, of course, just saying.
** No. 6 – The snap, the hold, the kick … it is good!
That's the hope for Steven Wirtel, Pat O'Donnell and Mason Crosby as the Packers work to smooth out "the operation." Think about that. It was so bad last season it began sounding like a failed CIA venture.
This season the Packers expect "the operation" to be a success.
Who knew a holder was so important to all of this? And yet Crosby and others seldom fail to single out and praise O'Donnell's experience, work ethic and ingenuity in dealing with all things special teams.
O'Donnell is here because Bisaccia is here. That's how it works on teams with really good special teams' units.
** No. 7 – Jaire Alexander, Eric Stokes and Rasul Douglas deployed together is going to be fun and it just might be special. Alexander returned for a handful of plays against the 49ers in the playoffs, but that didn't begin to scratch the surface of what's to come this season.
Where exactly the trio will line up is interesting in itself.
Alexander may be tethered to the opponent's top receiver, or he could line up in the slot and either drop or blitz, or he might stay put on the perimeter and be Stokes' bookend.
** No. 8 – Devonte Wyatt fairly gushed at the thought of lining up next to Jarran Reed and rushing the passer. It will be interesting to see which players comprise Barry's "top four" pass-rush alignment?
Rashan Gary, Kenny Clark, Wyatt and Reed are interesting and likely. That's a lot of firepower, especially if Barry elects to bring a fifth rusher such as De'Vondre Campbell, Alexander off the slot or perhaps Walker?
** No. 9 – Any signs that David Bakhtiari and/or Elgton Jenkins are getting healthier and closer to returning will be welcome. Bakhtiari and Jenkins will be primary topics throughout training camp.
The story will be all about when they'll return. Then, once they do, it'll be all about how they're performing now that they're back.
It goes with the territory. The sooner they're back, the better.
** No. 10 – Which of the receivers really steps up? Watson is talented, Watkins is proven and Allen Lazard is the capable incumbent. My best guess is that Watson hits plenty of big plays, Watkins moves the chains and Lazard works the perimeter and the red zone.
Romeo Doubs, the rookie from Nevada, has an intriguing size-speed ratio to the receiving corps. I suspect it won't be long before Packers' fans know whether the receivers will survive and perhaps thrive without Davante Adams.
** No. 11 – Aaron Jones and A.J. Dillon will be taking their first steps toward becoming the NFL's most dynamic backfield duo.
Jones and Dillon, more than any other two players on the roster, will receive the brunt of Adams' targets and touches. It has to be that way. If it isn't LaFleur's offense is going to be something less than special.
It's doubtful that will happen.
LaFleur, the offensive line (when healthy) and Jones/Dillon are too good, and too professional, to let it slide.
In fact, it's an easy prediction to say Jones and Dillon will post career-years in terms of at least one major category (rushing yards, receiving yards, touchdowns, etc.).
No. 12 – How about that defense?
Packers' fans will become enthralled with the defense in short order. There are too many talented, physically gifted players for it to be otherwise. Furthermore, the continuity factor is all in their favor.
Barry is just one year removed from being the newcomer on defense. Everyone else was returning except Mike Pettine. What Barry built in that first season is fairly amazing.
I can't wait to see what he comes up with this season.
And that begins a month from today.