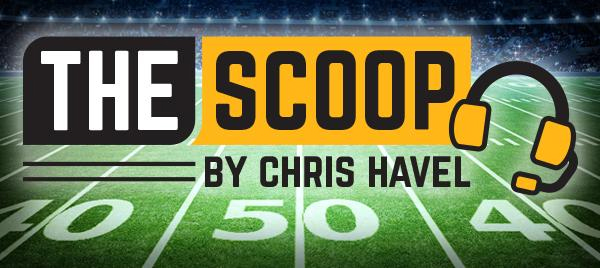 By Chris Havel
Special to EVENT USA
GREEN BAY, Wis. –During Rich Bisaccia's introductory news conference the successful veteran special teams' coordinator was asked, "Why Green Bay?"
Bisaccia, 62, offered a very football-like response.

"It's the Green Bay Packers," he said. "For me, personally, the opportunity to be at one of the marquee National Football League teams that sets a standard and has an expectation to play to that standard every day, along with my excitement and my new energy after meeting and visiting with Coach (Matt) LaFleur, what he's done here in a very short period of time, it's unprecedented."

Bisaccia added, "He's all football."

He expressed what Packers' fans are feeling.

They love their iconic franchise, of course, and they adore the terrific young head coach who has continued that winning tradition.

In LaFleur's three seasons he owns a 39-10 regular-season record. He is the only coach in NFL history to post three straight 13-plus win seasons, and his 39 wins are the most by any coach in his first three seasons.

But wait. There's more.

LaFleur is 22-2 at Lambeau Field since 2019, which is tops in the NFL, and he is an amazing 9-0 in games after a loss. That makes him the only coach in NFL history to not have a two-game losing streak in his first 49 regular-season games, according to Elias Sports Bureau.

Still, Packers fans want more than that. They want a Super Bowl title. That doesn't make them greedy or ungrateful. It simply makes them just like their favorite head coach, who wants to win it all, too.

One sleepless night after the Packers' painful 13-10 loss to San Francisco in the NFC divisional playoffs in January, LaFleur was bitterly disappointed and admitted as much.

"I'm disappointed for our players, just everything they put into this," he said. "I'm disappointed for our fans that absolutely showed out for us and brought so much energy and passion and I thought they were going to be the difference in the game, quite honestly."

Mostly, LaFleur was disappointed in himself.

"Obviously, (I'm) disappointed in myself that I couldn't do more to get our guys over the hump, because this one's tough. It's a tough pill to swallow, and I think the way we move forward is we all have to look internally at what we can each as individuals do better. With every loss, you've got to learn from it and move forward, and that's the mentality, that's the mindset, that's what we're going to do."

True to his word, that's exactly what they did.

The Packers set about "getting over the hump" by hiring Bisaccia to replace the ineffective Maurice Drayton.

They continued by trading Davante Adams – per his request – to the Las Vegas Raiders for the 22nd and 53rd picks in the 2022 NFL draft.

They used the 22nd pick to select Georgia linebacker Quay Walker and their pick at 28 to select Georgia defensive end Devonte Wyatt.

Then, GM Brian Gutekunst used the 53rd pick and their own pick at 59 to trade up and select receiver Christian Watson at No. 34. They also freed up $20.1 million in cap space in the process.

Here is the beauty in all of this:

** No. 1 – A less-secure head coach would've pressed the GM to spend the draft capital on offense to offset the loss of Adams. Instead, LaFleur and Gutekunst agreed that the Packers' defense was perhaps two players away from being truly dominant. The players are Walker and Wyatt.

** No. 2 – They selected an athletically gifted receiver in Watson at 34, so the offense wasn't entirely ignored. In fact, after the Packers drafted Walker and Wyatt, they went receiver (Watson), offensive line (Sean Rhyan), receiver (Romeo Daubs) and offensive line (Zach Tom).
When a team has the quarterback and the running backs what else does it need to ensure a successful passing attack? It needs receivers and linemen, which is exactly what the Packers drafted.

** No. 3 – The cap space was used, in part, to re-sign key defensive contributors De'Vondre Campbell and Rasul Douglas, and to dive into free agency and sign defensive tackle Jarran Reed.
By adding Walker, Wyatt and Reed, and retaining Campbell and Douglas, the Packers have put together – at least on paper – one of the NFL's top defenses.

Look at it this way: The Packers had Aaron Rodgers and Adams, but they still lost to the 49ers at home in the playoffs. They lost because their special teams were atrocious, the offensive line and receivers were shorthanded, and the defense wasn't quite good enough to win it alone.

Obviously, much has changed since then.

Adams' departure is a significant loss. It would be silly to say otherwise.

But the Packers' approach to replacing one incredible player was to make the rest of the roster that much stronger and reliable.

Now we'll see if it works.

It all starts with the quarterback.

A year ago, Rodgers capped a drama-filled offseason by arriving in time for the start of training camp and playing brilliantly.

This year, Rodgers is "all in" again, except the vibe is much-improved.

"In March, when I made the decision (to return), that's 100 percent in," he said. "But it doesn't mean you don't think about the other side (retirement). This is my 18th season. Of course, you think about the next chapter and what's next in your life all the time. It doesn't mean you're not fully invested.
When I said I'm back, I'm 100 percent invested."
"When I'm here, I'm all in, and those guys know that. They know what to expect from me, the type of play, the type of leadership, and that's what they're going to get."

Rodgers, 38, won his second straight MVP (and fourth overall) after leading the NFL in passer rating, touchdown percentage and interception percentage. He threw for 37 touchdowns to just four interceptions, and his passer rating was 111.9.

Naturally, Rodgers' success depends upon the offensive line play, and right now that position is the team's greatest concern.

Both starting tackles – David Bakhtiari and Elgton Jenkins – will open the season on the PUP (physically unable to perform) list.

It means Yosh Nijman, Cole Van Lanen, Sean Rhyan and Zach Tom will need to step up at the tackle positions until they return.

The tight ends will be Marcedes Lewis, Josiah Deguara, Tyler Davis and Dominique Dafney until Robert Tonyan (also on the PUP list) returns from a knee injury.

The backs are set with Aaron Jones and A.J. Dillon with Patrick Taylor the likely third back until Kylin Hill returns from his knee injury.

Jones rushed for 799 yards and four touchdowns last season. He also caught 52 passes for 391 yards and six touchdowns to rank sixth among backs in catches and second in receiving touchdowns.

Dillon ran for 803 yards and five touchdowns. He also caught 34 passes for 313 yards and two touchdowns.

Jones and Dillon are expected to carry much of the offensive workload.

According to the Packers' Dope Sheet, Jones is one of five players in NFL history with 4,000-plus rushing yards, 40-plus rushing TDs, 150-plus receptions and at least two receiving TDs in his first five seasons.

The others you've probably heard of: Marcus Allen, Chuck Foreman, Todd Gurley and Alvin Kamara. That's pretty good company to keep.

The receivers will be led by Allen Lazard, Sammy Watkins and Randall Cobb, with holdover Amari Rodgers back for his second season.

Watkins, 29, was the fourth pick overall in 2014. He intends to turn back the clock to his 1,000-yard receiving season of 2015.

"My back is against the wall," Watkins said. "My career hasn't been what I projected it to be, and it's a great opportunity for me to come here, play hard, catch a ton of balls, compete at the highest level and win games and fight to stay healthy."

On defense, second-year coordinator Joe Barry is taking a day-to-day approach to building a champion.

"Daily excellence is our goal," Barry said at the outset of OTAs. "I tell the defense all the time, if you can walk out of this building one percent better than you walked in it – and it sounds maybe kind of corny or cheesy – but I think if you take that mentality every single day …

"I think it's so great that we have guys that, they look back at last year and even though from a team standpoint it was brutal, devastating, we didn't hoist the Lombardi Trophy, so in our mind it's a failure as a team, but when you look at the specifics of the way we played, we played good. But our goal is to play great and our goal is to play great every single week and we've got guys in that locker room with that mindset."

The defense features All-Pro Kenny Clark up front along with Dean Lowry, T.J. Slaton, Reed and Wyatt.

The outside linebackers are set with rising star Rashan Gary opposite Preston Smith, while Campbell, Walker and Krys Barnes will work at inside linebacker.

The corner trio of Jaire Alexander, Eric Stokes and Douglas rank among the league's best at that position. Safeties Adrian Amos and Darnell Savage are experienced, reliable and talented on the back end. Shawn Davis, a fifth-round pick by Indianapolis in 2021, is the third safety.

All of this hasn't been lost on the players.

"It's going to be scary," Gary said of the defense. "Once we get our communication down and we're all on the same page, it's going to be good."
Alexander chimed in, "Just nasty."

A year ago, the Packers' special teams was nasty and not in a good way.

Bisaccia intends to change all that, beginning with that most important of operations: the snap, the hold and the kick.

For his part, Bisaccia is excited to be working with Mason Crosby, who struggled in part because of the errant/inconsistent operation.

"He's had a hell of a career," Bisaccia said of Crosby. "The one good thing I know about Crosby is that he's come back from a down year to play really well. I'm excited about being around him, learning from him, seeing what his strengths are and where we can go forward and keep improving."
Pat O'Donnell, the veteran ex-Bears punter, was brought in to deliver in cold weather, and to be a reliable holder for Crosby.

Steven Wirtel is first up as the long snapper.