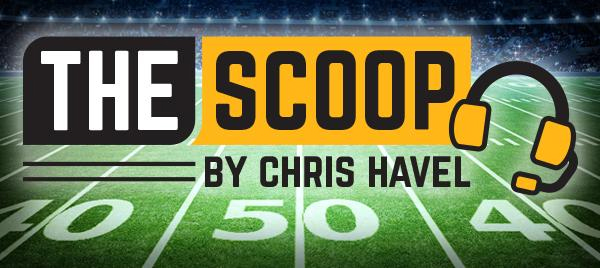 By Chris Havel
Special to EVENT USA
GREEN BAY, Wis. – Matt LaFleur wasn't surprised by the statistic.
He was appalled by it.
The Packers' defense missed 15 tackles to aid and abet an Eagles' offense that established a franchise rushing record on its way to a crushing 40-33 victory Sunday night at Lincoln Financial Field.
Packers head coach Matt LaFleur could only shake his head.
"That's tough to stop anything if you have 15 missed tackles," he said while looking at the stat sheet in dismay. "It's hard to look at that number. We've got to be better. We have to have a better plan and we have to go out and execute better. That just can't happen in this league."
Oh, contraire. It can. And it did.
The Eagles (10-1) scored on seven of eight possessions (five TDs and two FGs) as quarterback Jalen Hurts knifed through Green Bay's defense for 157 yards on 17 carries. He also threw for 153 yards and two touchdowns as the Eagles retained the NFC's top seed through Week 12.

Hurts became the first player since at least 1950 to rush for 150-plus yards and throw for 150-plus yards and multiple touchdowns.
"(Hurts) did a lot of things that are tough to account for," LaFleur said. "Certainly we were in some situations capable of making some tackles we didn't make. He is an unbelievable talent. You saw it not only on the ground is one thing, but he made some remarkable throws as well."
Miles Sanders added 143 yards on 21 carries and the aptly named Kenneth Gainwell chimed in with 39 yards on eight carries.
It was the Packers' most rushing yards allowed since Oct. 30, 1977, when Walter Payton galloped for 205 yards to lead Chicago to 375 yards rushing in a 26-0 shutout win.
It should surprise no one that the Packers' substandard defensive play – coupled with the news that Wisconsin's football program hired Cincinnati's Luke Fickell over Jim Leonhard – is going to stir up the "Fire Joe Barry – Hire Jim Leonhard" chatter for weeks, if not longer.
When the Eagles started the game by running wild, Barry correctly brought in extra run defenders and dared them to pass.
So they did.
Philadelphia (10-1) converted 8 of 15 third-down attempts, clicked off 79 plays (to Green Bay's 49) and rushed 49 times for 363 yards.
The Eagles' offense played downhill all night.
Packers' safety Adrian Amos said Hurts' success unleashed Sanders. He also noted that the Packers face the Bears and Justin Fields – who set the NFL's single-game rushing record for a quarterback (178 yards) earlier this season – next week at Soldier Field.
Fields didn't play (sore left shoulder) in Chicago's 31-10 loss to the Jets, but could return in time for the Packers-Bears noon game on Sunday.
"Getting Hurts running, it opens up the running back running as well, the threat with him and the zone read," Amos said. "We've got a running quarterback (Fields) next week. We've got to be better against a scrambling quarterback."

Packers' newcomer Justin Hollins agreed. Hollins, a linebacker who was signed last week, arrived in time to register his first sack of the season. But he admitted it's not easy trying to track down Hurts.
"He has a great awareness in the pocket," he said. "It's kind of hard to contain him all the way. They got a couple on us. Again, hats off to him."
The Packers (4-8) showed fight by rallying from an early 13-0 deficit to briefly take a 14-13 lead and again later from a 34-20 deficit to make it a one-score game that was never that close.
"I thought we had some opportunities in the first half," LaFleur said, "but we didn't capitalize on every opportunity, and you can't do that against a good football team."
The Packers' offensive game plan was easy to get on board with: It centered around and hinged upon getting the football to Aaron Jones.
However, wherever … whenever possible.
Jones flashed his brilliance on Green Bay's first scoring possession, a four-play, 59-yard beauty that cut the Eagles' lead to 13-7 and slowed the home team's momentum. On the drive, Jones rushed for 10 yards, and then minus-1 yard, before catching a 30-yard screen that was beautifully set up behind by Josh Myers, Elgton Jenkins and others.
A.J. Dillon finished it off with 20-yard thunderbolt off the right side. The Packers' powerful back dragged a defender across the goal line.
Alas, those were the highlights.
Jones carried the football just 12 times for 43 yards. Dillon carried it eight times for 64 yards and the touchdown.
That was the extent of the Packers' running game.
Aaron Rodgers came out throwing and looked good early hitting 11 of 16 for 140 yards and two touchdowns. The problem was he also threw two interceptions – one on a tip, the other on a lousy route by Tyler Davis – that prevented the Packers from opening an early lead.
Rodgers exited late in the third quarter with sore ribs. He said there's a chance he could play Sunday at Soldier Field, but the medical staff surely will conduct more testing before making a decision.
The Packers' bright spots were Jordan Love and Christian Watson.
Love hit 6 of 9 passes for 113 yards and a 63-yard touchdown to Watson. On the play, Watson lined up in the slot right and ran an in-breaking route to his left. Love faked a handoff to Jones to the left, squared his hips and fired a strike to Watson.
The rookie receiver did the rest by outracing the Eagles' secondary for the 63-yard touchdown catch-and-run. He finished with four catches (on six targets) for 110 yards.
According to NFL NextGenStats, Watson hit a top speed of 20.97 miles per hour, which is the fastest speed registered by a Packer this season. He also became the franchise's first rookie to post receiving touchdowns in three straight games since Billy Howton in 1952.
"I was just able to show obviously the type of player I am, obviously the things I can do with the ball in my hands," Watson said. "Be able to create mismatches out there, win one-on-ones. It's hard to say after a team doesn't get it done but obviously, I think I've been able to show who I am a little bit the last couple games."
Rodgers briefly reminded TV viewers who he is Sunday night. His interceptions were offset by touchdowns to Jones and Randall Cobb. His strike to Cobb elicited a praiseworthy response from the TV booth.
"That looked like Aaron Rodgers," NBC's Cris Collinsworth said of the Packers' four-time MVP quarterback. "You can pick out any year you want out of that quarterback's career and it won't be better than that."
That was true. It was also short-lived.
Rodgers was sacked three times and absorbed considerable punishment before leaving in the second half with chest discomfort. He didn't puncture a lung, but it was possible he fractured a rib or two.
Now, the Packers have to decide whether to go with Love on Sunday, or hope Rodgers can tape up his ribs and get through the game.
Right now, the smart money is on Love.
The bigger question is how many more games will Rodgers start for the Packers the balance of this season and beyond?